Hate cleaning window blinds? I hear you! Which is why I was thrilled and intrigued to find dusting gloves!
I despise having to wipe down and dust window blinds and shutters. It takes forever and the dust seems to go everywhere – or not get trapped at all. Yet dusting windows blinds is a cleaning chore that must be done to remove potentially harmful dust from your indoor air.
That's why when I found the easiest way to clean and dust window blinds throughout my home, I knew I had to share it with you!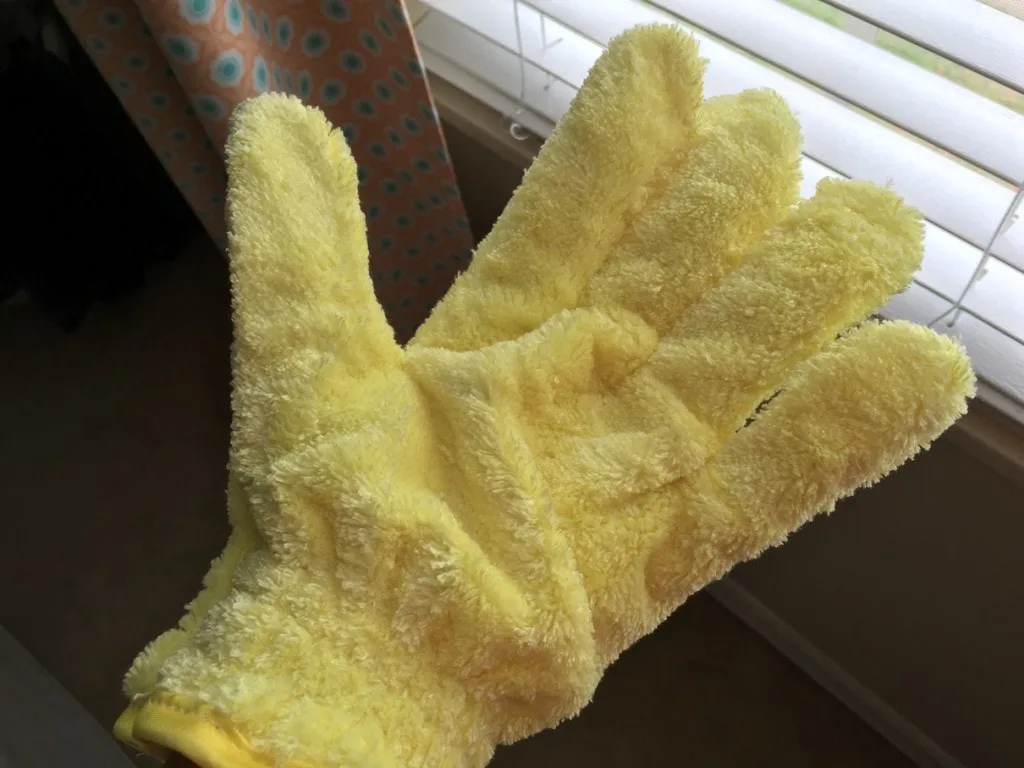 Why You Need to Dust Your Window Blinds
First, why should you care about removing dust from window blinds?
After all, you can really see it as well as dust on a table or shelves.
Dust means dust mites. And dust mites can mean health problems. Including:
Runny nose
Watery Eyes
Coughing
Respiratory problems
General malaise
Dust also contains little bits of toxins, allergens, and chemicals that are off gassing in your home.
It is possible to know what kind of toxins and allergens are in your dust by testing at home. We used a Home Air Check Surface Dust test kit to understand what was in the dust in our home and whether or not it had any toxins. Here's how easy it is to use the at-home test:
So you want to easily get the dust off of blinds, but you are probably not happy about needing to clean because it is such a pain.
I know, because I literally spent half a day cleaning the nasty dust off of our blinds throughout our house once.
Never, ever again.
Why Dusting Gloves Are Great!
When e-Cloth offered to send me their High Performance Microfiber Dusting Glove for review, I was happy to say yes. After all, I'm already a big fan of e-cloth.
And I buy their products on my own (as does my family!)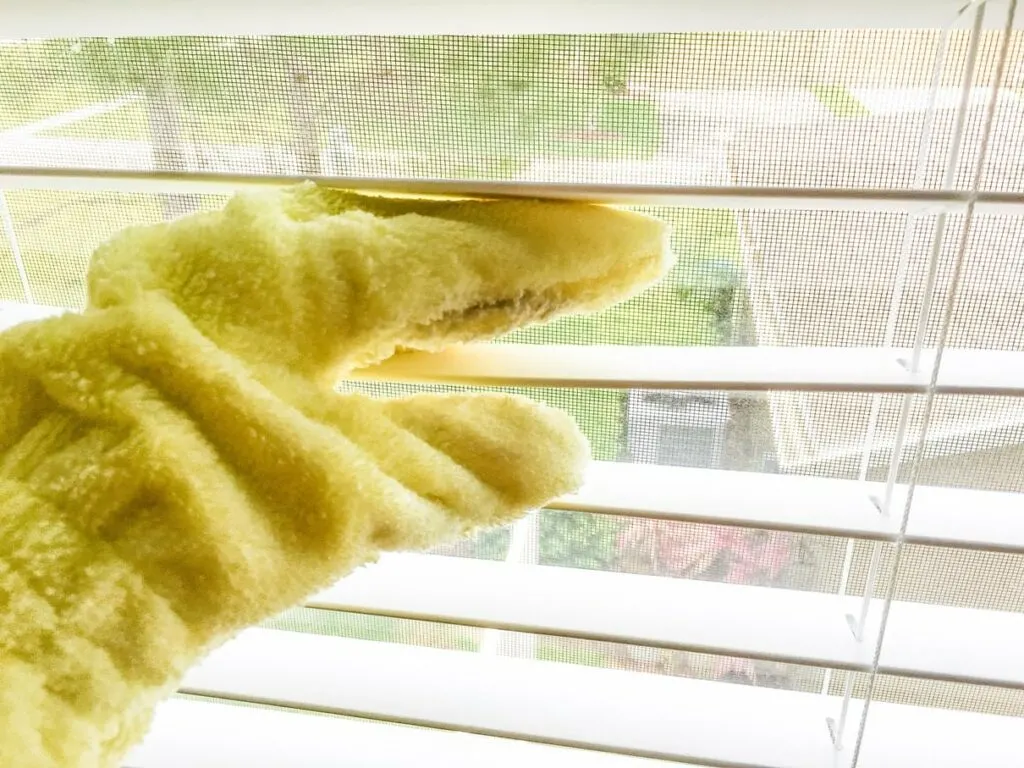 Let me say, this is the easiest way to clean window blinds and shades.
Nothing else could be easier, except hiring someone else to do it for you!
The E-cloth dusting glove uses only water to grip those nasty dust particles off of your window blinds.
Or you could use our homemade dusting spray if you want to add some fragrance to your home while dusting.
I used it both with and without water. Both ways work effectively at dusting.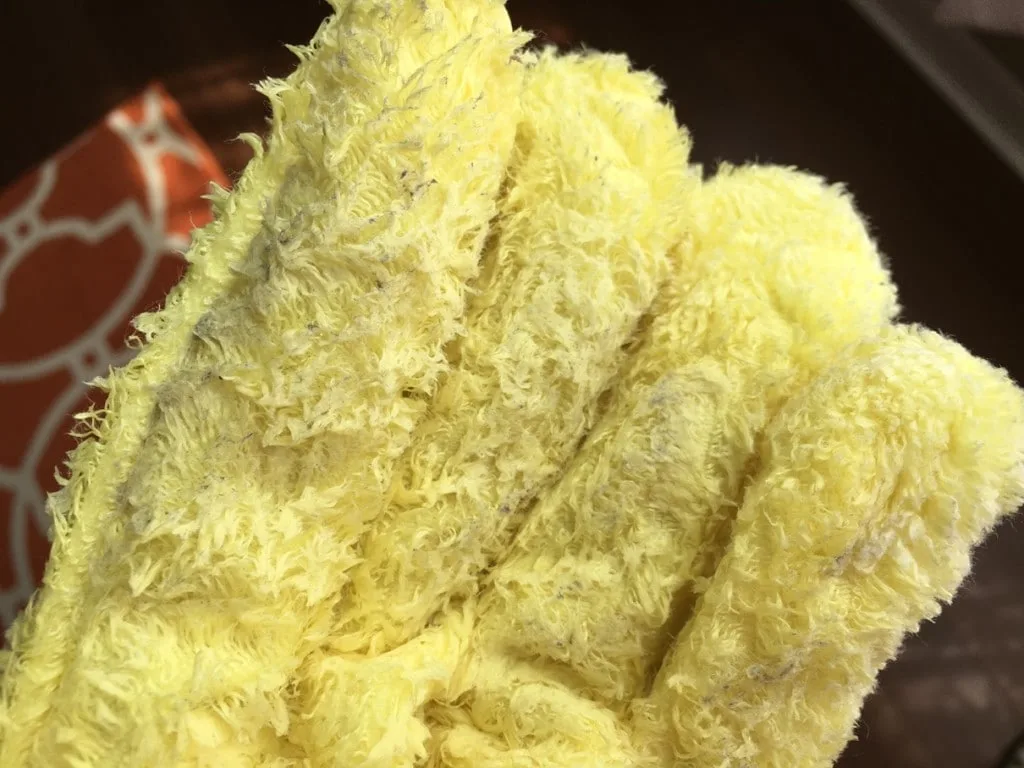 All you do is grip the window blind, swipe your hand, and you're done!
*This would be a great way to clean houseplants, too. Just swipe the leaves with your hands.
This E-cloth dusting glove can also be used to clean any surface, making it fun and easy to dust again. (It is also great for kids to help out, too! They can feel like a Muppet!)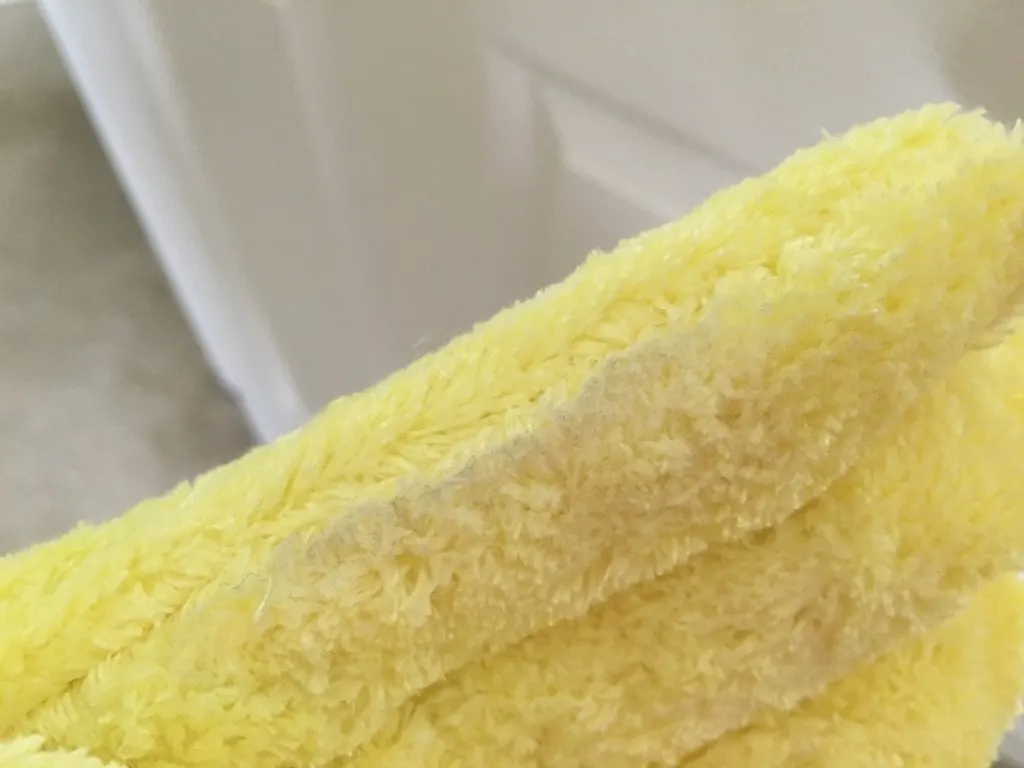 The cloth, when used with water, removes over 99% of bacteria, mold and pollen from surfaces, according to E-Cloth.
How? The 1.6 million extra long fibers per square inch on E-cloth products are known for gripping and grabbing onto dust, dirt and bacteria more. The concentration of microfibers is much better than other types of cleaning cloths, allowing you to clean without chemicals.
Which makes these dusting gloves extremely effective!
The only thing that I'd recommend, other than using this extremely easy way to clean window blinds, is to wash the dusting gloves first. There were fibers that were falling off of the mitt, which is no big deal, but you might want to remove them via the washing machine before your first use.
More Green Cleaning Hacks
Cleaning your home doesn't have to be hard. And it doesn't require chemicals to create a healthy home.
For instance, did you know you can use vinegar to clean your toilet? In fact, vinegar can be used to clean SO much in your home, but you want to choose the right type of vinegar for green cleaning.
Here's how to easily and naturally deodorize your closets, and ways to get rid of odors in your refrigerator, too.
You can effectively kill germs in your kitchen sink without using bleach. And this DIY Odor Eliminator spray helps to get rid of nasty smells without spraying chemicals in your indoor air.
These are just SOME of the green cleaning tips I have. Be sure to check out our Green Cleaning category, and my Green Cleaning Board on Pinterest.