Car cleaners are full of chemicals. Car washes are expensive. So what's a health-conscious, eco-minded driver to do?
Get an e-auto Car Cleaning Kit from E-Cloth for healthier car washes without any chemicals or cleaners needed.
When E-Cloth approached me about reviewing their e-auto Car Cleaning Kit, I didn't think there would be too much new or improved to rave about. I have been proven wrong, though….. with my eye roving over their entire website figuring out what else belongs in my home to make cleaning healthier and easier (and there's A LOT to choose from!).
First things first. What can make E-Cloth any different from any other brand? The chemical-free cleaning system that started in the UK in 1995 and finally came across the pond in 2008, requires just WATER to clean. The fibers of the E-Cloths actually grab dirt, grime, oil, grease and bacteria off of a surface, using no cleaners and just water. And scientific tests prove that these cloths remove over 99% of bacteria using just WATER.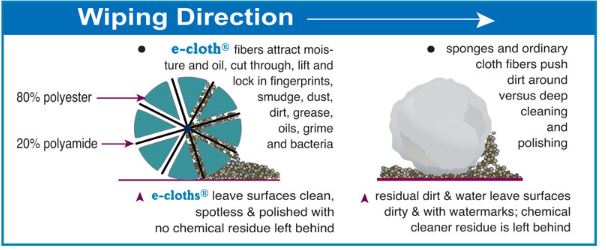 Their products have the highest density of fibers per square inch than any other cleaning cloth in the WORLD (according to their company's video). At 1.6 million fibers per square inch, that's a lot more than most microfiber cloths that have up to 200,000 per square inch. To be fair, I recently tested out Zabada Clean home cleaning products which also claim to have 1.6 million fibers per square inch.
E-Cloth is already Europe's Number One Chemical-Free Cleaning Company and won a Best of the Best award from Real Simple Magazine.
So, E-Cloths can clean just about any surface in your home (even the dog!!! There's a pet care line, too!) as well as in your garage. A car is a much different cleaning environment than the kitchen sink, so I was anxious to see how it worked.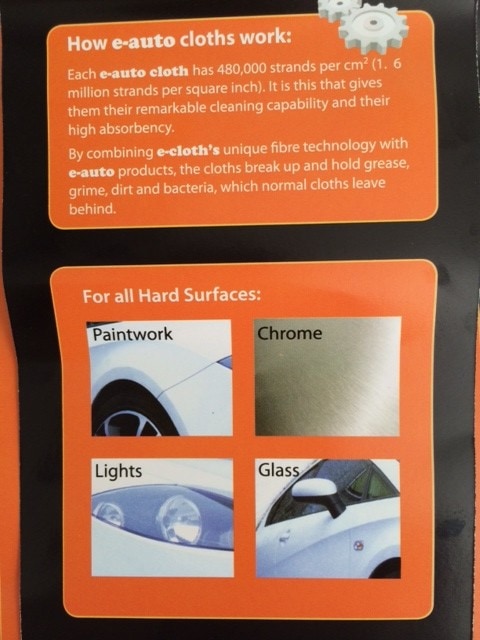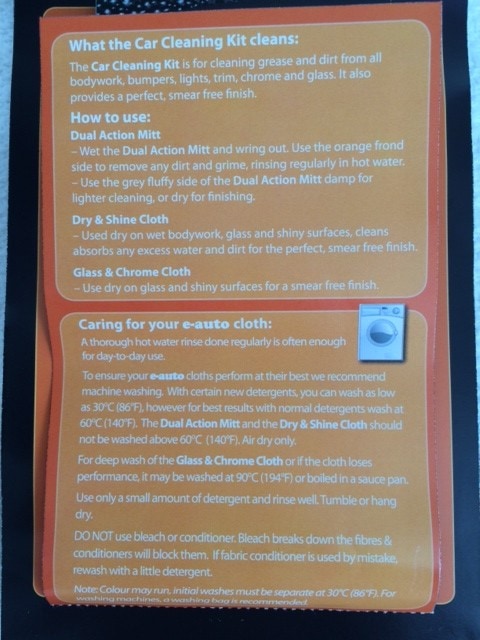 We washed my car after a week of moving, where dirt, grime and too many trips on highways back and forth had piled up on the exterior and were starting to show. My husband was happy with the Dual Action Mitt which looks like a Muppet with its long, orange "hairs," as well as the Dry and Shine Cloth. He already uses products similar to these, anyway. However, the E-Cloth products do not require using toxic chemicals with questionable ingredients and scary warning labels. All they need is water, which is safer for you, your pets (which often walk around the vehicle in the runoff) and the public waterways, where nasty car-based soaps are washed in to.
What we were both REALLY impressed with, though, was the e-auto Glass and Chrome Cloth. WOW!!!
I've had funk on my car windows for months and it was really starting to build up and cause a haze that was unsafe when the sun hit it just right while driving. We've tried other glass cleaners. Then I tried Seventh Generation glass cleaner which promised no streaking, but lo and behold ended up streaking anyway. I was ready to just buy Windex, but the artificial fragrances, or the ammonia, prevented me from going to the dark side and buying those chemical cleaners.
My husband used the Glass and Chrome Cloth on my windows and I could instantly see the results on my next drive. I was so impressed I raved about it to him, and then he looked and was so impressed he used it on his car. Then we brought it inside our house to use it on a mirror that had a lot of build-up from it during the move. Considering we have a LOT of windows now, I'm pretty sure we're going to be buying more of these for inside the home, too.
The e-auto Car Cleaning Kit reduces our need to use toxic chemicals to clean the car, although you can use whatever cleaner you'd like with the system, it's just not necessary. That means we don't have a run-off of nasty cleaning chemicals heading towards the public water system drains, which then have to be filtered. We don't have pets walking in the chemical soup run-off as you're trying to get the cars clean. With the products able to withstand 300 washes, these three items will last up to 6 years if we just wash them once a week.
All of E-Cloth's products are affordably priced. There is a retail locater, so for the Orlando area, a few Hallmark stores and a hospital gift shop sold their products. Check out your options online. If you order on the website, though, shipping is FREE with a 100% satisfaction guarantee!
Want to try the e-auto Car Cleaning Kit for yourself?? Here's your chance to win a kit. One winner will be chosen. Here's how:
First, this contest is only open to U.S. Residents. You can enter a variety of ways, with up to 10 entries. Only one entry per person. There is one entry for each of the actions listed below:
1. Comment on this post, saying which E-Cloth product you are interested in trying.
(1 entry)
2. Follow Get Green Be Well on Facebook. Leave a comment on this post saying that you're following.
(1 entry)
3. Post on the Get Green Be Well Facebook page that you enjoyed learning about our latest giveaway for E-Cloth.
(1 entry)
4. Follow E-Cloth on Facebook. Leave a comment on this post saying that you're following them.
(1 entry)
5. Follow Get Green Be Well on Pinterest. Leave a comment on this post saying that you are following on Pinterest.
(1 entry)
6. Repin this post on Pinterest. Leave a comment on this post saying that you repinned this info.
(1 entry)
7. Follow @KimberlyButton on Twitter. Leave a comment on this post with your twitter handle.
(1 entry)
8. Retweet this contest. Leave a comment on this post with the tweet URL about the giveaway.
(1 entry)
9. Follow @ecloth on Twitter. Leave a comment on this post saying that you did.
(1 entry)
10. Sign Up for the E-Cloth email newsletter (link on the bottom of the page). You'll only get a couple messages each month, and can unsubscribe at any time. Leave a post on this comment saying that you did.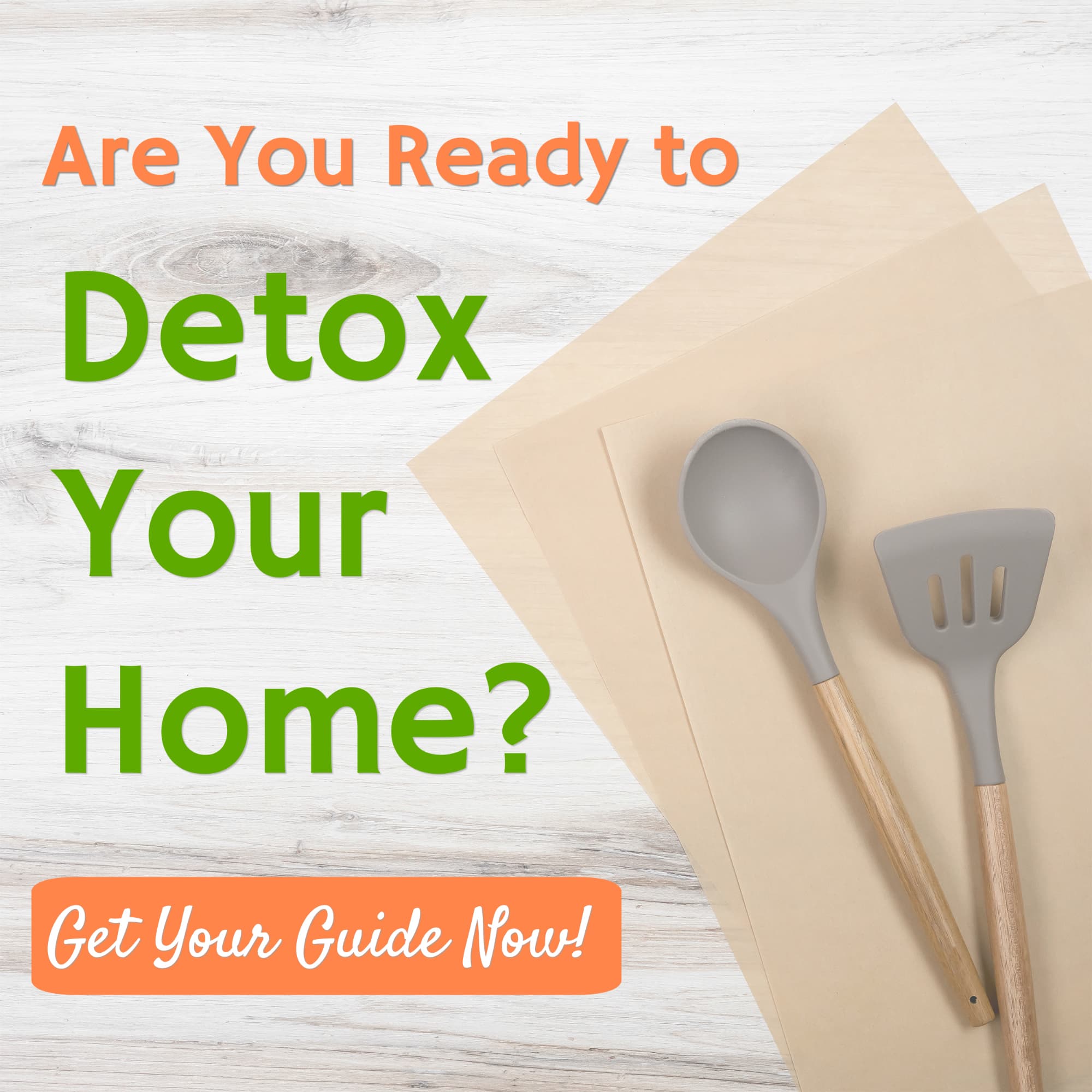 (1 entry)
This contest ends on August 10, 2014 at 11:59 p.m. EST. The prize will be sent by E-Cloth to the winner. Good luck!!