An easy tutorial to make DIY No Sew Fabric Pumpkins.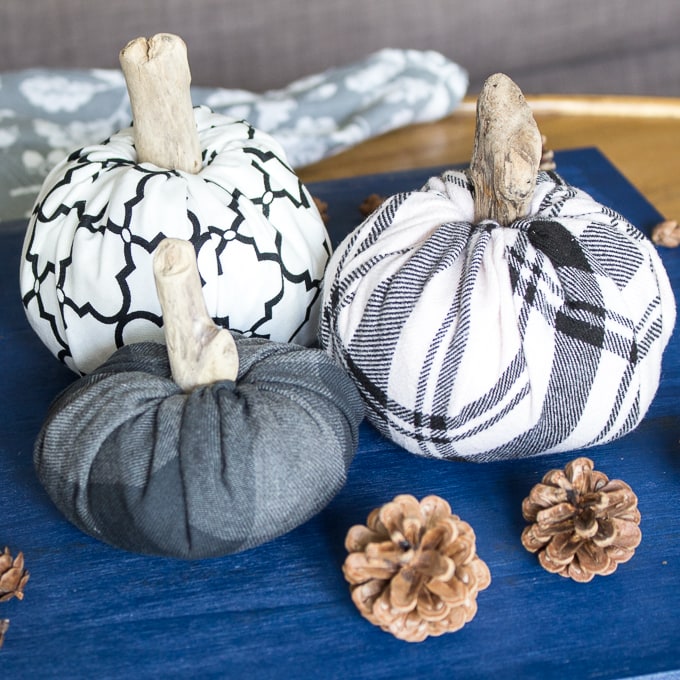 My favorite holiday decorations are always the ones that I have made or someone has made for me. For the holidays, I'm big on sentiment and bringing out decorations that have been a part of my life for years. Which is why I love this easy DIY No Sew Fabric Pumpkins tutorial.
P.S. I have an easy no sew drawer sachet tutorial, too.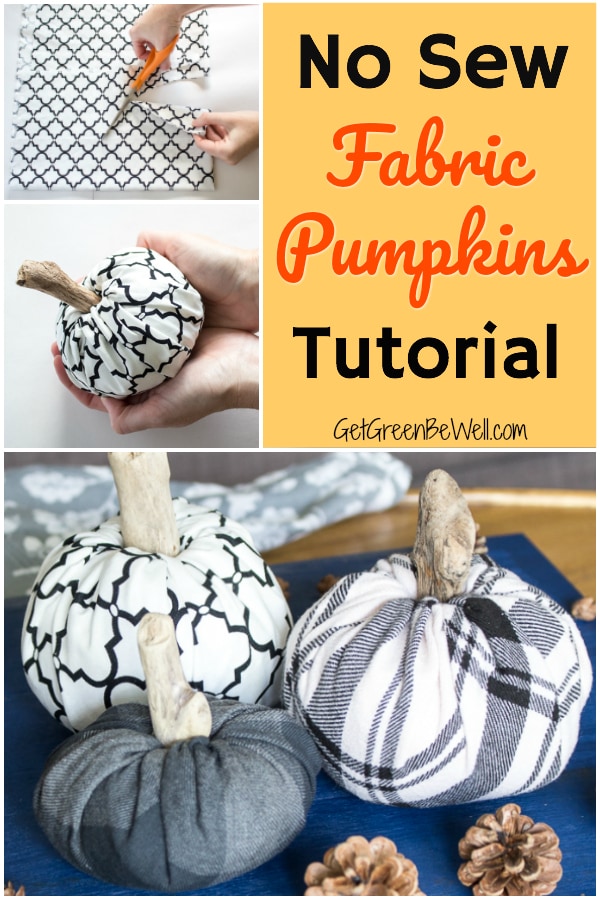 Fall is my favorite time of the year. It's when the air is crisp and scented with apples, cinnamon and pumpkin spice. It's also when my birthday is, which always makes it more memorable!
And when I lived in North Carolina, it was one of the most beautiful times of the year! The leaves change in an explosion of colors of natural beauty. Apples are hanging on the trees. Pumpkins are found everywhere. And it's a time of cozy warmth and comfort.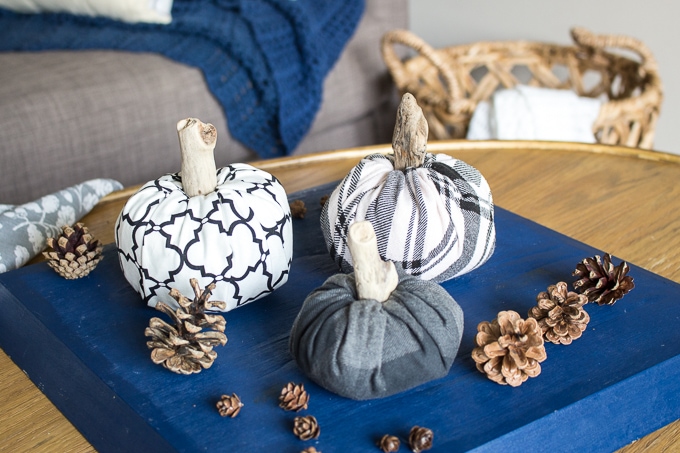 Living in Florida, my Fall has definitely changed. It's usually 100 degrees on the first day of Autumn. No leaves change. It's super hot and humid. And there's not too many places in Orlando with pumpkin patches or apple farms to pick your own goodies.
Even my love of pumpkins has had to change. I've bought way too many pumpkins over the years that have turned into a moldy mess with the heat and humidity of Florida. And it's not the same buying my pumpkins in a grocery store, anyway.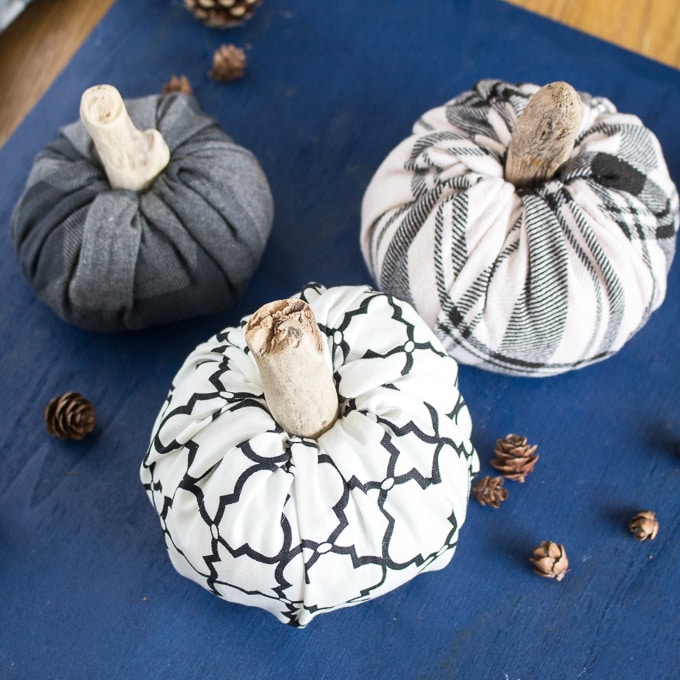 So I'm glad that I can make heirloom crafts that can be reused over and over again in my Fall decor. It doesn't matter what the temperature is or where I am. These DIY No Sew Fabric Pumpkins can make it feel like Halloween and Thanksgiving.
I love decorating for Fall as soon as possible. My pumpkin and autumn decor goes up in September and doesn't get packed up until AFTER Thanksgiving.
I believe there is more happiness celebrating Thanksgiving for what it truly is, a season to celebrate our bounty of blessings in our lives, rather than letting it be a major spending day to buy lots of stuff for Christmas.
Yeah, I enjoy my pumpkin decorations as long as possible!
Fabric Suggestions for No Sew Fabric Pumpkins
I think you'll enjoy this easy DIY No Sew Fabric Pumpkins tutorial. It's a great way to customize your Halloween and Fall decor to your color palette and likes.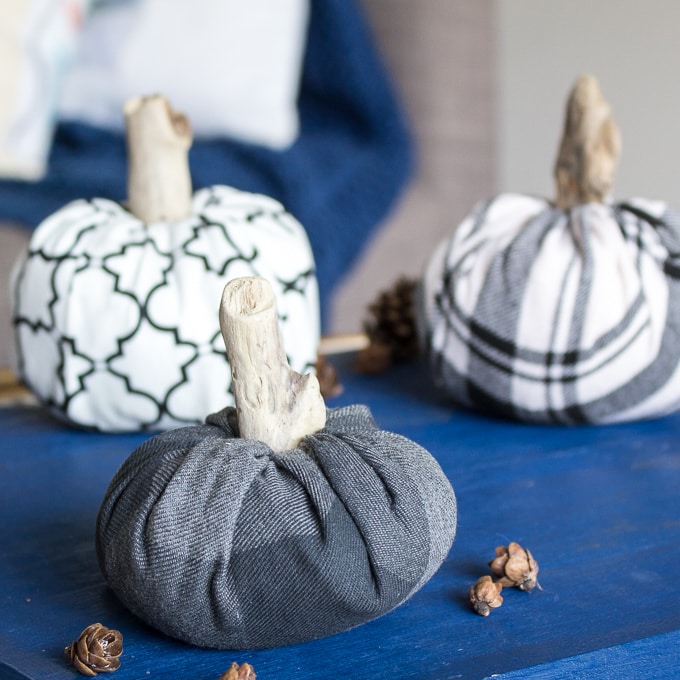 These no sew fabric pumpkins are shown in cool shades of dark blue, white and black. But don't let that limit your creativity! Here are some fun ideas for more color variations of reusable pumpkin decor (plus, we've got links to great fabric at the end of the post):
Pink, turquoise and neon colors for a tween's bedroom
Fabric with animated characters for a boy's bedroom
Red gingham check and plaids for outdoor decor on a patio or rustic dinner
All white palette for a truly minimalist look
Burlap fabric for a rougher, textured feel
Satin fabrics for truly elegant Halloween or Fall decor
Fabric Ideas for Heirloom Family Decorations
I also love the thought of making heirloom pumpkin decorations for your kids that they can keep for years. It's not just Christmas ornaments that make great heirloom gifts. Why not make pumpkins, too? Here are some great ideas for fabric pumpkins that make great family decorations:
Use a child's old t-shirt or clothing for the fabric
A blanket or quilt could be cut into the squares of fabric and used
Have kids decorate a white fabric pumpkin with fabric markers
Your husband's old flannel work shirt could make a cute fabric pumpkin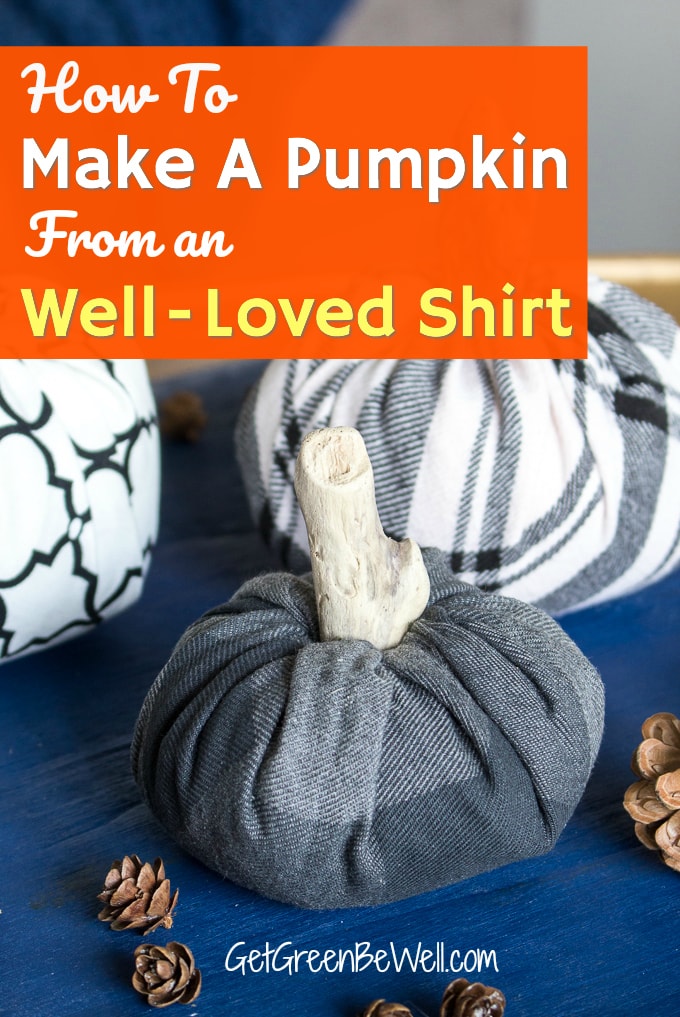 ***Note: If you're making pumpkins for keepsakes, replace the dried beans with stones, pebbles or other non-food item that will last over the years.
Now that you've got great ideas for a fabric pumpkin that can be used for more than just one holiday season, let's get to the tutorial.
DIY No Sew Fabric Pumpkins Tutorial
These materials are to make 1 no sew fabric pumpkin, 5" high (including stem) x 5" wide:
Scrap fabric, lightweight woven material such as cotton twill, broadcloth or flannel
Fabric Scissors
Measuring tape or ruler
Navy Beans, ½ cup (uncooked)
Polyester Stuffing (you could also use an old t-shirt, stuffing from an old pillow – anything that's soft and fluffy)
Driftwood or tree branch, 4" long x 3" circumference (No driftwood or branches? Consider using a cut dowel instead.)
Plastic zipper sandwich bag, approximately 16.5cm x 14.9cm size
Rubber band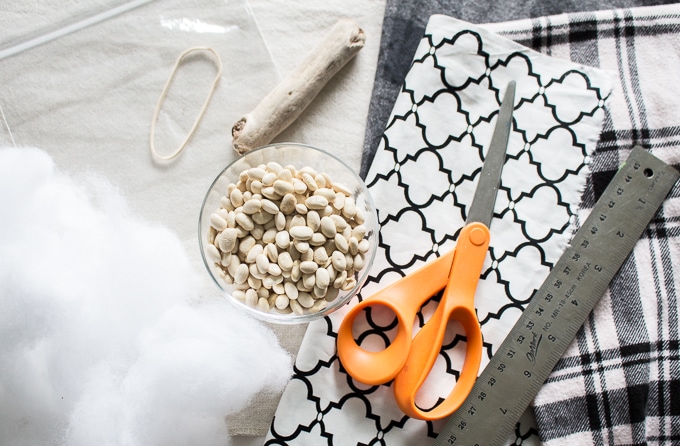 DIY Instructions:
Iron fabric prior to starting to remove all creases and wrinkles.

Using scissors, cut scrap fabric into a circle shape that measures 14" in diameter.

Tip for cutting fabric into a circle: Fold the fabric in fours. Measure and mark 7" along each side length and at the center length on the 45 degree angle. Cut the fabric joining the marked points. Put circle aside.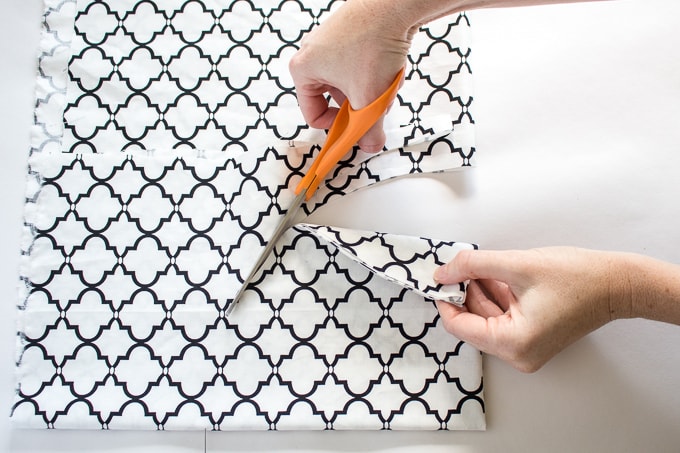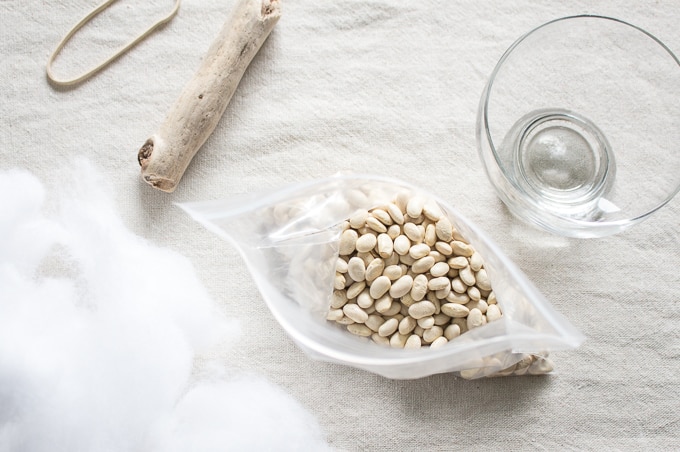 Fill the rest of the bag with polyester stuffing. Place over top of the beans.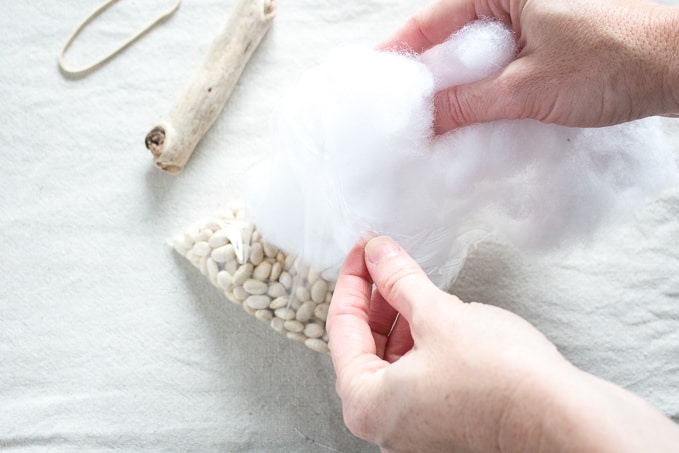 Insert the driftwood into the middle of the bag through the polyester stuffing with one end poking out of the bag in the center. Seal the bag closed on both sides of the driftwood.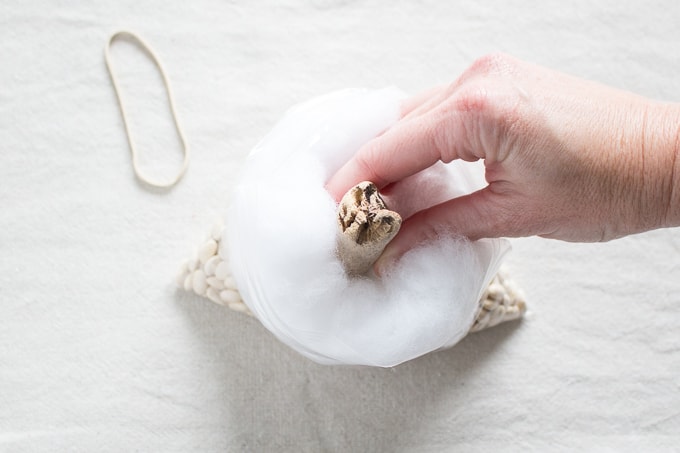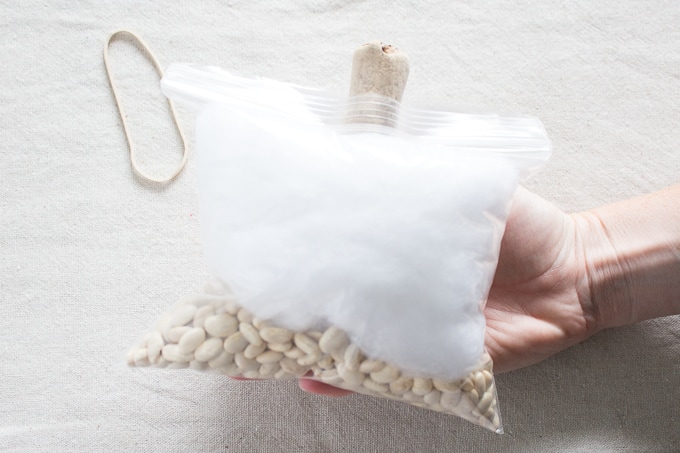 Loosely wrap an elastic band around the driftwood and let it fall to the top of the bag.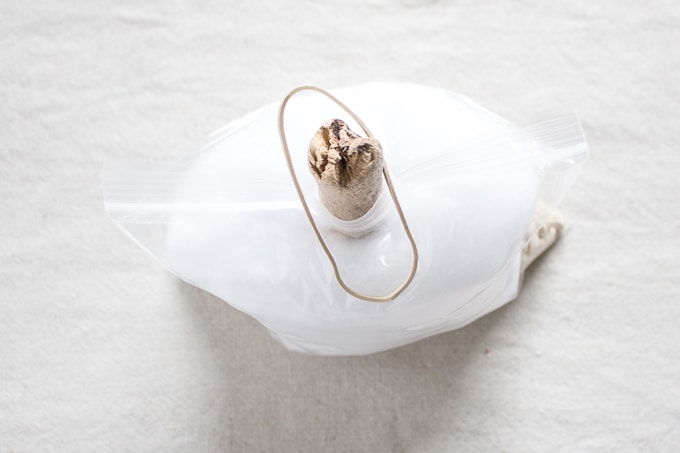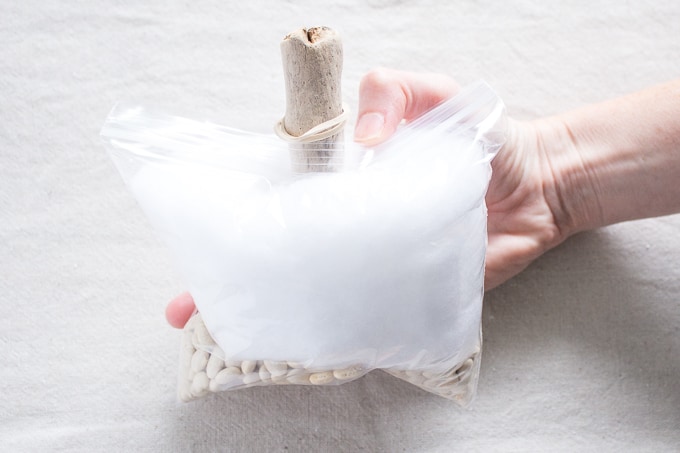 Lay the fabric circle with right side facing down and place the filled bag in the center.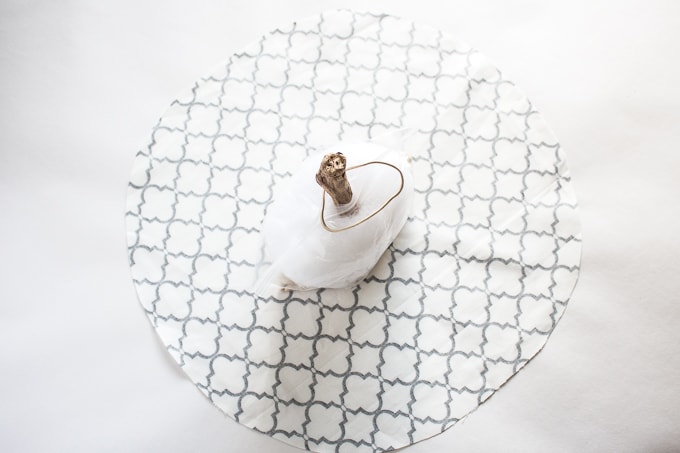 Begin folding the fabric edges up and into the elastic band.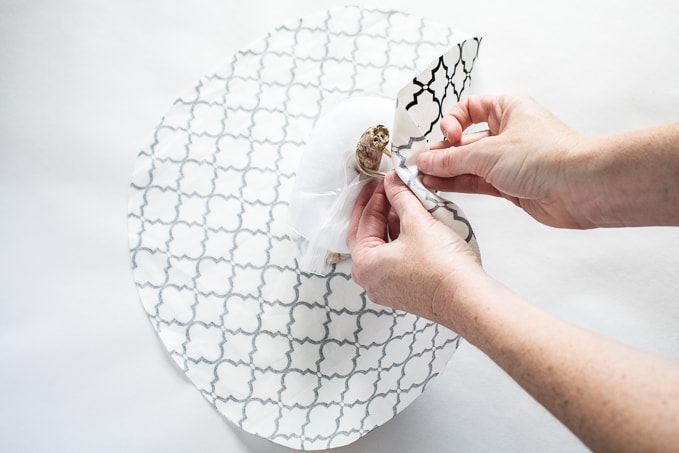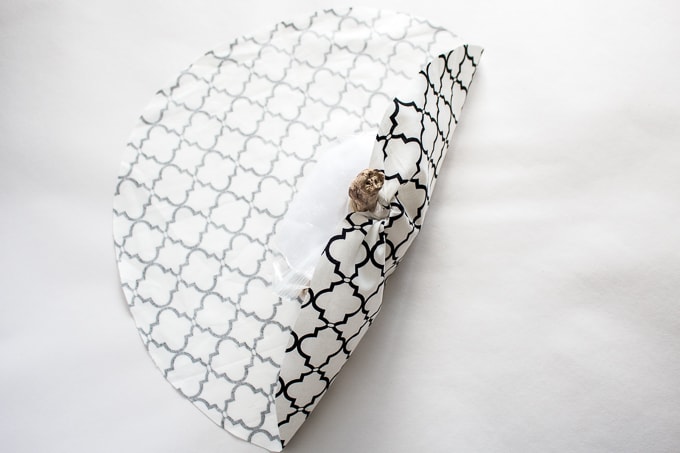 Work one side at a time until all fabric edges are folded in, with the rough edges tucked under the rubber band so that they don't show. Adjust as needed until the desired look is achieved.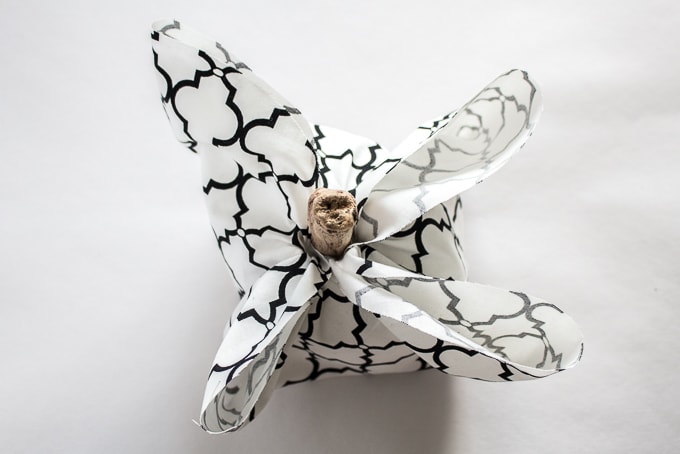 If the driftwood lifts up and out as you fold in the fabric, simply push it down to where it needs to be and continue folding in the fabric.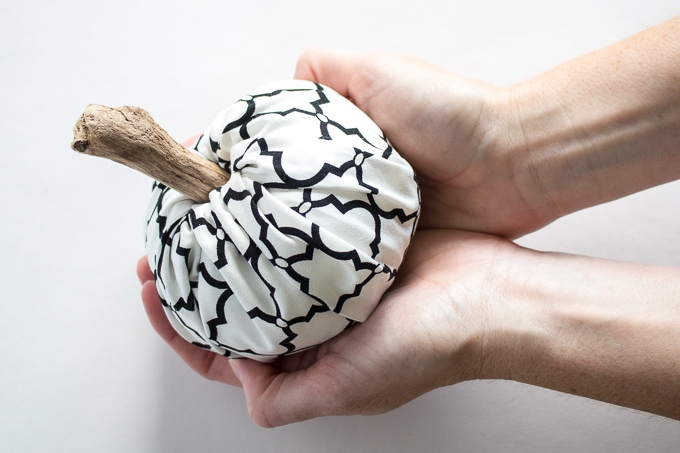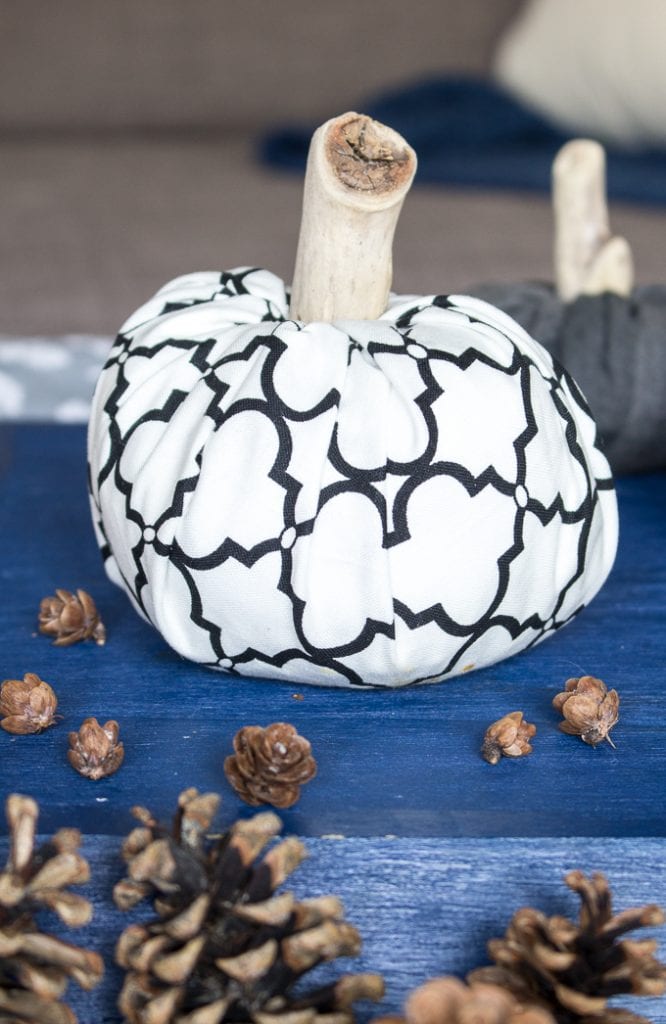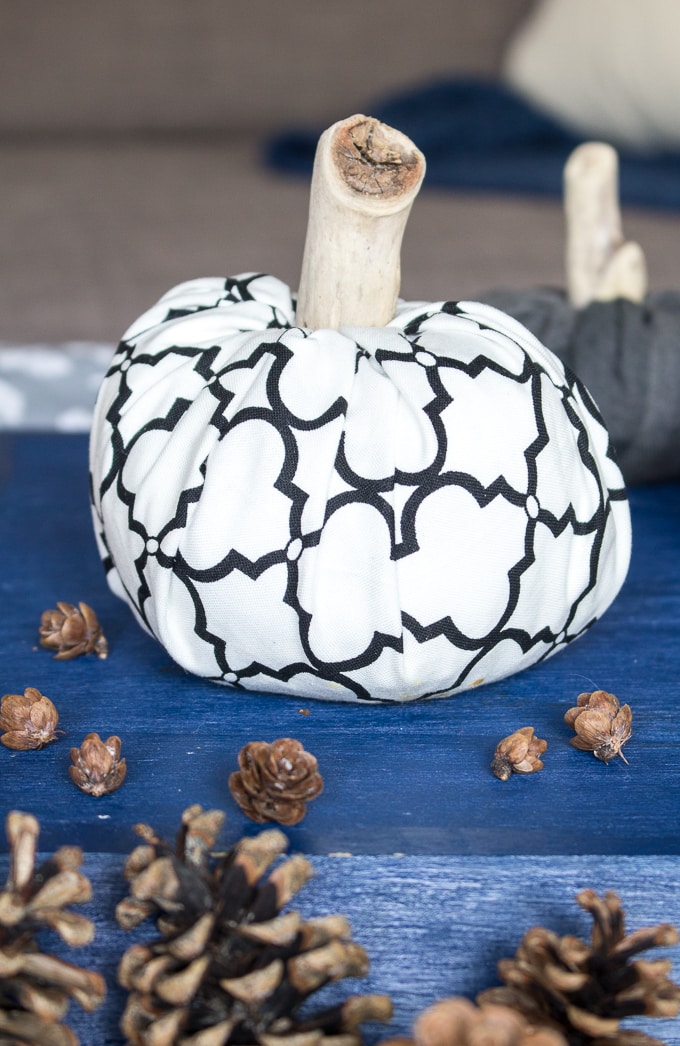 *Helpful Tip: While these fabric pumpkins are great to use year after year, the beans might not last for that long. Be sure that you don't store these pumpkins anyplace where moisture and humidity is an issue. And keep them away from pests.
*It's easy to undo the pumpkins and remove the beans, if necessary. Or consider using non-food items such as small pebbles in your bag, instead.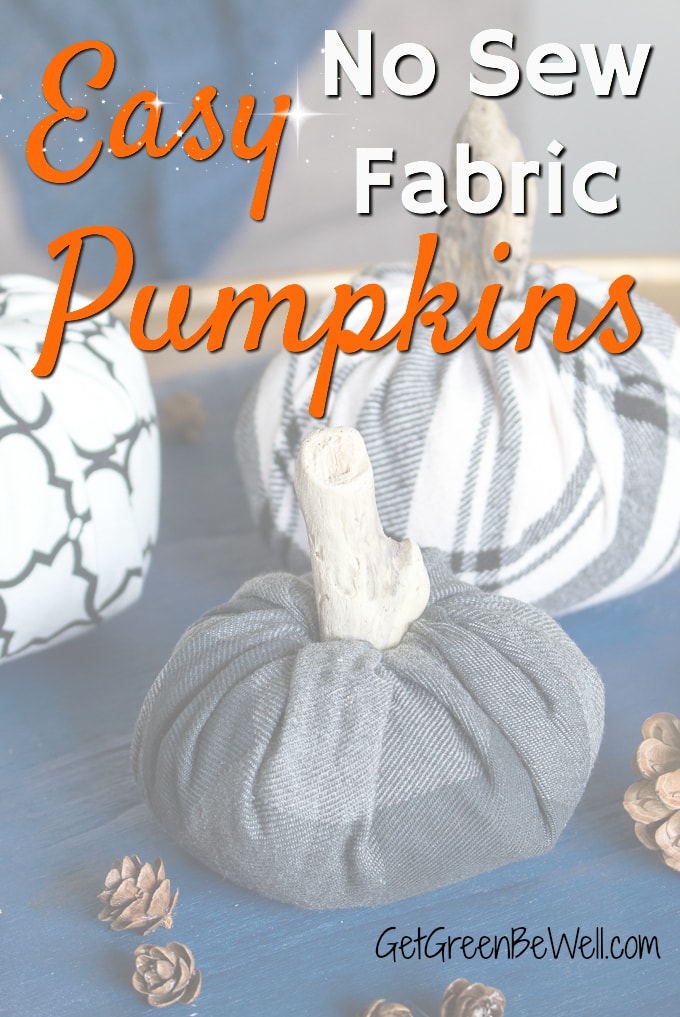 Ready to celebrate Fall? Here are some more great ideas for the Halloween and Thanksgiving season: