When scrolling through planters online, I instantly stopped and started smiling when I saw dinosaur planters for succulents and air plants. I mean, how can you not laugh at a fake dinosaur with a plant growing out of it? It's unique, for sure.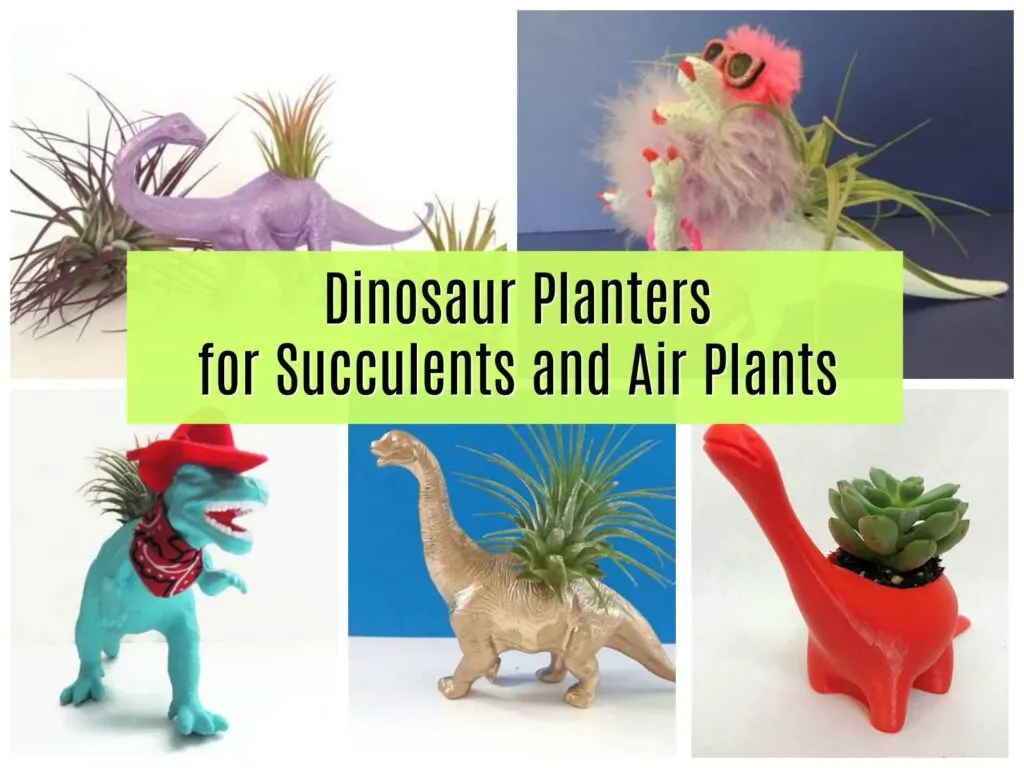 Turns out, dinosaur planters are all the rage. I didn't realize how popular they were until ceramic dinosaur planters were in the Target Dollar Spot this year. I would have loved to buy some, but they were sold out as soon as they hit the shelves.
Whether you need a smile during the work day with a plant in your office, or you want unique houseplant décor in your home, these dinosaur planters for succulents or air plants are the perfect blend of retro kitsch and a modern day trend.
I love the fact that dinosaur planters help encourage kids to get excited about houseplants and gardening. If they see the plants in a favorite toy, they'll ask about gardening and get excited.
It's just one step, but it can be an important one in fostering the love of gardening.
These dinosaur planters for succulents and air plants are ideal for anyone with a black thumb. I mean, succulents and air plants are among the hardest houseplants to kill. Doesn't mean you CAN'T kill them (trust me, I know…..) but they're a lot more hardy than some others.
So pick out one or a few of these cute dinosaur planters for your home, kid's rooms, office, or even sunny bathroom. These unique planters also make a fun hostess gift, or a white elephant gift. It will definitely bring a smile to anyone who sees them!
Many of them already come with the plant. But be sure to check descriptions to see if you are getting the air plant or succulent included, or can plant your own.
What's the Difference Between Succulents and Air Plants?
Wondering what is the difference between succulents and air plants? Which one should you choose?
Succulents
Considered some of the easiest houseplants to grow, succulents don't need much water or TLC. If they have the correct light (you'll want sun for most of them!) and not too much water, then you'll enjoy having succulents around for a while.
Succulents need a growing medium. So they need to be in soil. If you are buying a dinosaur planter for a succulent, you'll need to make sure that there are drainage holes in the container so that you don't overwater the succulent.
Air Plants
These spiky looking plants (Tillandsia is their scientific name) aren't painful to touch. They just have a dramatic effect. And they require almost no maintenance or care on your part.
Air plants grow in trees, with no soil. They get their nutrients from the air. So they can grow in planters with no dirt, which makes them perfect for these tiny dinosaur planters.
Some people say don't water air plants at all. Others suggest a fine mist of water every now and then. I think it's going to depend on what the humidity levels are in your home, and the amount of sun that the air plant is getting.
Do Succulents or Air Plants Purify the Air?
I usually only talk about houseplants as ways to purify the air inside your home. In fact, houseplants are one of the easiest and most effective ways to filter your air inside your house. That's why I instantly got these plants when I realized I had formaldehyde exposure in our RV.
Some succulents will purify the air. They are only large houseplants, though, such as aloe. They are not these tiny little succulents that are super cute and easy to use as houseplant décor.
Air plants aren't on NASA's list for the best purifying houseplants, either. This is my go-to book written by the NASA scientist himself for discovering what plants are best for purifying air.
That doesn't mean that succulents and air plants aren't worthy as houseplant décor, though. Just like flowers can increase happiness inside your home, if you love succulents and air plants and they bring you joy (even if it's in a humorous dinosaur planter), then it's important to add them to your décor.
Dinosaur Planters for Succulents and Air Plants
Baby Blue Pastel Dinosaur Planter
This baby blue plastic dinosaur planter with gold accents makes me happy just looking at it! I love the combo of pastel colors and rugged dinosaur scales. I want this for my desk. Like ASAP!
I've got all the feels for this one!
Cowboy Dinosaur Planter
A cowboy meets a dinosaur. Prehistoric meets Western wear. If you've got a sense of humor (or want to encourage a smile from someone else) this funny dinosaur planter will do the trick.
3D Printed Plastic Dinosaur Planter
Customize your colors with this 3D Printed Brontosaurus dinosaur planter. The plastic planter uses state of the art technology to create your fun succulent planter.
Yellow Dinosaur Planter
If the color doesn't cheer you up your space, I don't know what will. Put whatever plant you want in this bright yellow ceramic dinosaur planter.
Metallic Blue Dinosaur Planter for Air Plant
This vibrant metallic blue dinosaur planter is perfect for adding to modern home décor. Surprise a co-worker with this fun dinosaur planter for a birthday gift and see how many compliments they get when they display it on their desk.
I'd love to get one for my nephew, too. It'd be great in his room on a shelf, especially since the air plant requires almost no maintenance.
Lady Ra Ra Dinosaur Planter with Air Plant
When you need a laugh – or the most perfect birthday present ever – then you need Lady Ra Ra! This girl dinosaur exudes high fashion with a feather boa, painted nails (or is that talons?), a purse and sunglasses.
I challenge you not to smile when you see her!
Related Posts:
Metallic Dinosaur Planters
All kinds of dinosaur planters in gold and silver can be found in this Etsy shop. If you want a specific type of dinosaur, browse the selections and finishes.
Purple Dinosaur Planter for Air Plant
A pretty purple dinosaur planter in a dorm room or on a makeup table will start your day off to a roaring good start. Just sayin'.
Dinosaur Riding a Motorcyle Planter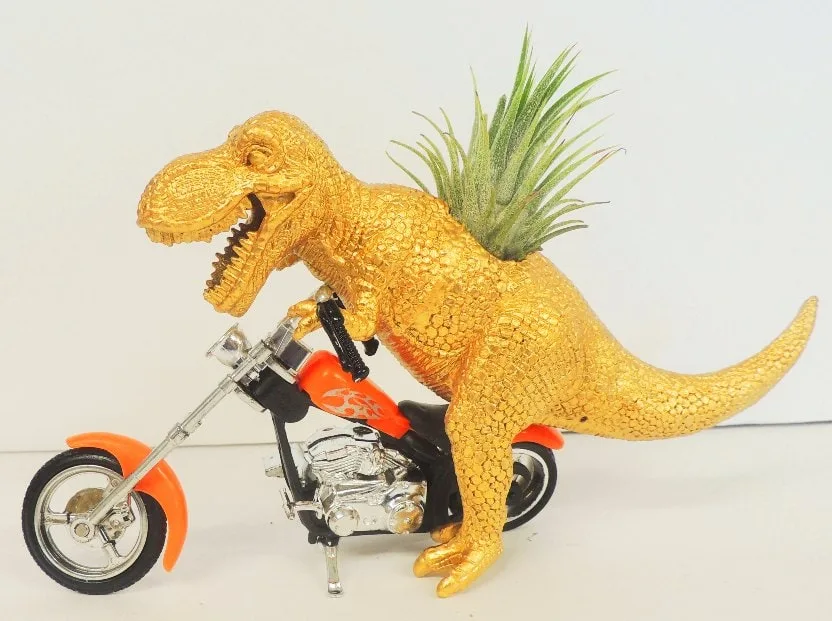 For the guy who has everything. This gold Tyrannosaurus Rex dinosaur planter is distinctly unique! Consider it the most-talked about gift your dad, son, boss or co-worker will get this year!
Perfect gift for Father's Day, Graduation, Birthday, White Elephant gift, gag gift, Christmas and more.
Did you know you can buy air plants online and have them shipped to you? Here are some great finds: