Years ago, I was one of the first few thousand people to do DNA testing for ancestry. Being as skeptical as I am, I tried two different companies to compare Ancestry with 23andMe. Both DNA tests claim to give you your family tree with an easy and painless test. All it takes is spitting into a tube to get your family history.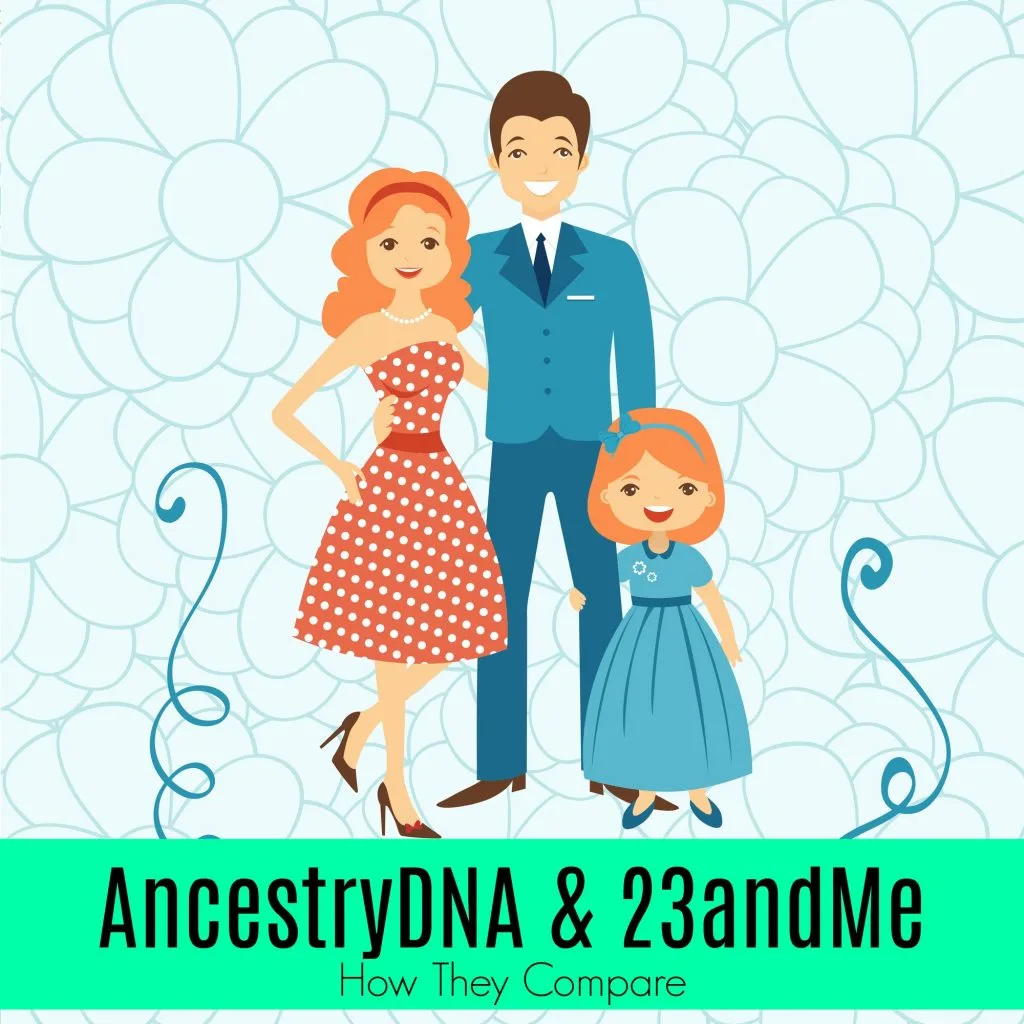 One test revealed that I am related to royalty!
Today, millions of people are in the Ancestry DNA databases, which makes finding your family tree even easier. A lot has changed since I first reported on my experience in American Airlines' inflight magazine in 2014 (The quotes below are from interviews I did for my original article.)
The truth is, my ancestry ethnicity has changed since then. Wait, what?!?
It's true. Trying to figure out your ancestry via DNA testing is super easy – yet it can also be a little confusing. Doesn't make sense that it can be both at the same time, huh? That's why I'm sharing my ancestry DNA test results, comparing Ancestry with 23 and Me (two of the most popular DNA ancestry companies), explaining the difference between the two types of DNA ancestry tests, and telling you which is better.
Compare Ancestry and 23andMe DNA Tests
I had been searching Ancestry.com for months on my own in order to make my family tree. I was only getting a few generations of results, though. There was still a LOT that I didn't know.
When I saw an advertisement offering quick and easy DNA ancestry testing, I was more than ready to try it.
I ordered test kits from both AncestryDNA and 23andMe, the most popular companies for ethnicity testing. (I actually got the medical + ancestry test kit from 23andMe – and I would HIGHLY recommend the medical part, too.)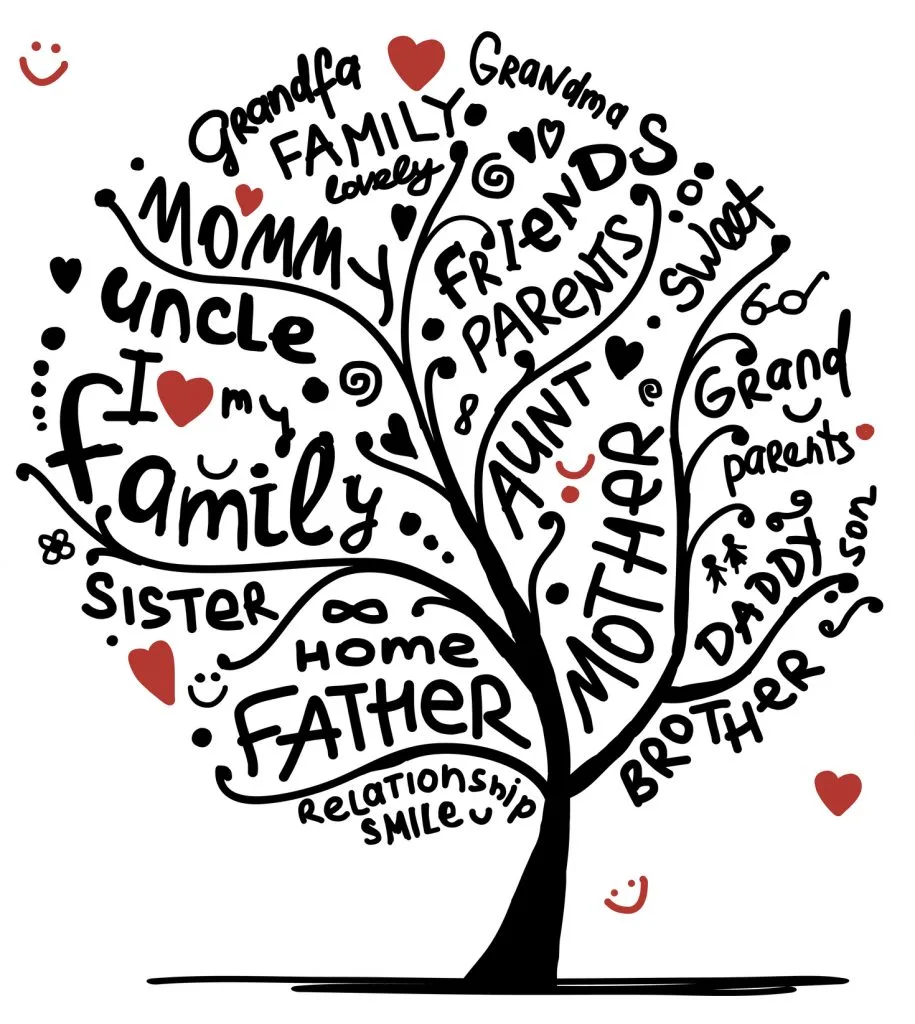 While intrigued, I wasn't exactly convinced that these tests could work.
With plenty of skepticism, I ordered kits for my parents from AncestryDNA, too, just to see how their results would compare to mine. I was ready to get really upset if any weird discrepancies showed up on my results. (These test kits make GREAT presents! That's why they're on my list of Best Gifts for a Minimalist.)
Turns out, I was wrong.
This spit stuff really works! My family ethnicity was revealed in ways I never would have imagined.
So what did the crystal balls looking back into my ancient past have to say? Each company gave me the same information – I am almost 100% European. Then it gets a little tricky.
My DNA Ancestry Test Results
According to the AncestryDNA test, via Ancestry.com my ethnicity is:
46% Great Britain
27% western European
7% Scandinavian
7% Ireland, Scotland and Wales
Compare that to the 23andMe test which showed these ethnicity results in 2013:
6% British and Irish
4% French and German
67% "nonspecific northern European" countries
Those 23andMe DNA ancestry ethnicity results have changed over the years (more on why that happened coming up…..) and now my 2017 results have been updated (without any additional retesting on my part) to show my ethnicity is:
36.5% French and German
23.8% British and Irish
1.7% Scandinavian
28.8% Broadly Northwestern European countries
3.9% Eastern European countries
How can I be mostly British in one test and yet mostly French and German in another?
How Do DNA Ancestry Tests Work?
It's all in how scientists interpret the results of the Human Genome Project, "one of the great feats of exploration in history" according to the National Institutes of Health. In other words, it's complicated.
The Human Genome Project started in 1990, when the U.S. National Institutes of Health and the Department of Energy began work with international scientists to map out the complete set of DNA of humans.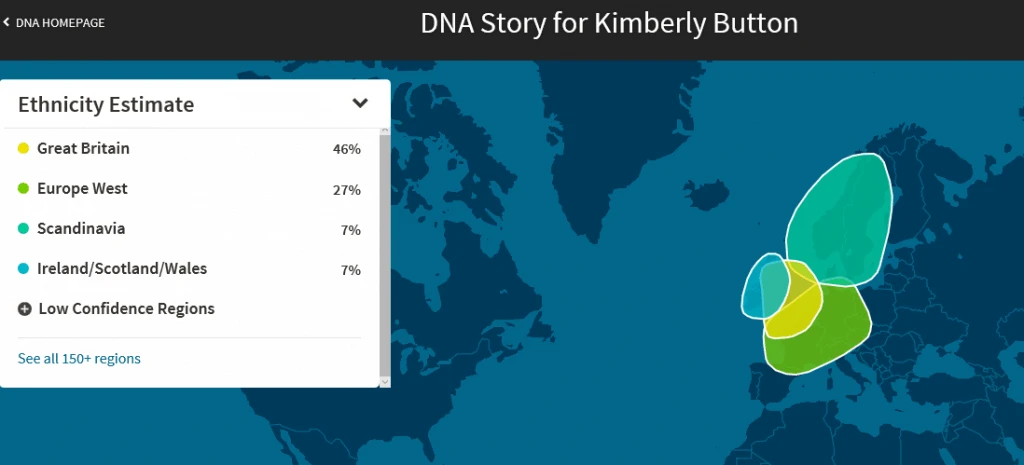 Now there is a wealth of DNA knowledge, which can be used for ancestry testing, but it still needs to be put into context. As more people have their DNA tested and become part of a national database, the more targeted the results will become, according to Emily Drabant Conley, PhD, a neuroscientist on the 23andMe team and Vice President of Business Development.
"We have reference databases with people who have been genotyped. People whose entire family has lived in Ireland, we call them Irish. We can compare your data to these people and see if you have these identical markers in your DNA that would indicate that your ancestors came from a certain part of the world," Conley said. "As our database gets bigger, we get better and better about telling you where your ancestry came from."
A snapshot of one of my 23andMe Ancestry Composition reports: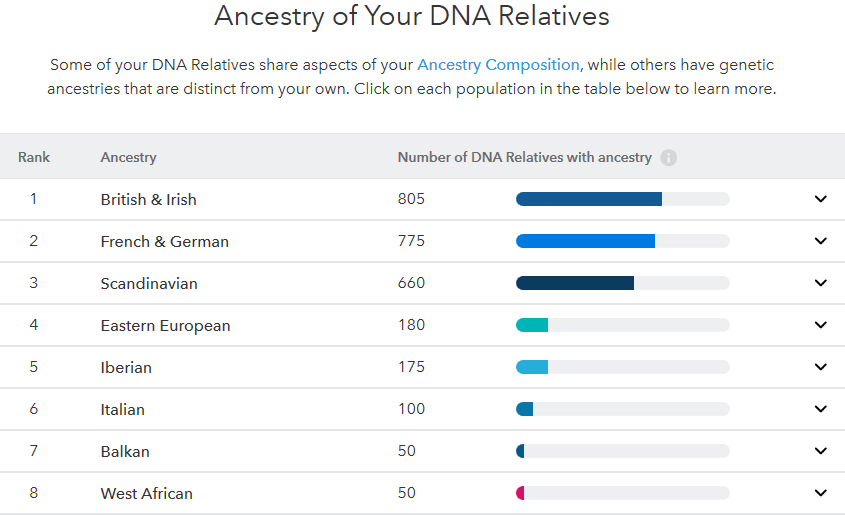 Which explains why my ethnicity has changed in 23andMe's database several times since my original test. It keeps getting updated as they understand the DNA even better. In fact, 23andMe has updated my Ancestry Composition three times since my original spit test (the latest being in 2017).
My AncestryDNA composition, though, is still showing the same as it did from my original test date.
The databases of both 23andMe and Ancestry keep growing. From November 2013 to April 2017, AncestryDNA grew from around 250,000 to more than 4,000,000 customers in their DNA database.
My Family Tree Ancestry Results
AncestryDNA says that most of my ancestry is from Great Britain, yet that region can also include Germany, Denmark, Switzerland and Austria, too, for their testing purposes (which might explain why 23andMe says that I'm mostly German and French, with a high amount from Great Britain, too).
From weeks of research online, I had determined that I was of British/German/Swiss descent.
On my mother's side, historical records go back to her family's immigration from Germany and Switzerland.
On my dad's side, we believe his ancestors are from Great Britain and Wales. Yet that's not what their DNA testing shows.
My father has only 25% ethnicity from Great Britain, while my mom claims 75%. While surprising, the results were in tune with mine, prompting me to believe in the validity of the tests.
Interesting Facts About My Ancestry Results
What I never could have discovered on my own, though, was a hidden part of my genetic makeup that's going to make great small talk at my next party.
I am slightly caveman. That's right, up to 4% of my ethnicity is Neanderthal (according to 23andMe). That's more than 57% of other 23andMe customers who have been tested. No jokes, please. (Also, Ancestry won't give you Neanderthal test results, only 23andMe does that.)
(Apparently one of my Neanderthal genetic variants means that I'm less likely to have back hair. Score one for that gene!)
See more of my 23andMe Ancestry Report fun facts: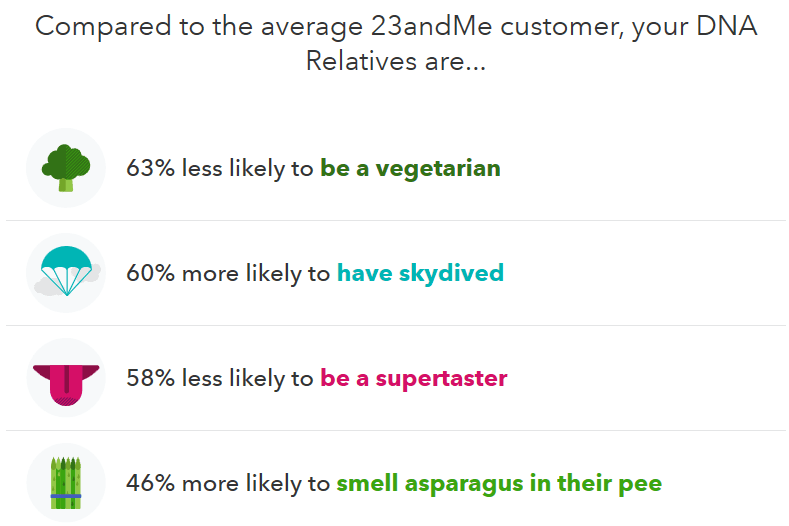 Where does that leave me? I still have unanswered questions, like where does my maiden name originate?
How am I related to Marie Antoinette and Prince Phillip, Duke of Edinburgh, as 23andMe claims in my results?
Finding My Family Tree Using DNA
The answers can only come from researching family histories. DNA tests will give you your family ethnicity, which gets you started. But you're going to have to fill in the family tree branches with all of the little details of the people who make up that ethnicity in your genetic background.
Quite honestly, this is really where AncestryDNA excels.
AncestryDNA will now compare my genetic test to their massive family tree database to connect me with distant relatives that might have the answers.
"We're looking at DNA from ancestors across your entire family tree," said Stephen Baloglu, Director of Marketing with AncestryDNA. "If you have enough DNA in comparison, then you are probably related. So with DNA matches, it transcends all of that research you would have to do and goes direct to someone that you're related to. That person may have already done research and has your family tree."
Have I actually found distant relatives using AncestryDNA and 23andMe?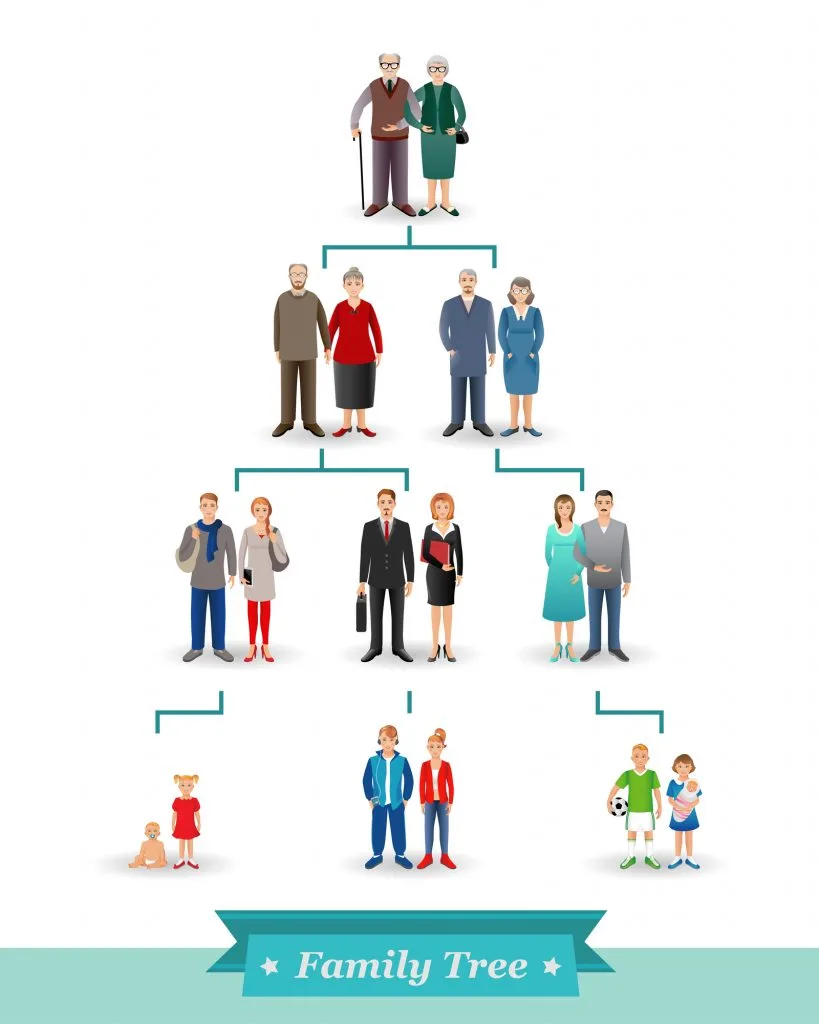 You bet.
I've received lots of messages from both Ancestry and 23andMe that there are new relatives that have joined via DNA testing.
That doesn't mean that I have to meet them or be in contact with them. It just alerts me to the fact that there are more people out there to possibly get in contact with.
In fact, when I did 23andMe DNA ancestry testing, I was instantly alerted that I had a first cousin sharing my DNA in their database. Turns out one of my cousins had done the testing and I didn't know it!
So it really does tell you the truth about family members!
Family Members I Have Found Through DNA Ancestry tests:
Currently on 23andMe, I have:
1,191 DNA Relatives in my 23andMe DNA Family
1 person in the "Close Family to Second Cousins" category
776 "Third to Fourth Cousins"
The rest are "Fifth to Distant Cousins"
Other fun facts from my 23andMe ancestry reports:
Texas is the state where I have the most relatives (45 of them)
Florida, California, Washington, Illinois and New York are home to a majority of my relatives (People that I have never met, obviously, since I know of no one that lives in Illinois)
Currently on AncestryDNA, I have:
6 Second cousins
4 Third cousins
A total of 204 Fourth cousins or closer
Again, I can send messages to these connections that AncestryDNA and 23andMe have found on my behalf. I don't HAVE to contact them and they don't HAVE to respond to my message requests.
It is possible, though, to discover new family connections and even start talking online to discover new family tree information.

Which DNA Ancestry Test is Best?
Obviously, there are some differences between both of the DNA Ancestry tests. The prices are generally about the same ($99 for each test kit unless there is a sale – which there often is!), so that makes it more difficult to choose between the two different test kits.
Here's the differences between AncestryDNA and 23andMe ethnicity testing kits.
Pros
Best for people who want to learn more about their family tree
Lets you see family trees already created on their Ancestry database
Easier to find actual people in your family tree based on other's research
Cons
My ethnicity results have never been updated to reflect DNA database changes
You will need to pay for monthly or annual membership to keep access to some family tree research tools
Not as much scientific background of your DNA ancestry test results
Pros
Geek out on the scientific background of your ancestry and ethnicity
Lots of fun facts based on scientific research (and explanations of your test reports)
More detailed ethnicity facts and reports
Results are updated as the understanding of DNA testing improves
Can combine with medical testing (same spit test method) for a hidden look at your genetic traits
Cons
You don't have access to the world's largest collection of ancestry research
Focus is more on ethnicity and scientific methods
So, that is how AncestryDNA and 23andMe DNA ancestry test kits compare. I'd love to hear from you if you've done ancestry testing. What did you find out? Any surprises?