Have you heard about making a bullet journal? Did you know that you can bullet journal meal planning ideas? It's brilliant!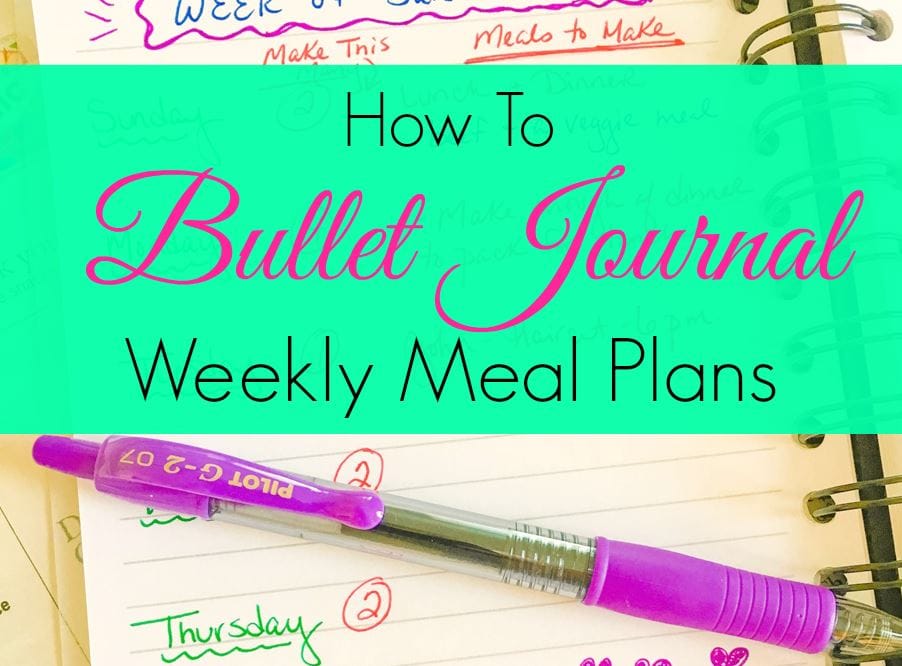 Wondering what is a bullet journal? I was too. Then I started seeing examples of bullet journaling. Think one part doodling with two parts time management and planning and that's pretty much what a bullet journal is like.
I've been doodling all my life. Now it's suddenly accepted and encouraged with bullet journaling. I'm also a fan of old-fashioned hand writing notes and lists. No typing out notes on my smart phone. No crazy apps and programs on the laptop.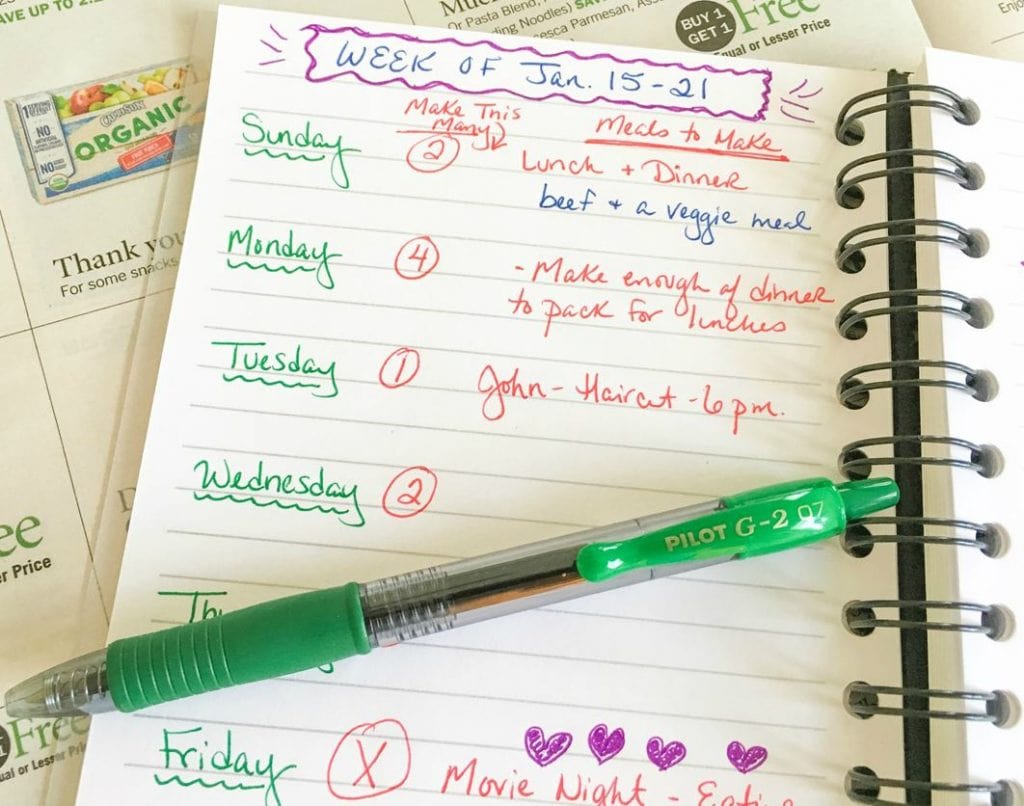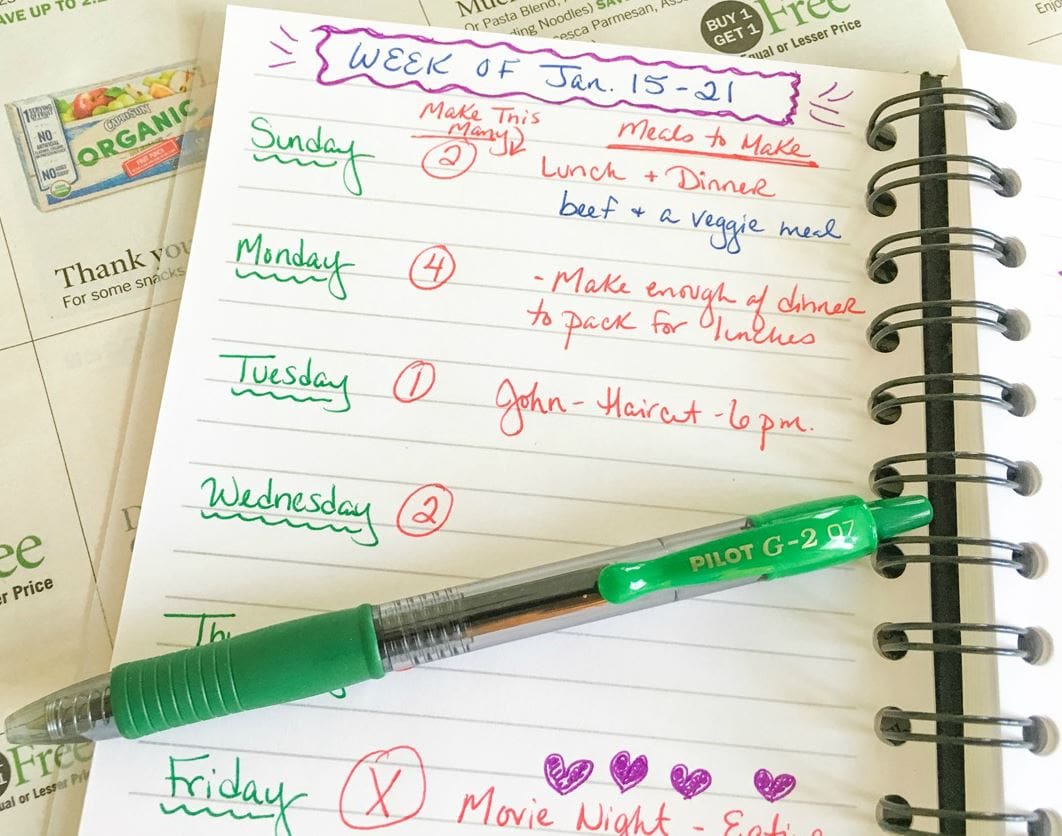 Nope. Good old-fashioned hand writing works best for me. I have always thought that I remember more when I'm writing something down. Turns out, there's now scientific proof that using pens and paper is good for you.
Pin it for later!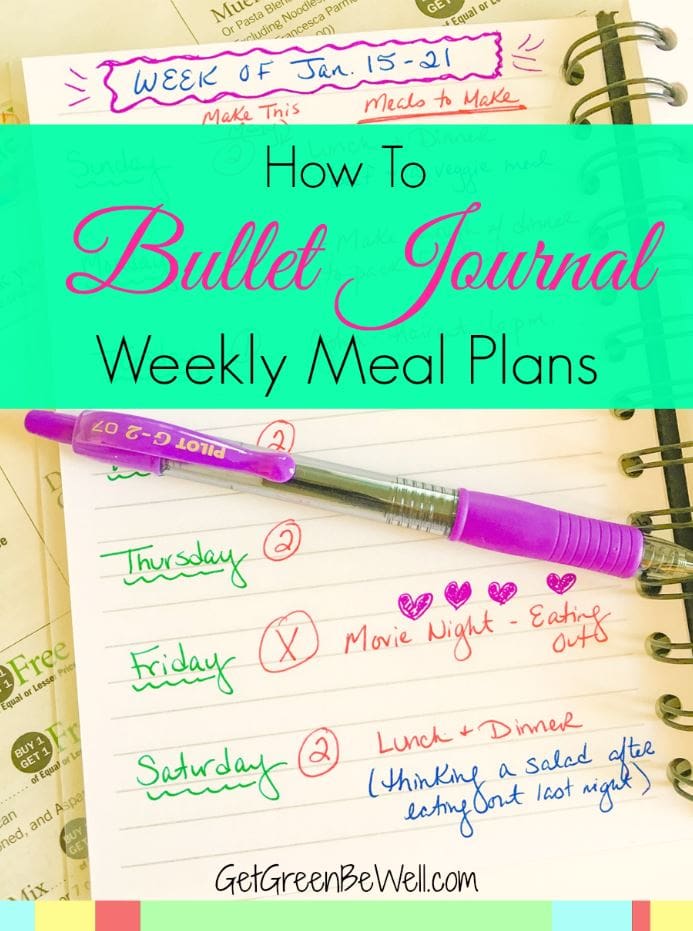 So, when it comes to doing meal planning, I'm going to start bullet journaling. After all, a bullet journal is great for helping you organize every other aspect of your life, why not family meals?
Bullet Journal Pens
I chose a fun-colored pack of Pilot G2 Premium gel pens. After all, part of bullet journaling is having fun with colors! With 15 color choices and four different point sizes, these were an easy choice to start my new year of bullet journaling meal planning ideas.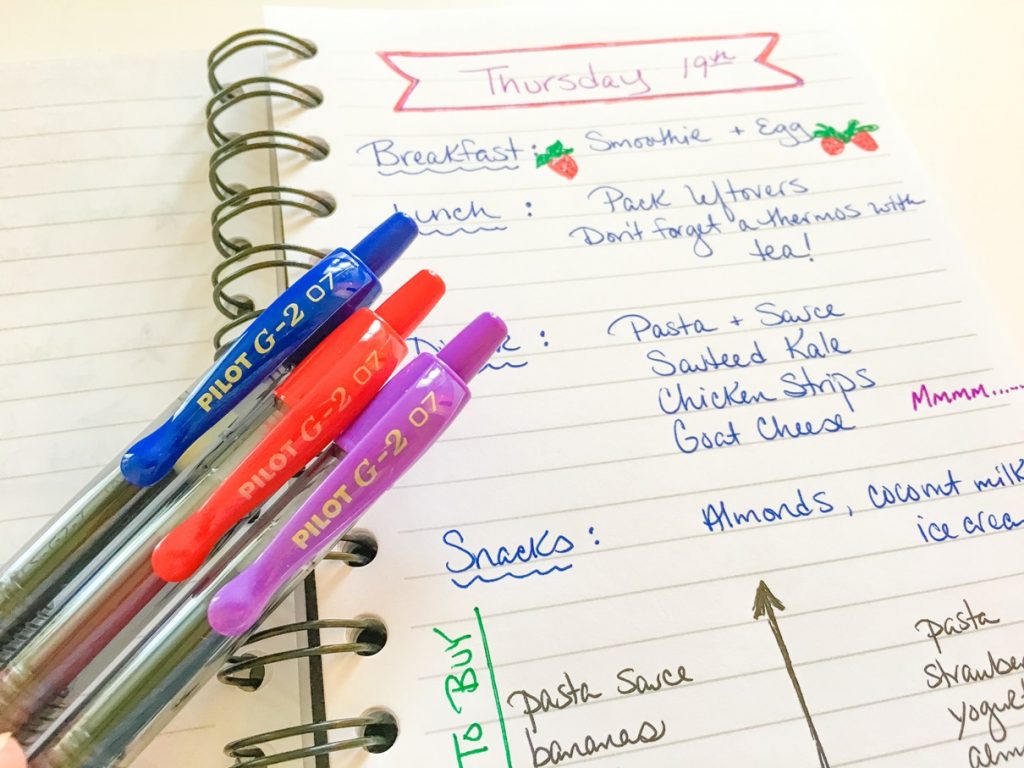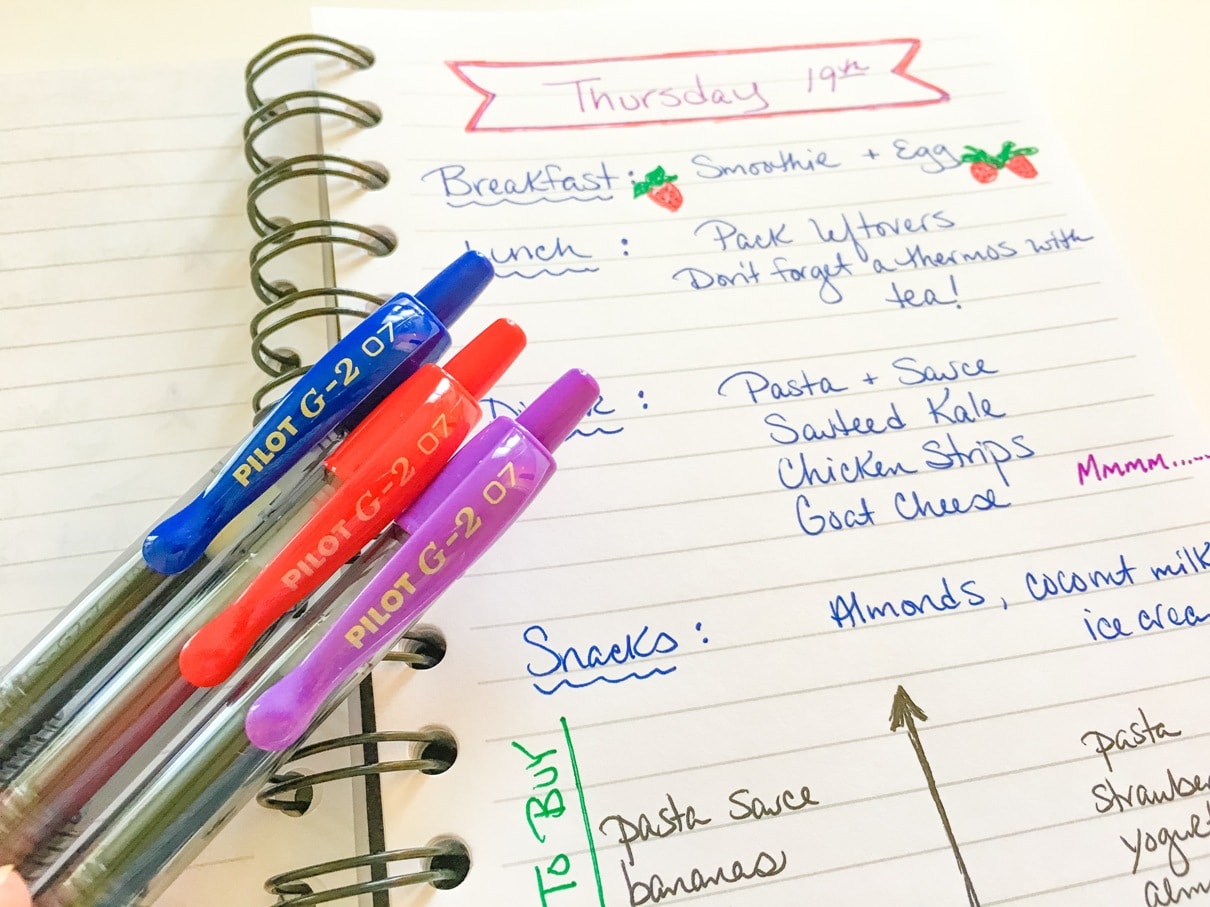 I love Pilot G2 gel ink pens. They just glide so smoothly when writing and really add a bit of luxury when writing out lists, which could be boring otherwise! While I chose the Pilot G2 Premium pens shown below, there are lots of other colors that I'd like to try out, too, including the Pilot G2 Target Fashion Collection and the Pilot G2 Metallics – I would feel so luxurious writing out my weekly reminders with these color choices! It's all up to you how you want to customize your writing and drawing, so have fun with the choices!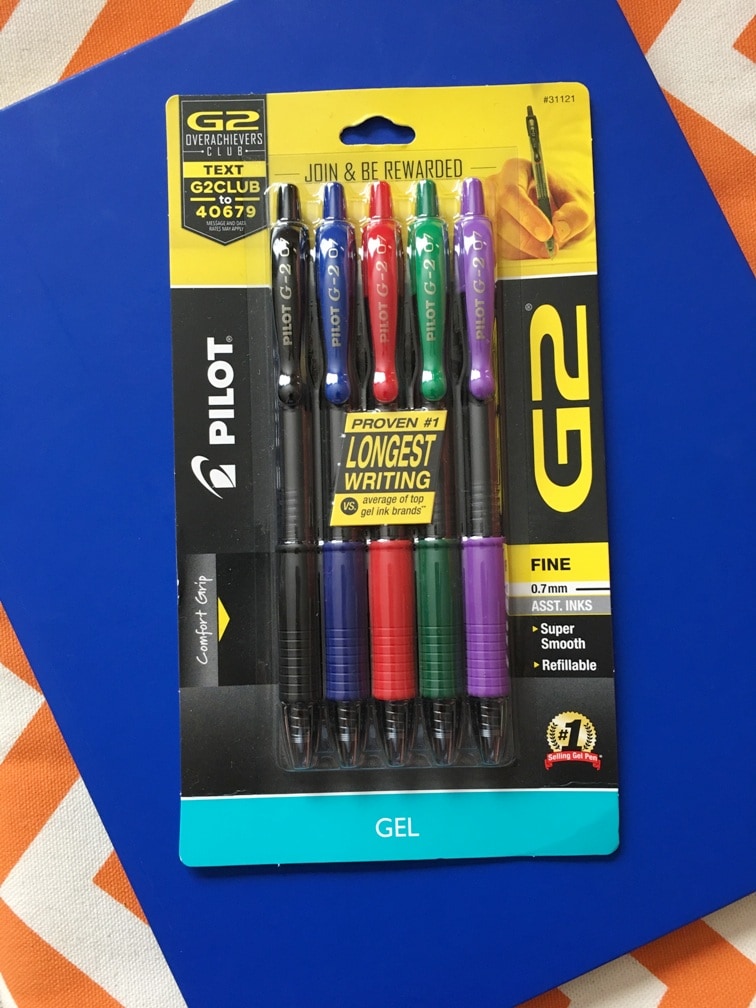 And the ink doesn't smear when I'm dragging my hand across the paper. Don't you hate it when that happens with other pens?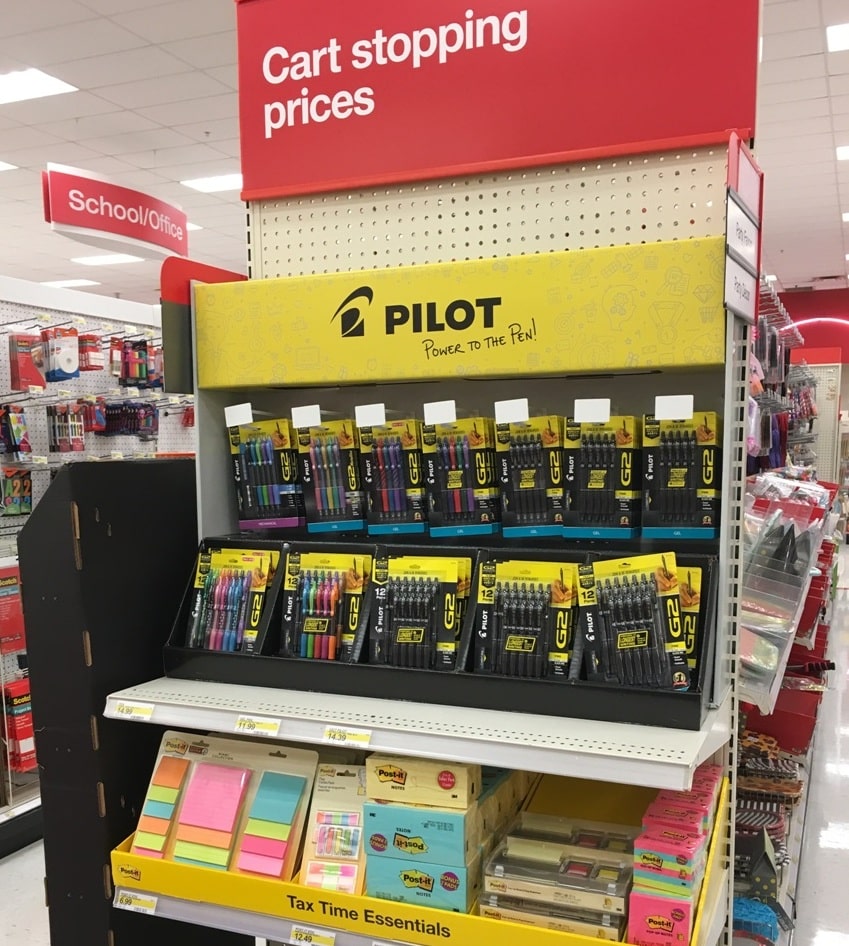 Are you excited about beautiful personalization, too? Then you're probably an overachiever like me! So join the Target G2 Overachievers Club (all you do is text G2CLUB to 40679 – it's easy peasy!) and you'll get a coupon! Score! Plus, you'll get life hacks (can't we all use those?), giveaways and product news.
Choosing the Right Notebook for Bullet Journaling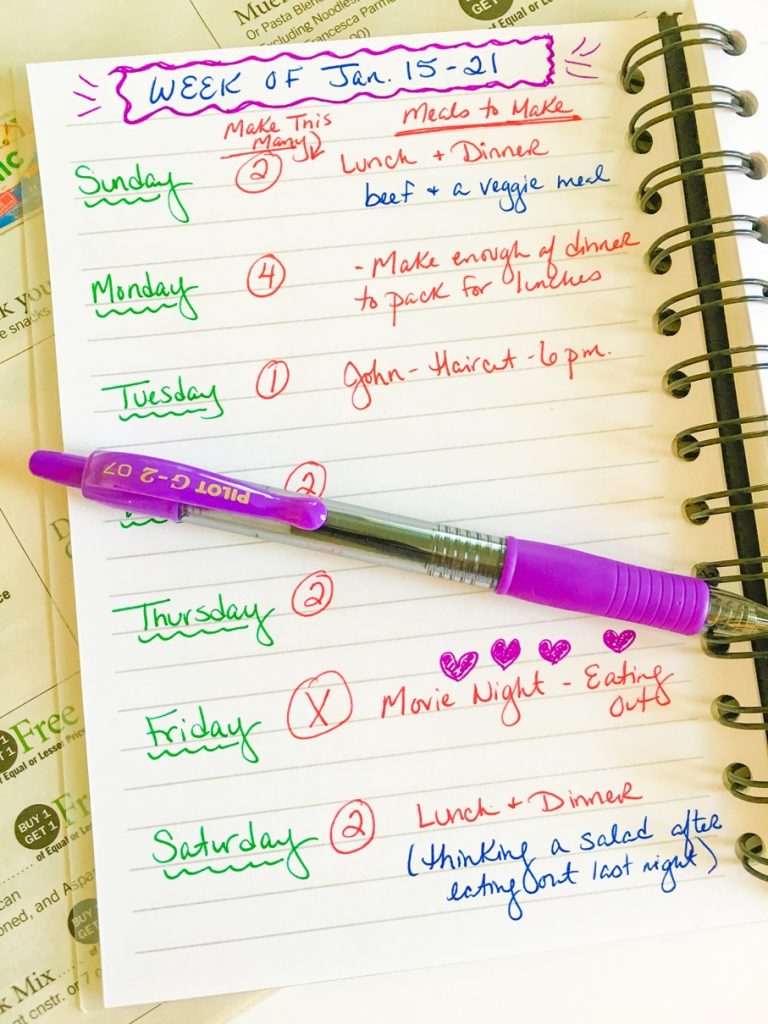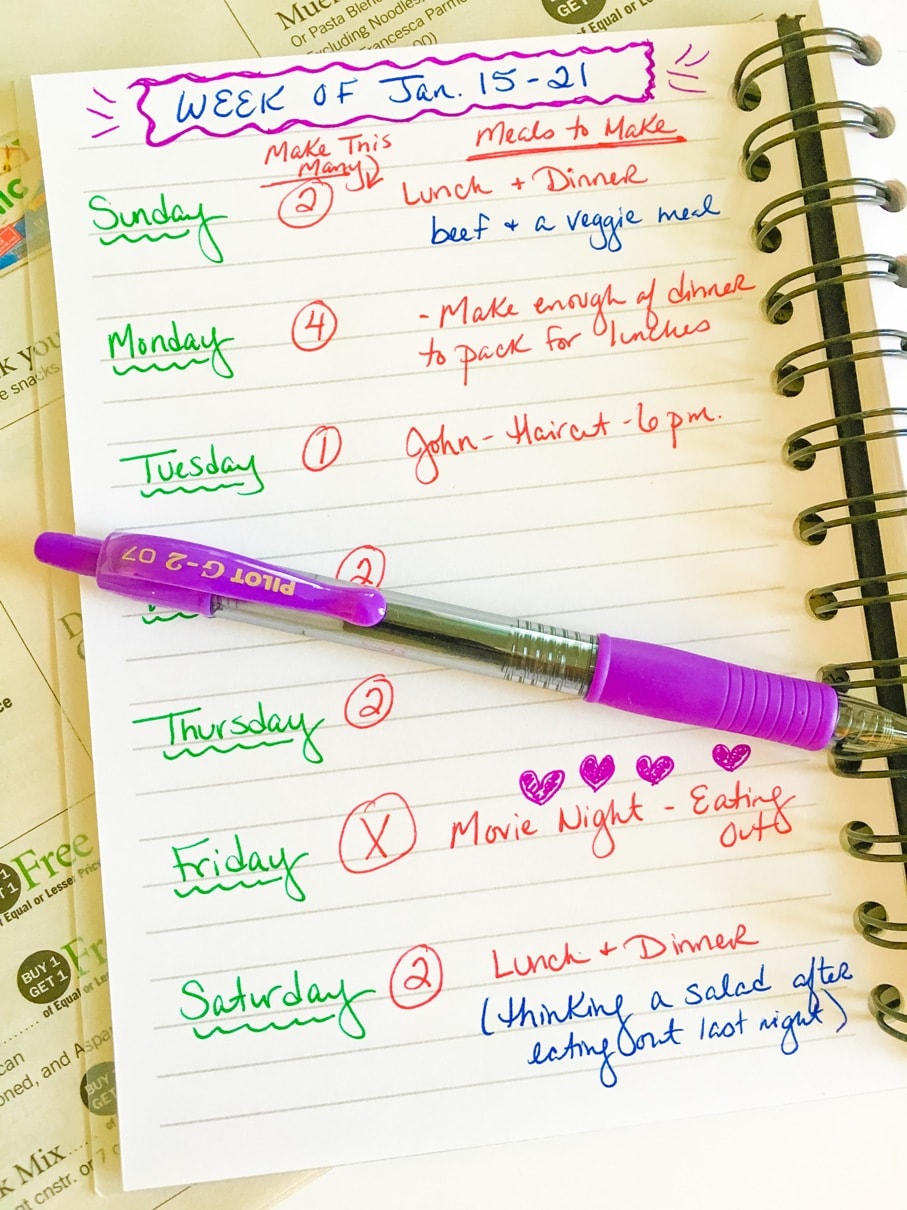 I chose a notebook that I had at home that I wasn't using. It's spiral bound, but I like it.
Most dedicated bullet journaling fans use bound notebooks – those without a spiral wire spine. Whatever works for you is fine.
Quite honestly, using a piece of notebook paper or typing paper would work, too. If you want to keep them for future use, just be sure to gather them altogether in a drawer, file folder, notebook, etc.
How to Bullet Journal Meal Planning Ideas
So, there are all kinds of ways to bullet journal meal planning ideas.
Who and When?
I started with a weekly timeline. This is writing down who is going to be eating each meal.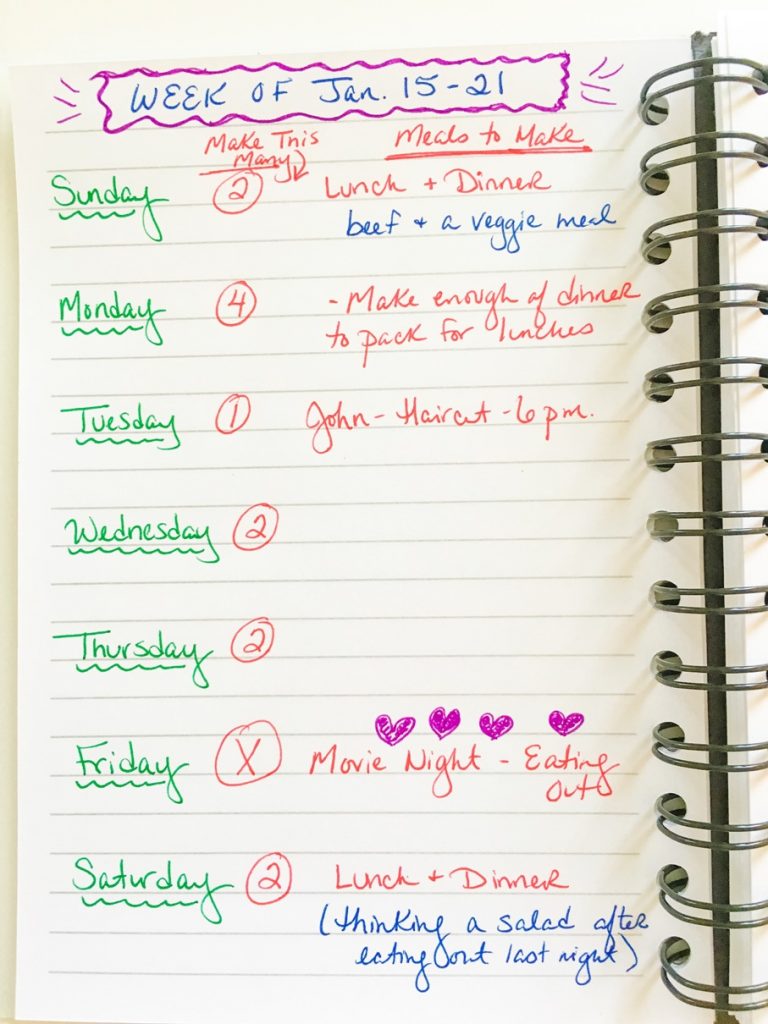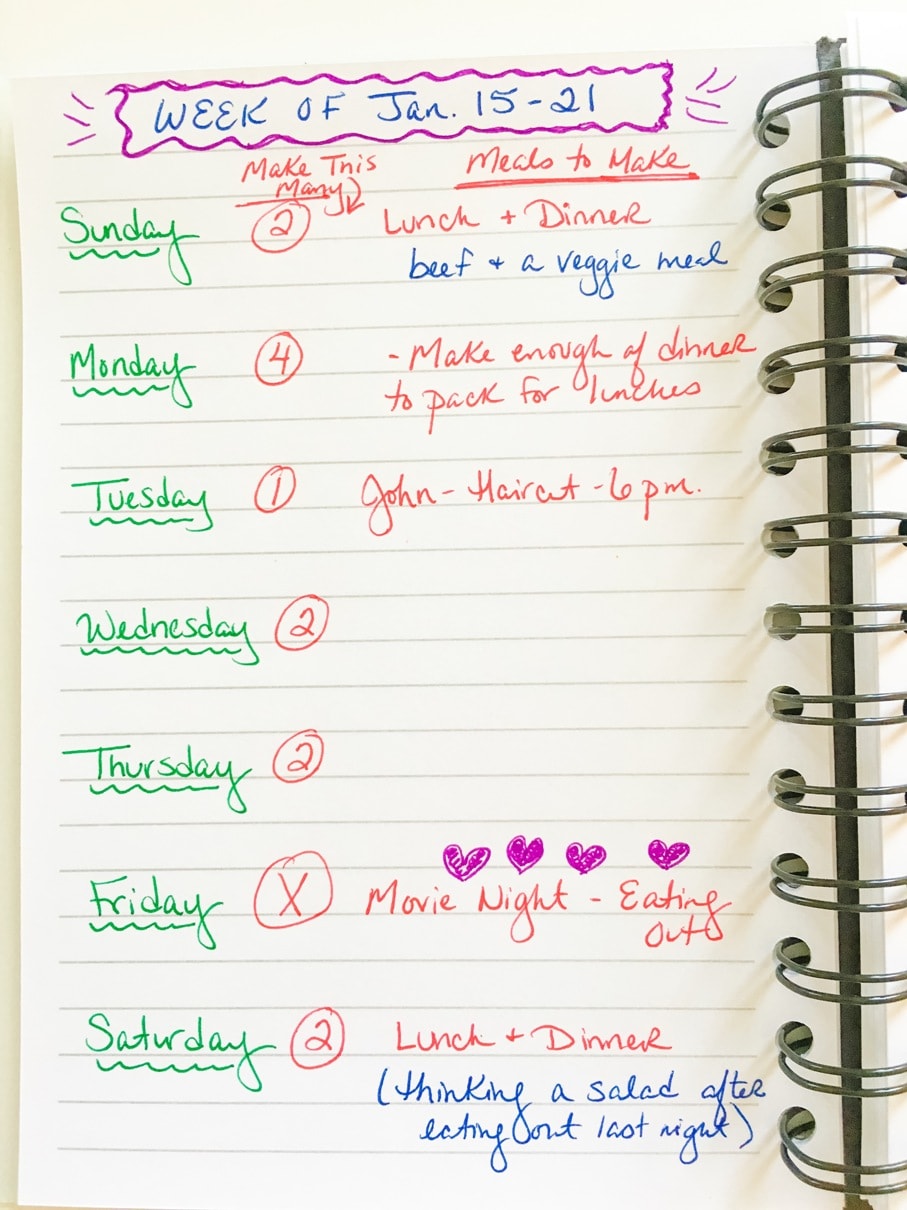 For instance, is your husband staying late for a child's practice and will be eating out, while you eat at home? Are your kids eating somewhere else for dinner or lunch over the weekend?
It's important to know who – and how many – people you are cooking for before you can effectively start to bullet journal meal planning ideas.
Ideas for Recipes
Next, you've got to have some ideas for meal planning.
Did you see a quick and easy recipe online or in a magazine? Or on Pinterest? (FYI – I've got 40 healthy Instant Pot Recipes that you might want to take a look at.)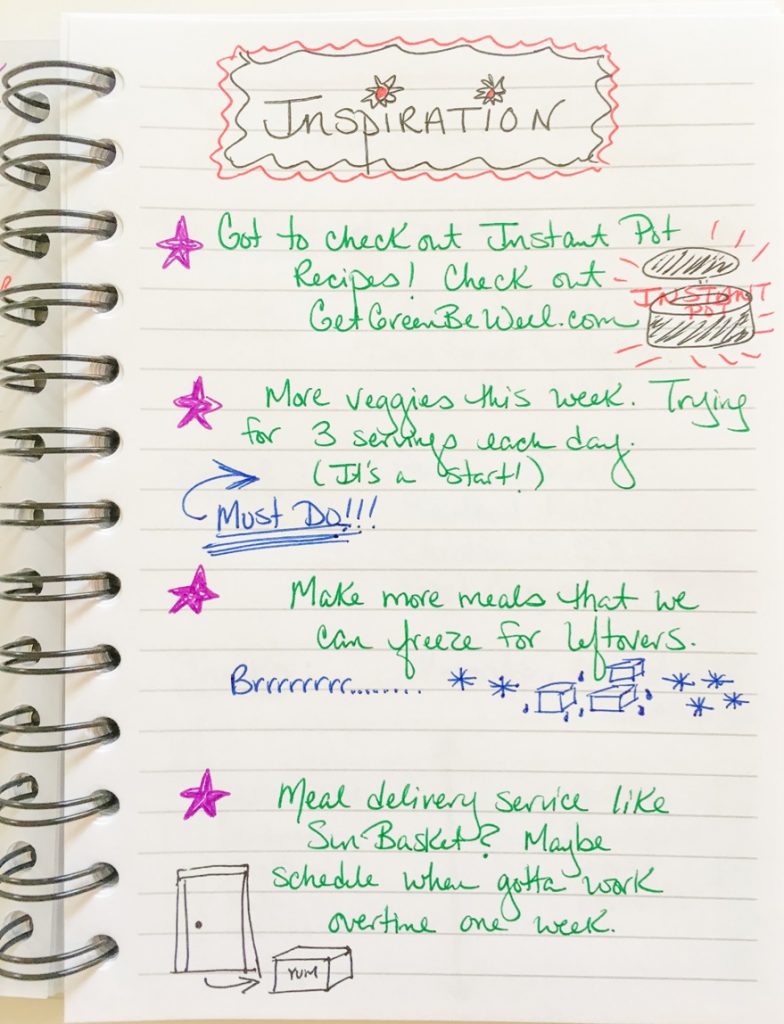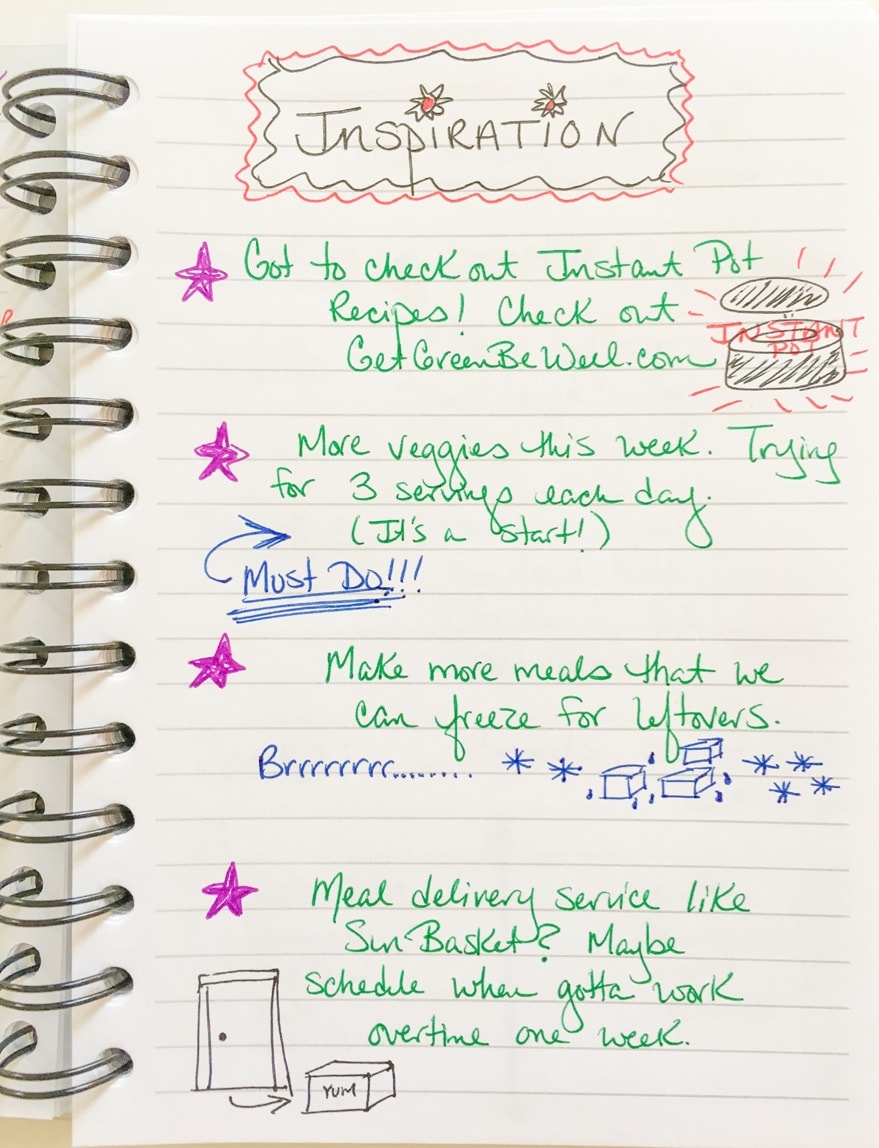 Got a favorite recipe that's a go-to winner for dinner? Doing a pantry clean out and got a bunch of ingredients but no idea what to do with them?
These are lists that you can always be adding to in your bullet journal meal planning ideas. The beauty is that you'll have one source for inspiration. No more digging around or starting from scratch. Just keep a few pages available for jotting down notes on meal planning ideas for dinner, breakfast, lunch and snacks.
Making the Weekly Meal Plan
Then, with a combination of who is eating and what you'd like to make, start planning out a week or two of meals.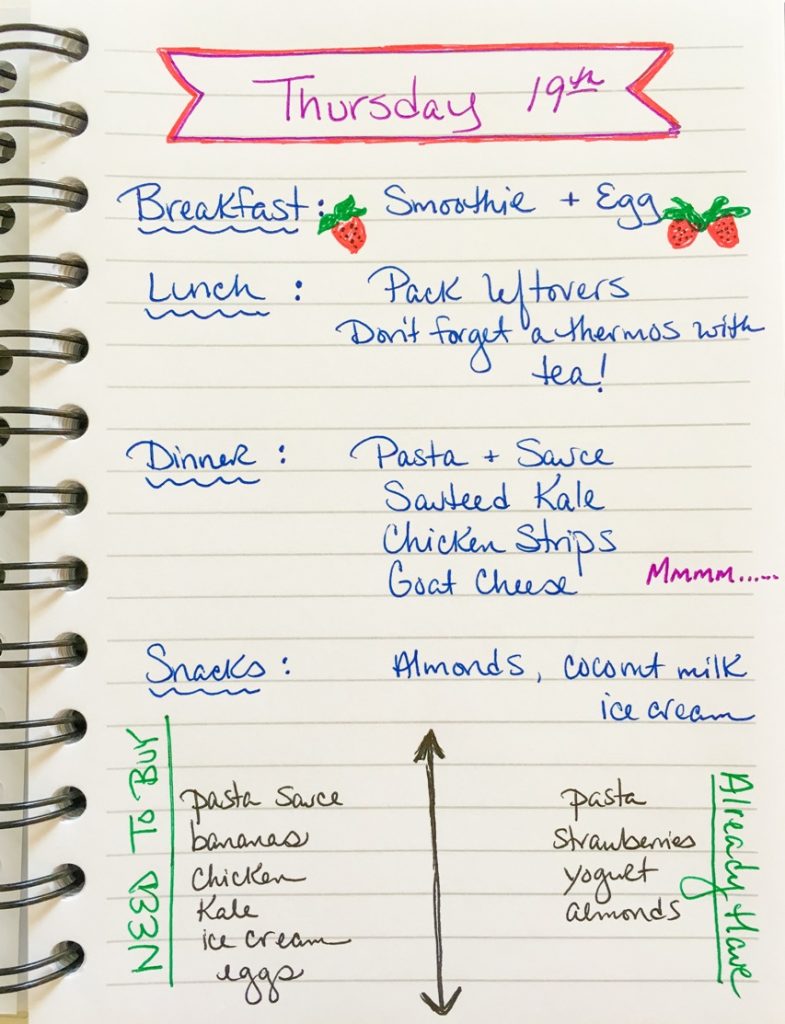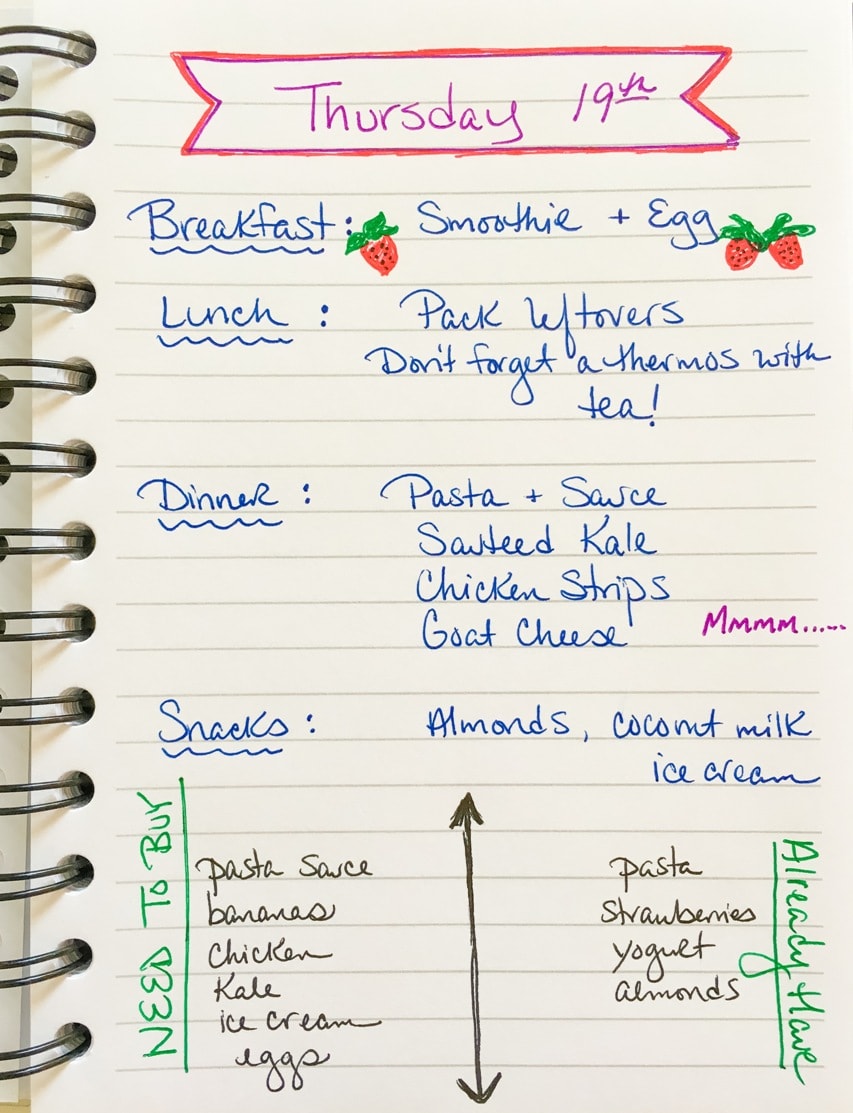 Create a separate entry for each day of the week. Be sure to be creative when the mood strikes. Like if you have baseball practice one night, draw in a baseball (doesn't need to be perfect!) as a visual reminder.
Pizza night? Go crazy with a hand-drawn pizza slice!
Date night? Add hearts and flowery text.
Portable Meal Planning Ideas for Shopping
Every so often, you might be thrown a curve. Maybe the store is out of something that you needed for a meal. You don't know what to substitute.
Or, you forget your grocery list. Ugh!
That's the beauty of a bullet journal meal planner. You can bring the notebook with you, and refer to it for inspiration. Look back and see what other meals you've planned. Be sure to draw great big smiley faces or hearts on the recipes that you've loved. Even better, write down your favorite recipes in your bullet journal, too. That way, no more scrambling to find out how many sticks of butter you needed for your husband's favorite cake.
I'm new to bullet journaling. Anyone else out there who does it and loves it, too?