I've always been a prepper. I believe in being prepared for emergencies well before they actually happen. My mom taught me this, and it's proven useful time and time again. After a year of horrible hurricanes and weeks where I was living off of the grid in an RV, I've realized the importance of prepping not just for food and water – but also for electricity. And the need to get the best portable solar power generator for home BEFORE the threat of disaster is looming.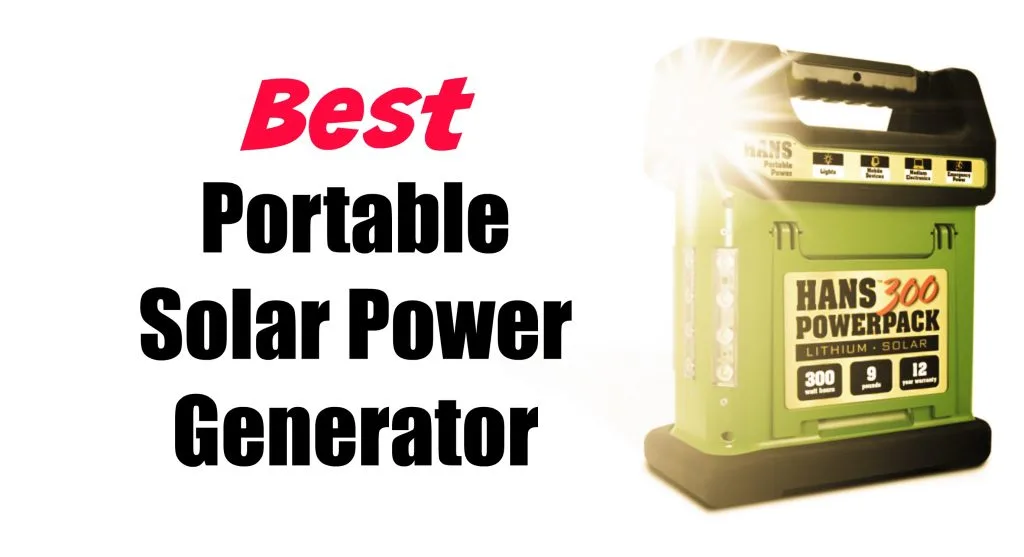 Many thanks to HANS PowerNet for supplying a HANS PowerPack for review. I am genuinely thrilled with this product, and hope you will support this company who dreams of changing the world for the better through free solar power and clean drinking water for those in need, too.
That's why I love having the HANS PowerPack 300 in my Emergency Kit. Especially after seeing the devastating hurricanes of this year. After living through so many natural disasters and power outages myself (including many hurricanes, a blizzard, trees falling on power lines, and off-grid living in National Parks), I know what I need when the power goes out and what works.
*NOTE: It appears that the Hans Powerpack is no longer available. I highly suggest solar-powered Jackery products as a great alternative. We have been using our Jackery for off-grid living and are really impressed with how well it works.
Why You Need a Solar Power Generator for Home
There are a lot of different things you need to have at home for an emergency or natural disaster. Food and water are necessities. So are medical supplies.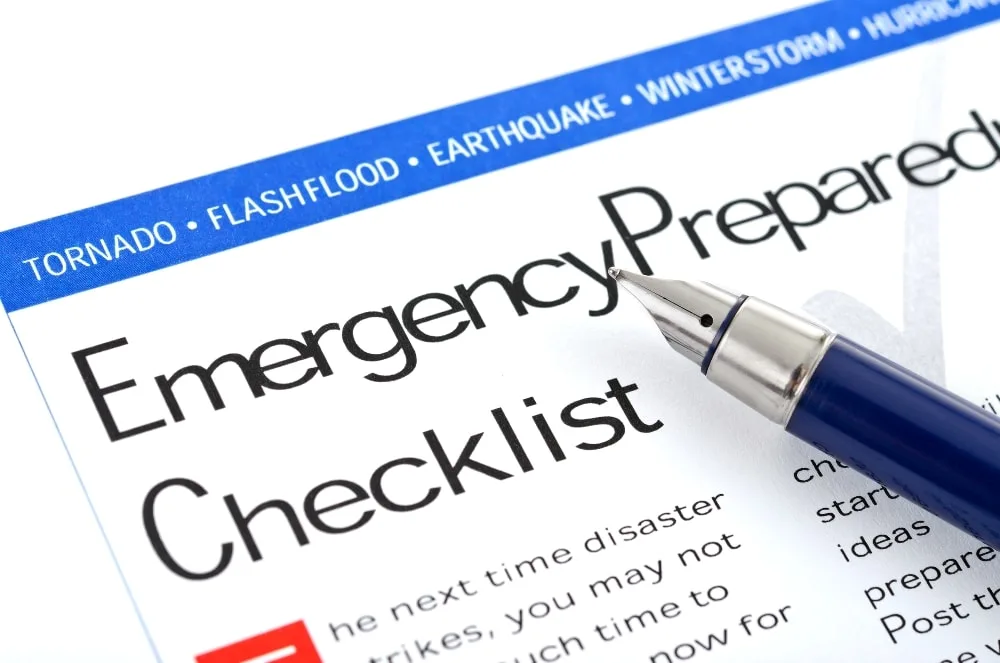 And light. You NEED light in the dark. And power. As much as you can get.
While most people are buying up all of the batteries on store shelves when the threat of an emergency is looming, that sort of prepping isn't going to last you well in the long run. If a disaster lasts more than just a few days, batteries run out. (And you DON'T want to have to try to find batteries or gas when a natural disaster is coming. Ugh, the insanity!)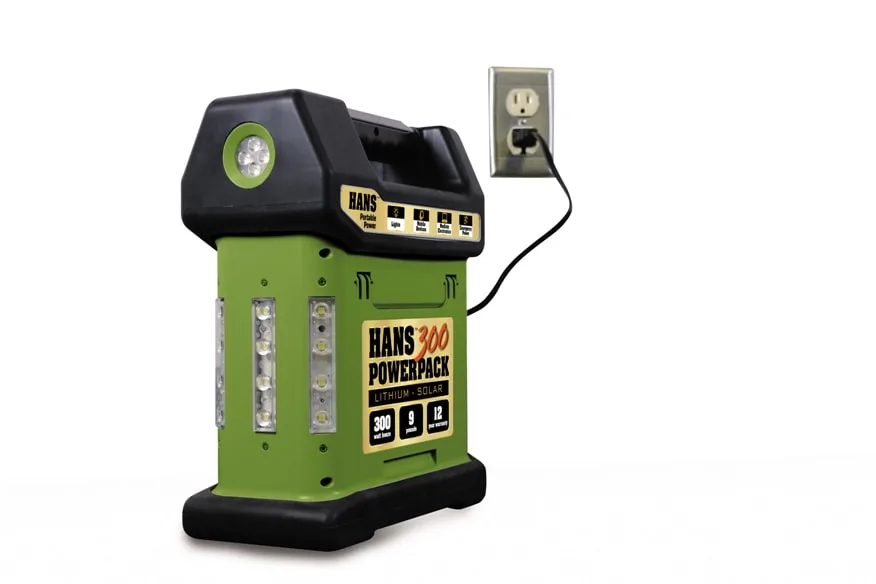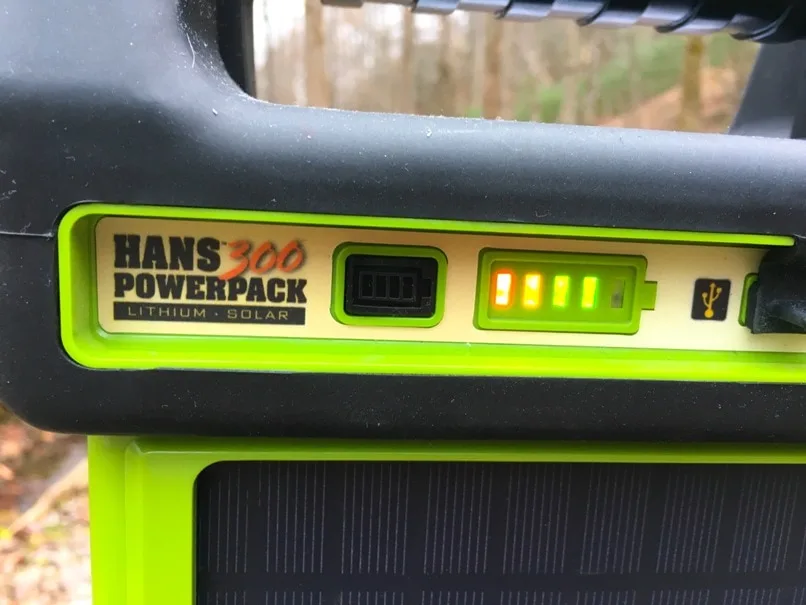 You can fully charge the HANS PowerPack 300 via a wall charger when you DO have electricity. It retains 70% of its charge for up to 6 months. So no need to worry about finding daylight to charge it up when a natural disaster is hitting. And one full charge will give you up to 300 hours of light and up to 30 cell phone charges.
And batteries are only going to supply you with power for battery-operated lights.
Not phone charging. Not laptop charging. Not food cooking.
What you need is a free and unlimited way of charging up your phones or radios to stay connected during an emergency. A way of plugging in laptops to see weather reports, how to file claims, where to go for shelter should you need it, and -let's be honest – how to stay entertained when the power is out for days on end.
You need a power supply system that will last for days and weeks should you need it. And you need power to charge many different types of your family's electronics. The HANS PowerPack 300 definitely will supply those needs!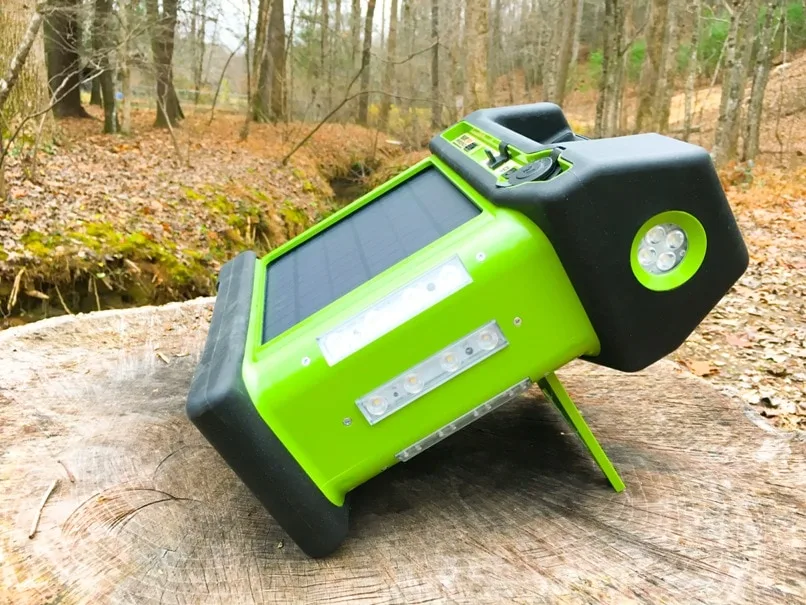 Solar power is a renewable emergency power supply. As long as the sun is out, you can be recharging your power supply. With the HANS PowerPack 300, a kickstand allows you to change the position of the generator to best capture solar power.
No need to worry about getting to the store to buy more batteries, only to find none there. No need to worry about charging your phones and computers.
A Portable Generator is a Must for Families
At my family's house, we have a gas-powered generator outside for emergencies. Yes, it works for powering the refrigerator and TV.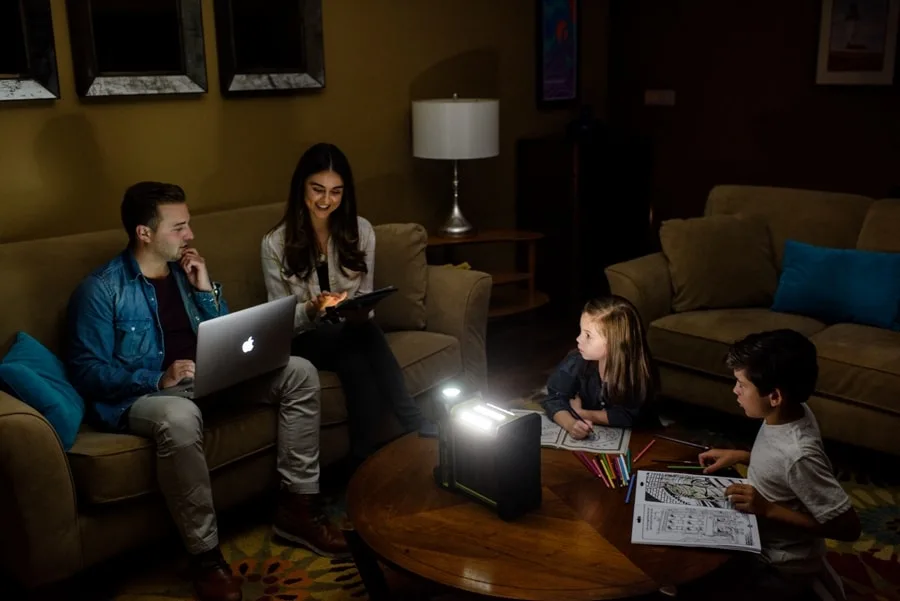 However, it is so hard to start that there is no way my mom or I can get it running if my dad isn't there. (And he is on the volunteer fire department, so he often isn't at home during an emergency or power outage.)
While RVing this year, we had a gas-powered generator to give us electricity when off-grid living in parks. It was so loud outside that it drove us crazy. And I couldn't get the thing started on my own. Much less pick it up.
Plus, both of these situations require constant refueling of gasoline. If you don't have gas, you don't have power. And that's not a good situation in an emergency.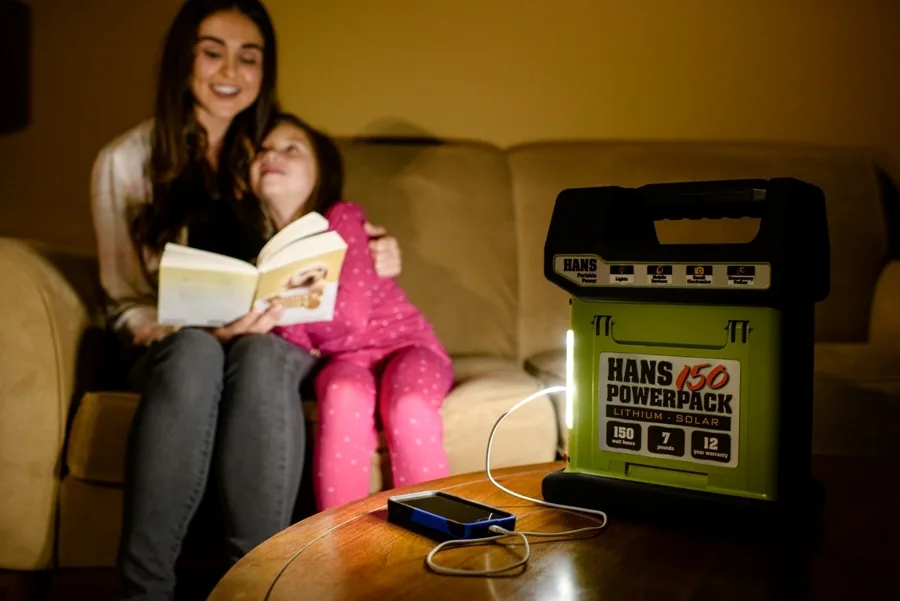 The truth is, many women just don't have the upper body strength to get a big, gas-powered generator started. Which means you're going without ANY power if you can't get it turned on.
Or maybe you're an older homeowner who wants to be prepared in an emergency, but can't rely on being able to start a gas-powered generator.
Even young adults and teens who could be on their own or at home when an emergency hits might not be able to figure out how to turn a generator on or get it to start.
When I received my HANS PowerPack 300 to review, I opened it up when my nephew was at home. He instantly thought it was a toy, grabbed it and started walking around with it.
Did I mention he just turned 3 years old? And he can carry this portable solar power generator? (At some point he threw it on the ground, too, and it still works, so the HANS PowerPack 300 is tough! Thankfully there's also a 12-year warranty!)
I don't have a lot of upper body strength due to shoulder and neck issues. I have a hard time lugging around a large purse. Yet at just 9 pounds, I can easily pick up the Hans 300 Powerpack and carry it to any room in the house.
Emergencies When You Need a Generator
There are a variety of situations when you need emergency power supply. That is when a portable solar power generator like HANS PowerPack 300 can literally be a lifesaver.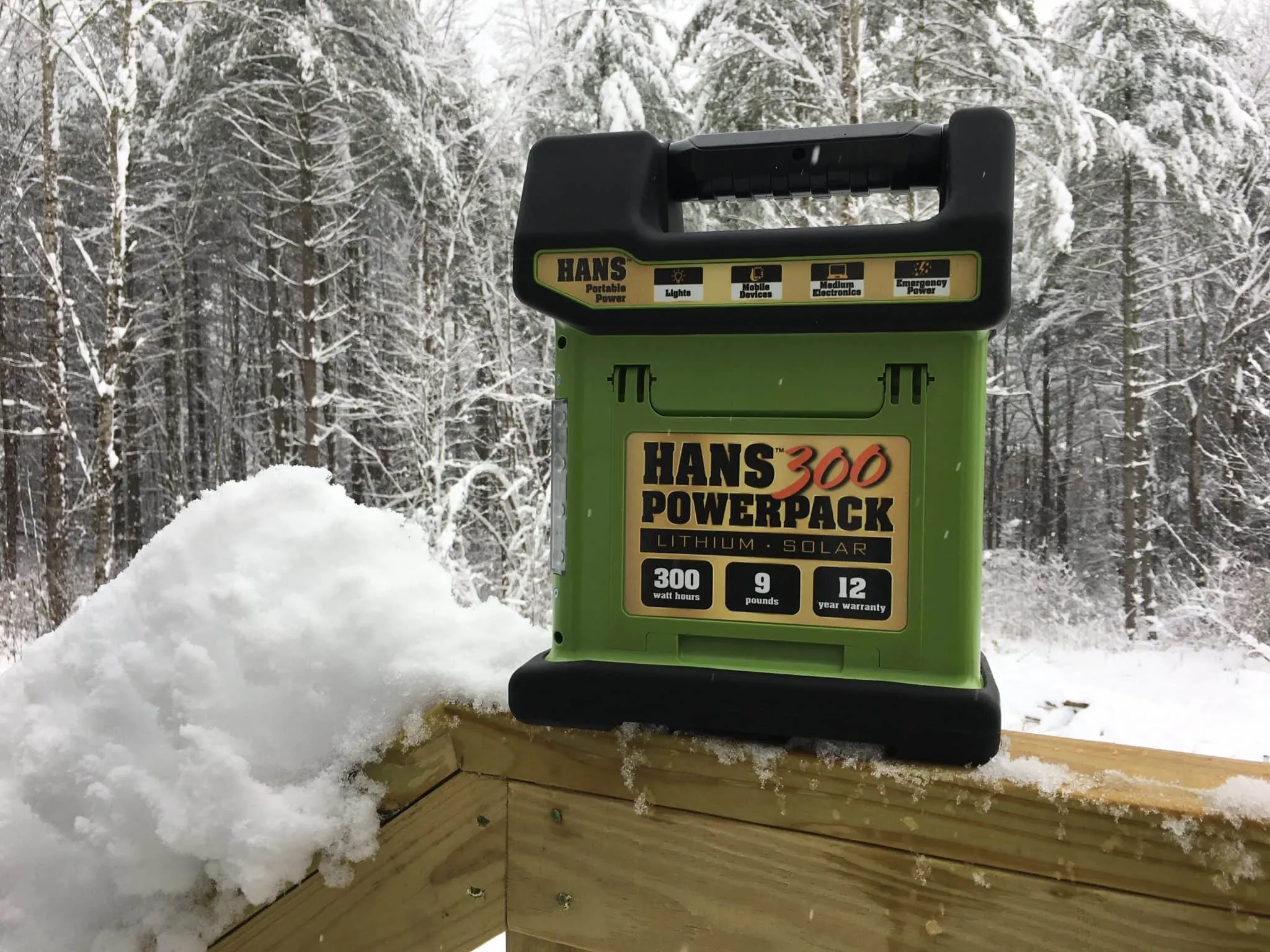 Natural disasters don't always come with warnings. And you never know when an emergency will affect your family or loved ones.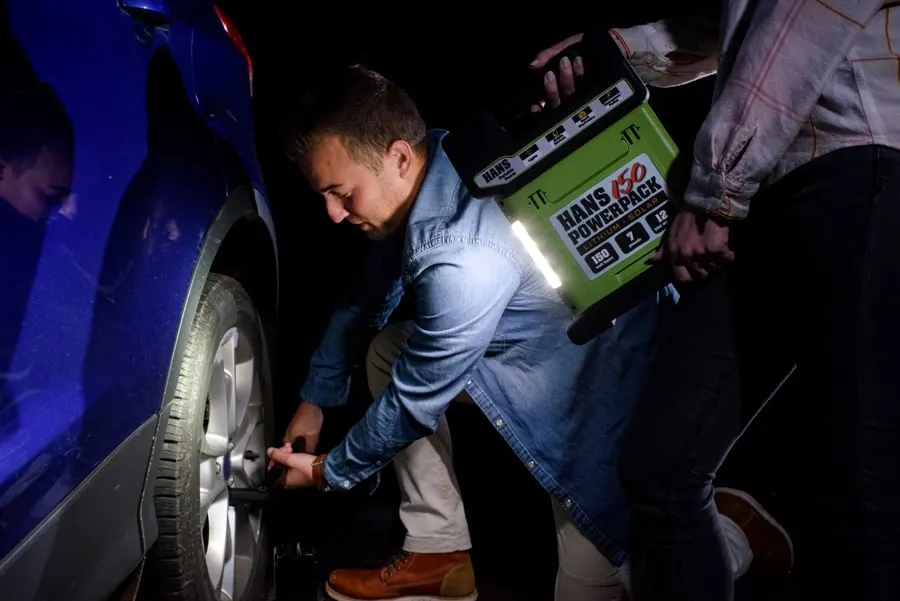 You need a generator for the following situations:
Car breaks down or runs out of gas
Bad weather forces you to stay in your car
Tornadoes
Fires
Floods
Earthquakes
Hurricanes
Blizzards
Power grid failure
Acts of Terrorism
Trees fall on power lines
RVing
Camping
Tailgating
What Can You Run Off of a Solar Power Generator
In no way am I suggesting this portable solar power generator is a whole-home solution. It's not. Let's get that clear.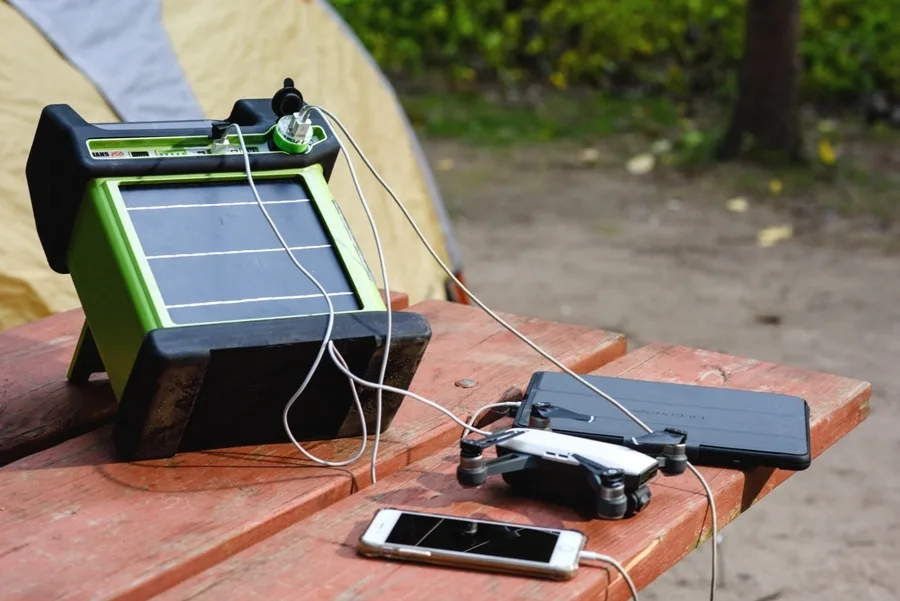 Yet the amount of things that the HANS PowerPack 300 CAN charge is awesome and can really save you in an emergency or natural disaster. Among the ways you can use this portable solar power generator are:
Emergency Lights
The HANS PowerPack 300 has 5 watts of built-in LED lights. So as long as the generator is charged up (whether charging via the wall charger before a disaster or charging with the solar panel), you've got light.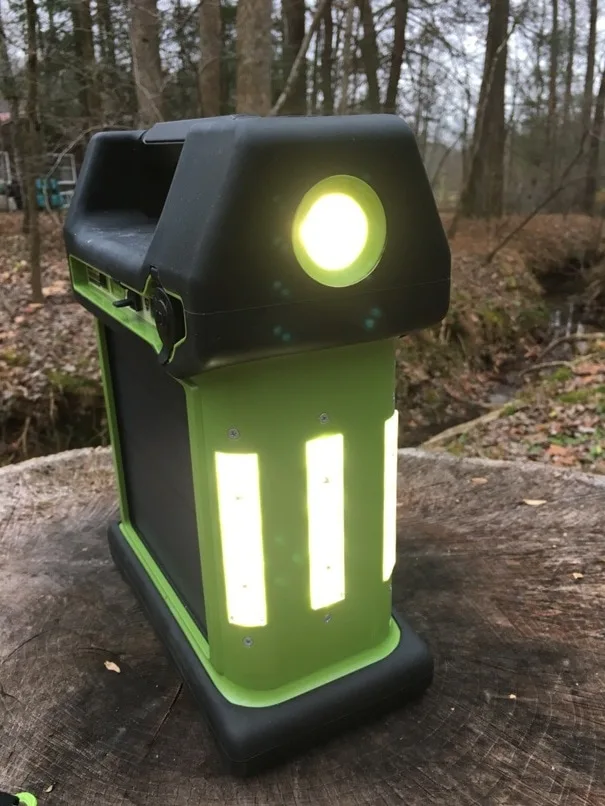 And it's bright!
There is a 2-watt LED Spotlight, which is great in emergencies and when you need strong, directed light. For example, when you are on the side of the road and looking at a car's engine.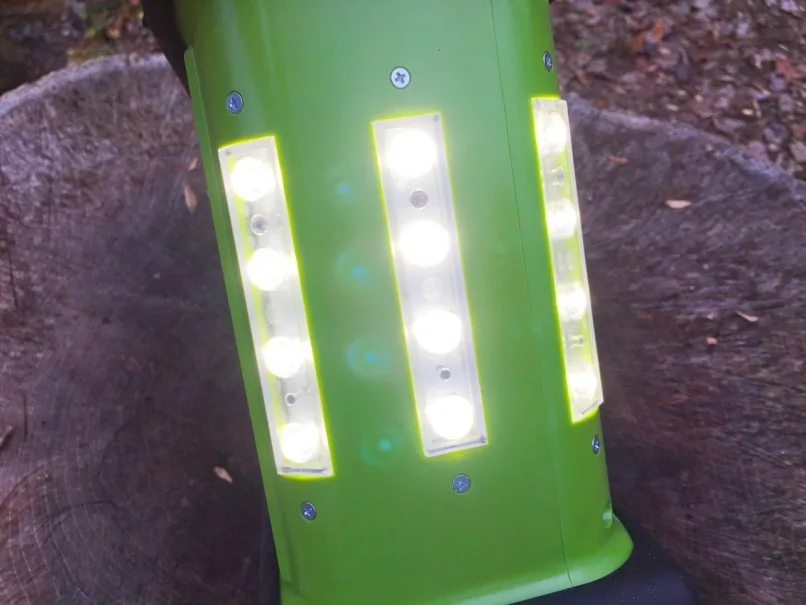 There are also three 1-watt lights which give a broader ambient glow. These lights are perfect for reading, cooking, or just lighting up the room at night.
With the 12V outlet and USB Port, you can also use lights that can be charged through those types of connections. So a 12V lantern can be used in other rooms of the house or taken outside.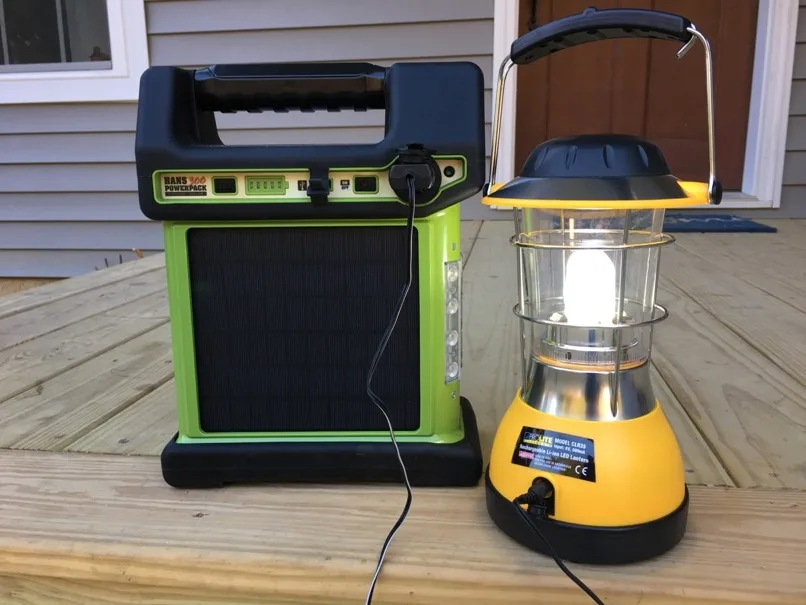 Mobile Phone Charger
In today's world, you absolutely MUST have power for your mobile phone.
But it can suck up juice really quickly. Especially in an emergency.
The HANS PowerPack 300 has up to 30 phone recharges per full charge of the generator. That's a lot of phone recharging in a natural disaster.
You could help out the entire neighborhood every time you charge up the solar power generator.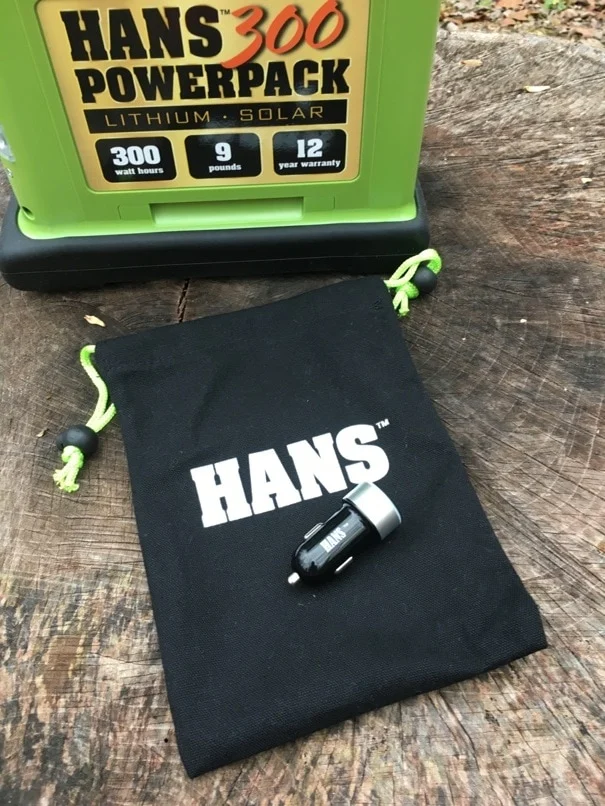 I love that HANS includes a 12V adapter that adds 2 more USB ports to the solar power pack. My husband actually bought one of these for us while we were RVing. We used it in the cigarette lighter in the truck and charged both of our cell phones while driving. It was the only way we could both charge at the same time. It worked GREAT!
Laptop Charger
If you've watched my video about living off the grid in Glacier National Park this summer, then you know my biggest frustration was in keeping my laptop charged.
Sure, I've found great portable phone chargers that I can use on the go. And I do have a small solar power charging system for charging my mobile phone. But I could never find a portable solar power system that would charge my laptop (without spending a fortune on yet another device).
The HANS PowerPack 300 can charge a laptop up to 6 times! Finally! I don't have to struggle trying to find a portable charger for my laptop. If you have a tablet, the HANS PowerPack 300 works for those, too.
Portable Oven
When we were RVing, this portable oven for use in the car was a LIFESAVER!
And I don't say that lightly. Really, truly, this thing made all of the difference in our world. And it's SUPER affordable and easy to use.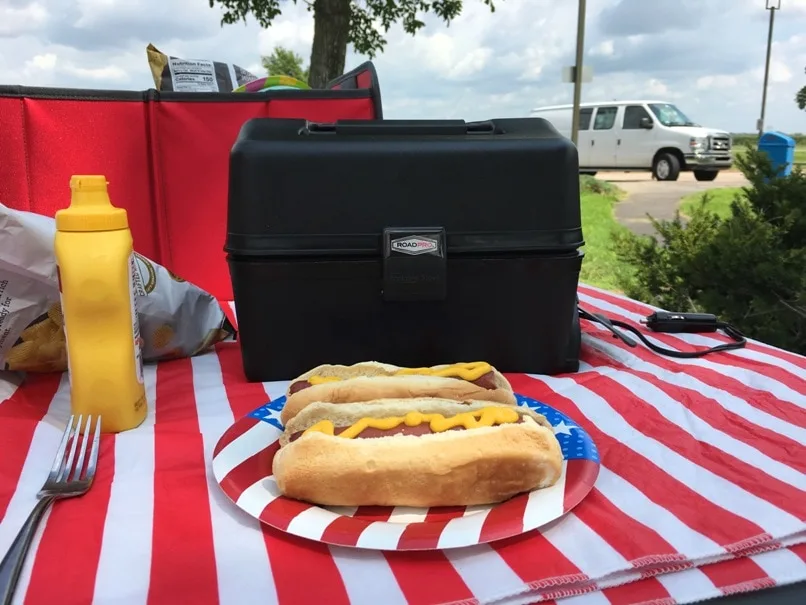 We would cook meals (it gets up to 300 degrees, so, yes, you can use it just like an oven) in the truck while we were driving. All I did was plug it into our 12V plug (also known as a cigarette lighter) and we'd have a hot, tasty meal in no time. The Hans 300 Powerpack has a 12V plug built into the solar power generator.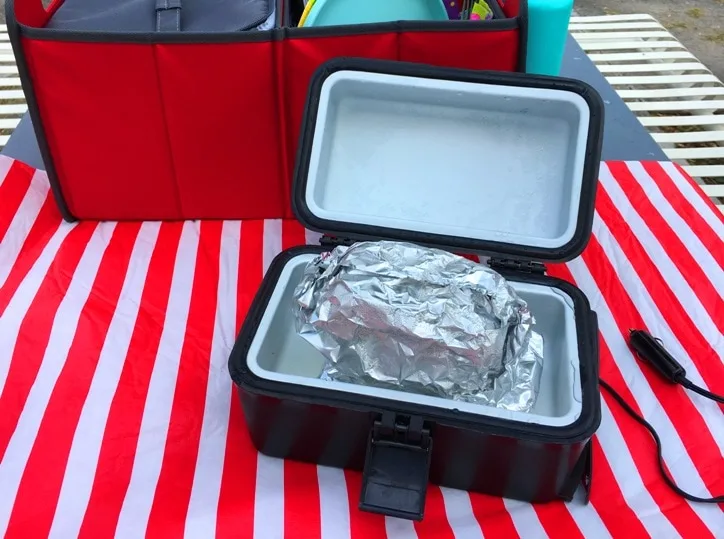 Trust me, in an emergency, packs of cheese crackers aren't going to cut it for more than a few hours.
Portable Fan for Staying Cool without Power
We were hit by 3 hurricanes in a row living in Jacksonville, Florida several years ago. It seemed like there was a different hurricane each weekend.
We survived. Our property survived. We had food to eat and plenty of water to drink. But do you know what the most miserable part of the experience was? The thing that I STILL cringe about thinking about surviving those disasters.
No air-conditioning.
In Florida or any coastal state, if the power is off after a natural disaster or emergency, the heat and humidity is what can make you miserable. It's also potentially life threatening.
Immediately after surviving those ordeals, I invested in these battery-operated fans (they also run off of electricity when you have it). They work so great, so I also bought several more of them for RVing off the grid this year. But the batteries run out in about 4 days (and that gets expensive!).
That's why I'm so glad that there are fans that will run with a USB plug or a 12V plug, both of which can be used on this solar generator.
Anything That Runs Off of a 12V Plug or Car Charger
If you've got any appliance, gadget, or power source that uses a 12V plug to charge up, then you can use the HANS PowerPack 300 as your power source.
Think tiny refrigerators, radios, heaters, small TVs and more……..
Best Solar Power Generator for RV Camping
As you know, I lived and traveled in an RV for a year. We did a lot of off grid camping (until the heat was so severe that we HAD to find places with electricity for air-conditioning, as I talked about in a Washington Post interview).
So I know what it's like to live off grid. And what you need when you're working on the road.
I talked a lot about the challenges of living and working in an RV with no power in the boondocking video above. I also share some of my best tips. (I wish that I had this solar power generator at that time! I honestly didn't know what I needed as we started RVing for the first time.)
That's why the Hans 300 Powerpack is the best portable solar power generator for RVing or camping.
It's multi-functional use means that you don't have to give up a lot of space for multiple chargers and gadgets.
The solar power charging of the powerpack is brilliant for when you're outside and can position the solar panel to capture energy during the day.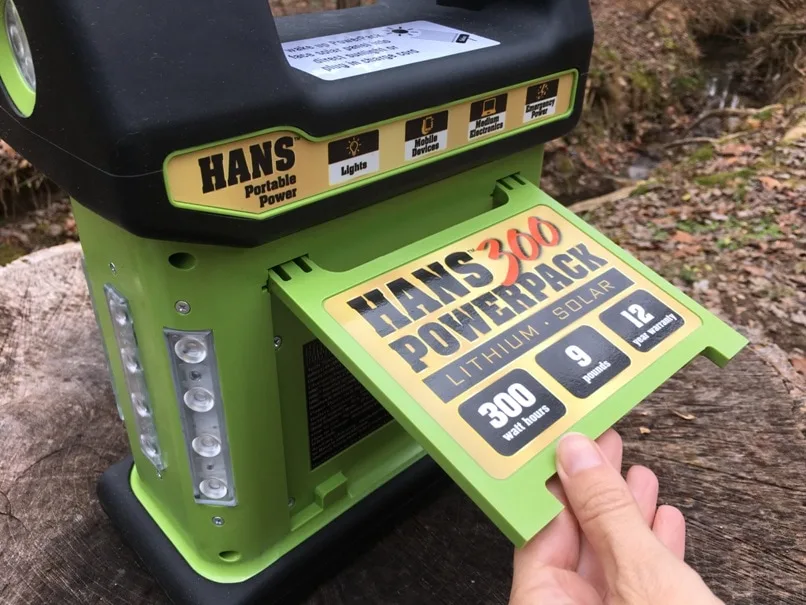 You'll be able to sit by the campfire and watch Netflix on your laptop if you want. Or just power up your phone to take pictures on a hike the next day. Or cook a meal if you don't want to use the propane oven inside.
AND you'll be able to keep yourself cool without being that annoying RV neighbor who's running their generator all day in the quiet campground just to keep the air conditioning going.
HANS PowerPack 300 Specs
There's so many great things to say about HANS products. Here is some more information on the eco-friendly way to stay powered up during an emergency or disaster:
After fully charged, keeps up to 70% of the charge for 6 months. That means you can charge it ahead of time, and be prepared in unexpected emergencies. (I'd suggest writing the last month of charging on a sticky note or painters tape and attaching to the PowerPack for reference.)
The PowerPack lasts for 1000+ cycles of charging it up
No noise!
One time investment.
Takes 3.5-4 hours to charge the system with the wall charger
Lays flat or stands up when in use.
Designed and assembled in the USA
Has a 4.5 watt solar panel
Also comes in a smaller version, the HANS 150 PowerPack.
Covered with marine grade rubber on high-contact surface areas
Can be stored in temperatures from -4 degrees to 113 degrees Fahrenheit
Charging with the solar panel takes 66 hours for a full charge. It's smart to continually be charging the HANS 300 PowerPack during the day and not wait until full power shut off.

While I don't have the HANS Solar BriefCase 60 (I really want one!), it would be a great idea to have this rapid recharging system if you KNOW that you're going to be using this portable solar power generator frequently. The Hans Solar BriefCase is a 60-watt solar panel (three 20-watt panels) that will recharge the Hans PowerPack 300 in 5-10 hours, and the Hans PowerPack 150 in 3.5-5 hours.