When you want to give a gift that will last long after the presents have been opened, consider these Christmas houseplant gifts.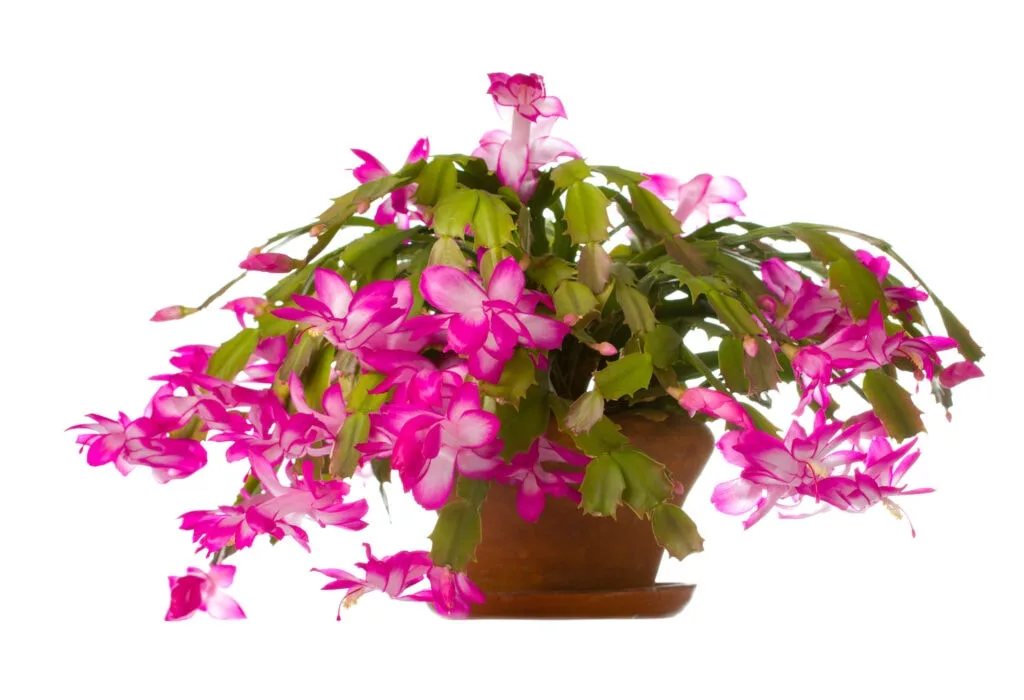 The Christmas Houseplant Gifts They'll Love
There's something special about gifting Christmas houseplants.
It's like you are bringing joy and nature into someone's home. It's like bringing a flower bouquet to make someone smile. Only houseplants last way longer than a flower bouquet.
Bringing a plain houseplant might seem a little boring, unless you know the person just adores plants.
But when you dress it up with holiday decorations, a Christmas houseplant suddenly becomes a joyful present that is immediately put on display in their home.
Everyone will ask them about their miniature Christmas tree. It's a gift that is not only a conversation piece, but also a thoughtful gift that might improve their well being.
Not ready to gift a houseplant? Check out the Best Gifts for Gardeners for other ideas.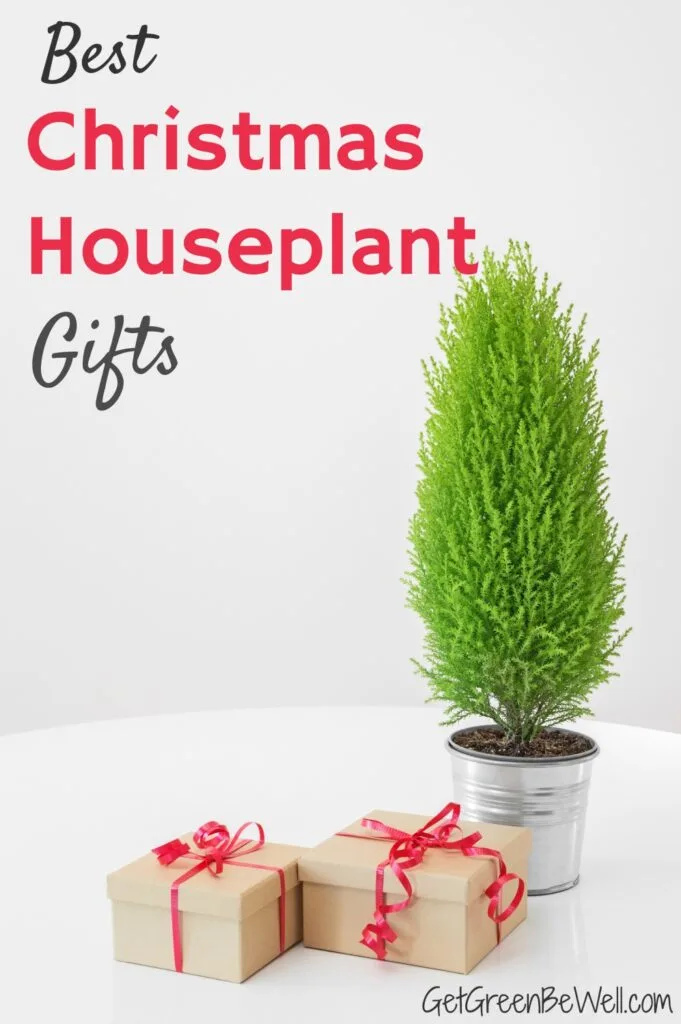 Houseplants for Wellness
As a wellness expert, I talk A LOT about how plants are one of the best things that you can add to your home.
Flowers can make you happy, according to scientific studies. And here's how houseplants purify the air inside a house.
Plus, there are some houseplants that are better at getting rid of chemicals, pollen, dust and mold from the air. I make sure to have these plants in my home. Especially these best plants for the bedroom.
The good news is that a lot of these plants that improve air quality are also super easy to grow. Most of the plants in this list of Best Christmas houseplant gifts are actually superstars at purifying indoor air, too!
So you really are giving a healthy gift!
If you are personally interested in learning more about the best plants for your home, sign up for my free course: Best Houseplants to Detox Your Home.
Christmas Houseplant Gifts
Some of my favorite ways to give a Christmas gift that will keep on giving. While these houseplants look Christmasy for giving as a present, they can easily be an every day houseplant long after the holidays are over. Any plant parent will love getting a thoughtful gift such as a houseplant to brighten their home and purify their indoor air.
Plus, houseplants and greenery are known to help brighten moods and decrease depression and anxiety. So gifting one of these houseplants is a way of truly showing love towards friends and family.
Photo Credit: www.amazon.com
I have one of these plants in my living room right now. They are so easy to take care of. And they will grow quite large.
Photo Credit: www.amazon.com
A mini Christmas tree! This is PERFECT for anyone that can't have a full size tree in their home. Or someone who dreams of a real Christmas tree but can't have one or get one.
Photo Credit: www.amazon.com
Another real mini Christmas tree. But this one has an ugly Christmas sweater theme! We love the ornaments and "tree skirt" that it comes with!
Photo Credit: www.amazon.com
A live air plant in a Christmas ornament. This is a great gift for your hair dresser or office co-worker. Since air plants need little to no care at all, this one is perfect for anyone who doesn't have a green thumb. Or is scared of gardening.
Photo Credit: www.amazon.com
This houseplant naturally has a red and green color scheme. Add in the ret pot and candy cane accent and you can see how it is a festive gift to have delivered to family far away.
Photo Credit: www.amazon.com
A classic Christmas houseplant! An amaryllis will bloom after the start of the new year. It's a great way to have live plants and beautiful flowers during winter.
Photo Credit: www.amazon.com
A classic fern houseplant decorated for Christmas. This one can easily be brought into the bathroom as decor because ferns love humidity. Or in temperate climates they can hang it outside on the porch.
Photo Credit: www.amazon.com
I have one of these hardy plants and they are HARD TO KILL! The gentle pink and red tones in the leaves add a pop of color to shady rooms. Ideal for anyone who forgets to water plants or doesn't like needy houseplants. This plant is also great at purifying the indoor air of a home.
Photo Credit: www.amazon.com
It's a Florida Christmas tree! This palm tree decorated with Christmas ornaments is a great gag gift for anyone dreaming of warmer weather. After the Christmas ornaments come off, the mini palm tree is a great houseplant and cleans air inside the home.
Photo Credit: www.etsy.com
Rosemary trees are perfect tabletop Christmas trees. Plus, the herb trees can be used for cooking and baking after the holiday. They'll keep on growing, providing a mini herb garden. Ideal for foodies and at-home chefs.
Photo Credit: www.etsy.com
A beloved Christmas time houseplant, the Christmas cactus blooms in December. The bright and colorful flowers are a welcome sight, especially into the New Year.
Photo Credit: www.etsy.com
These gorgeous bulbs come packed in a keepsake planter ideal for the holidays. Long after the beautiful flowers have bloomed, they'll have the Joy basket for future holiday decor.
More Great Gift Guides
Here's more of our Gift Guides for unique and fun gifts: