I just wrapped up an epic visit to the 2018 Kitchen and Bath Industry Show (KBIS) along with the International Builders Show (IBS) in Orlando, Florida. It was an overwhelming experience, to say the least, but what I'm thrilled to have walked away with are ideas (and confirmation of my own trend picks) for the best 2018 home trends.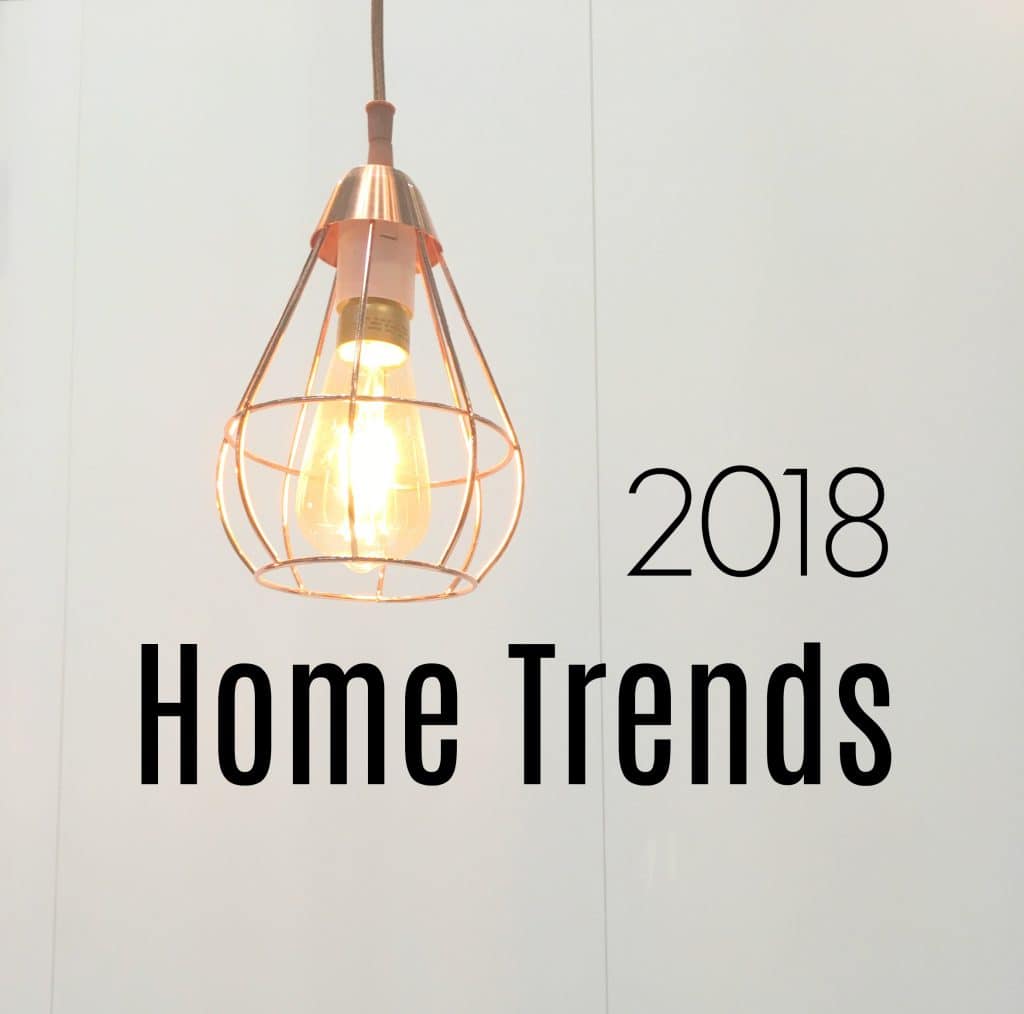 I'm not big on following trends just because they are trendy. I think you should always follow your heart and what makes you happy. But what is great about popular trends is that more products are available on the market in more places at lower prices.
So seeing these home trends that I already loved is good news for me! No more special ordering products. And it's easier than ever to go to a variety of stores or talk with designers and get what you want.
International Builders Show (IBS) and Kitchen and Bath Industry Show (KBIS)
If you're not familiar with either International Builders Show or the Kitchen and Bath Industry Show, here's the scoop. They are held jointly during Design and Construction Week, the world's largest type of event for these industries. These home conferences are THE place to see what's new in home trends, as well as to see products from more than 2,200 companies.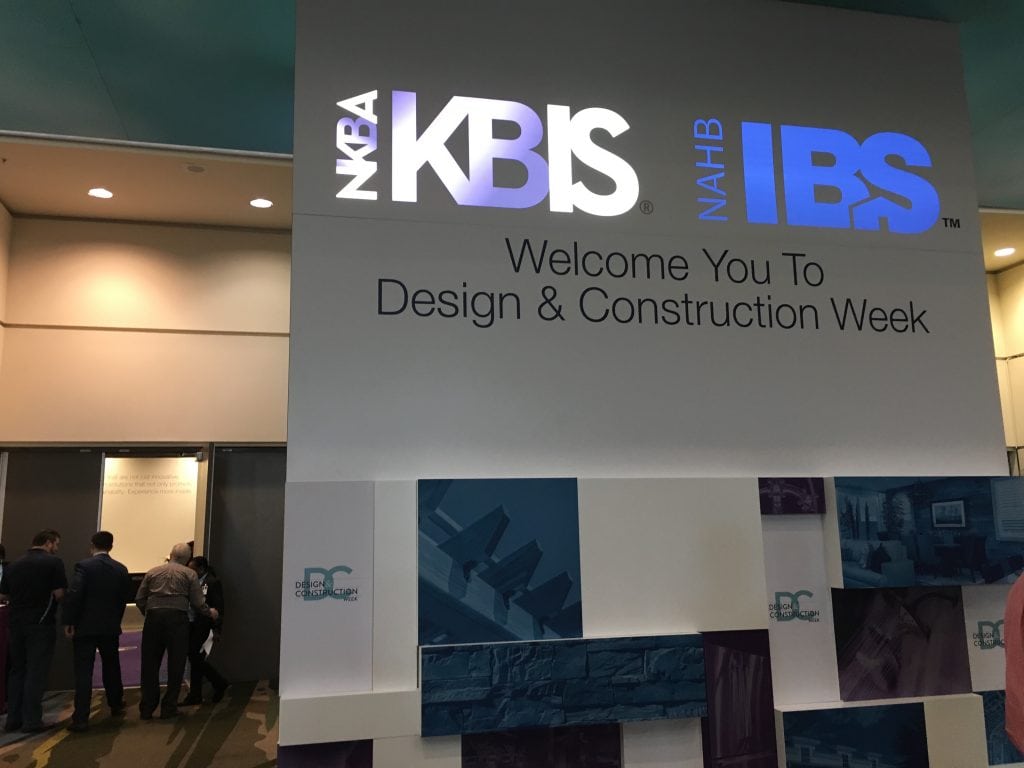 That's right. About 2,200 companies.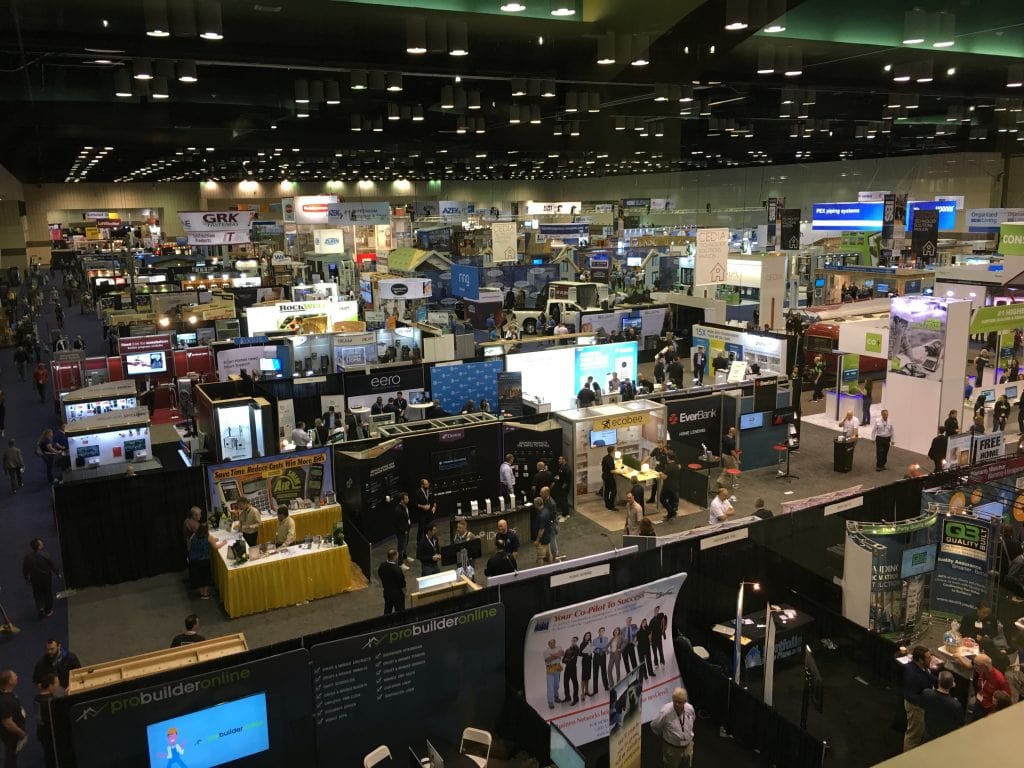 Exhausting just thinking about it, right?
That's how I feel after walking it. (I averaged 14,000 steps a day.)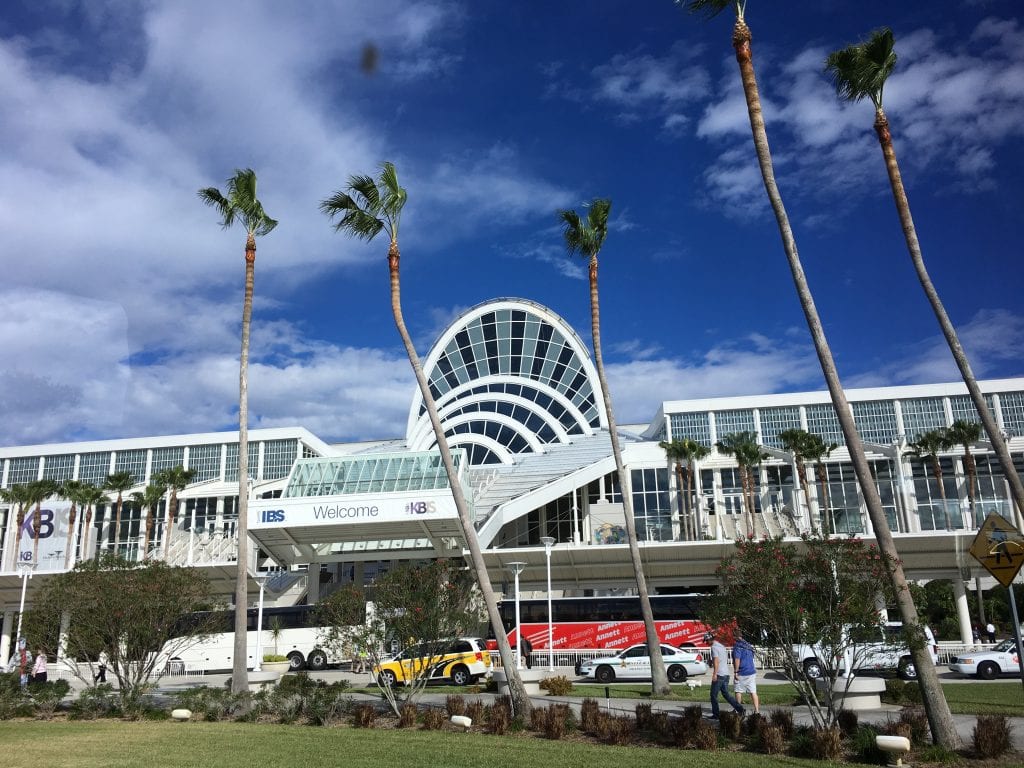 Held in either Orlando or Las Vegas (2018 was Orlando, 2019 will be Las Vegas), it's is an EPIC conference of monumental proportions. It's so big that the two conferences are held together in two different buildings of the Orange County Convention Center in Orlando. Traffic comes to a stop in Orlando when 70,000 people all descend on I-Drive. The Goodyear Blimp hovers in the air for video coverage. Local TV news crews have helicopters overhead.
IT. IS. BIG.
2018 Home Trends
With so many home trends to see, and so many companies to discover throughout the entire show, you can get overwhelmed.
Trust me, I did.
But after you walk 4 miles a day on the show floor, you start to notice some home trends. Among the massive booth displays, many that are bigger than a family home, there are home trends that emerge and start to be seen everywhere you go.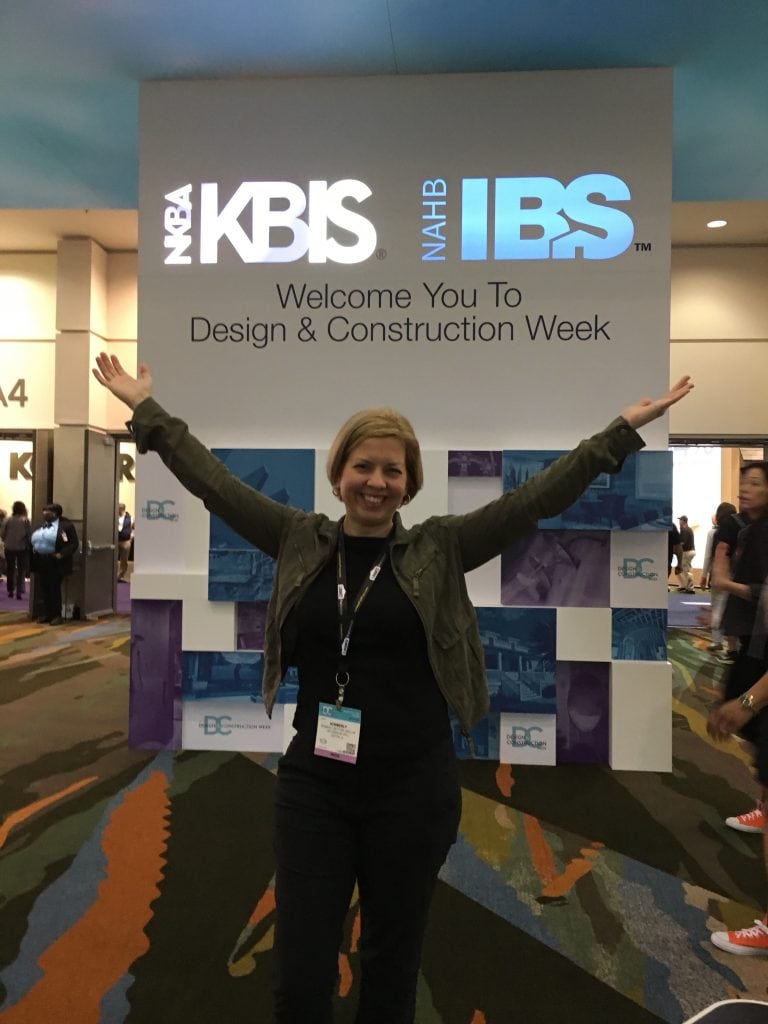 Here are the 2018 Home Trends that I spotted at IBS and KBIS:
Fireplaces
When we were designing our home near Asheville, NC (still waiting on building it, though), a real wood-burning fireplace was a non-negotiable for us. It's something we really wanted.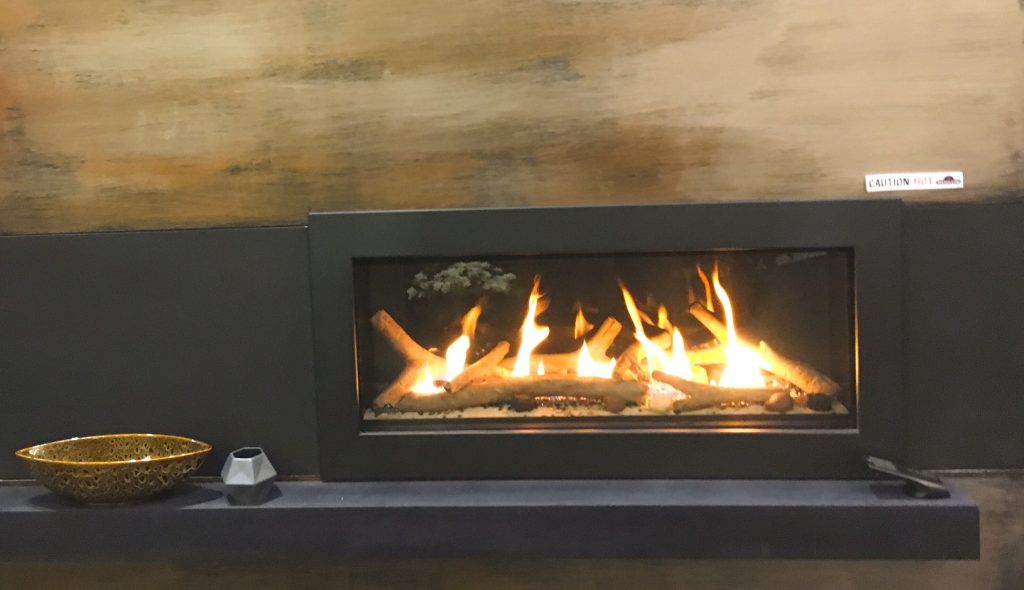 And I wanted an electric one in the bedroom. I had fallen in love with electric fireplaces after spending time in the cozy library on AmaWaterways River Cruise in The Netherlands. It was so nice to read a magazine in front of the fire, even if it wasn't real.
In our RV, we had an electric fireplace that could provide heat or just turn it to flame for a cozy feeling. We used the fireplace more often than we EVER thought we would. So I'm quite familiar with the draw of having a fireplace.
It seems like everyone thinks the same thing, too. In several recent surveys, indoor and outdoor fireplaces are the Top New Home Feature. (According to 2017 Homebuyer Housing Preferences, NAHB; 2016 Realtor.com Homebuyer and Realtor Research; 2016 Angie's List Homebuyer and Realtor Research.)
No longer do you need wood burning fireplaces that could have issues of spewing allergy and asthma-causing smoke into the room. (although there is something so nice about the real thing)! Today, there are a multitude of options of adding a fireplace inside your home no matter where you live.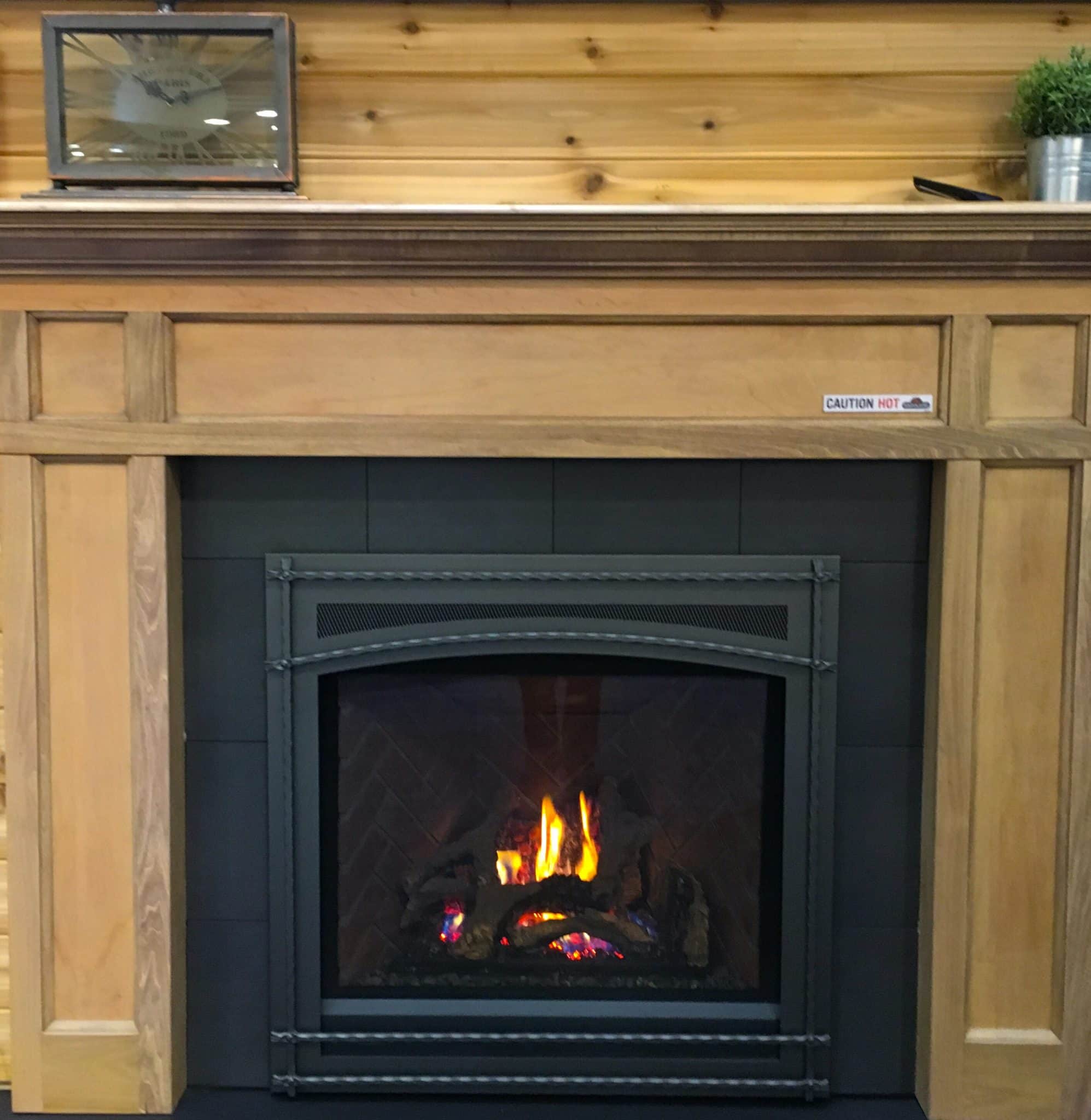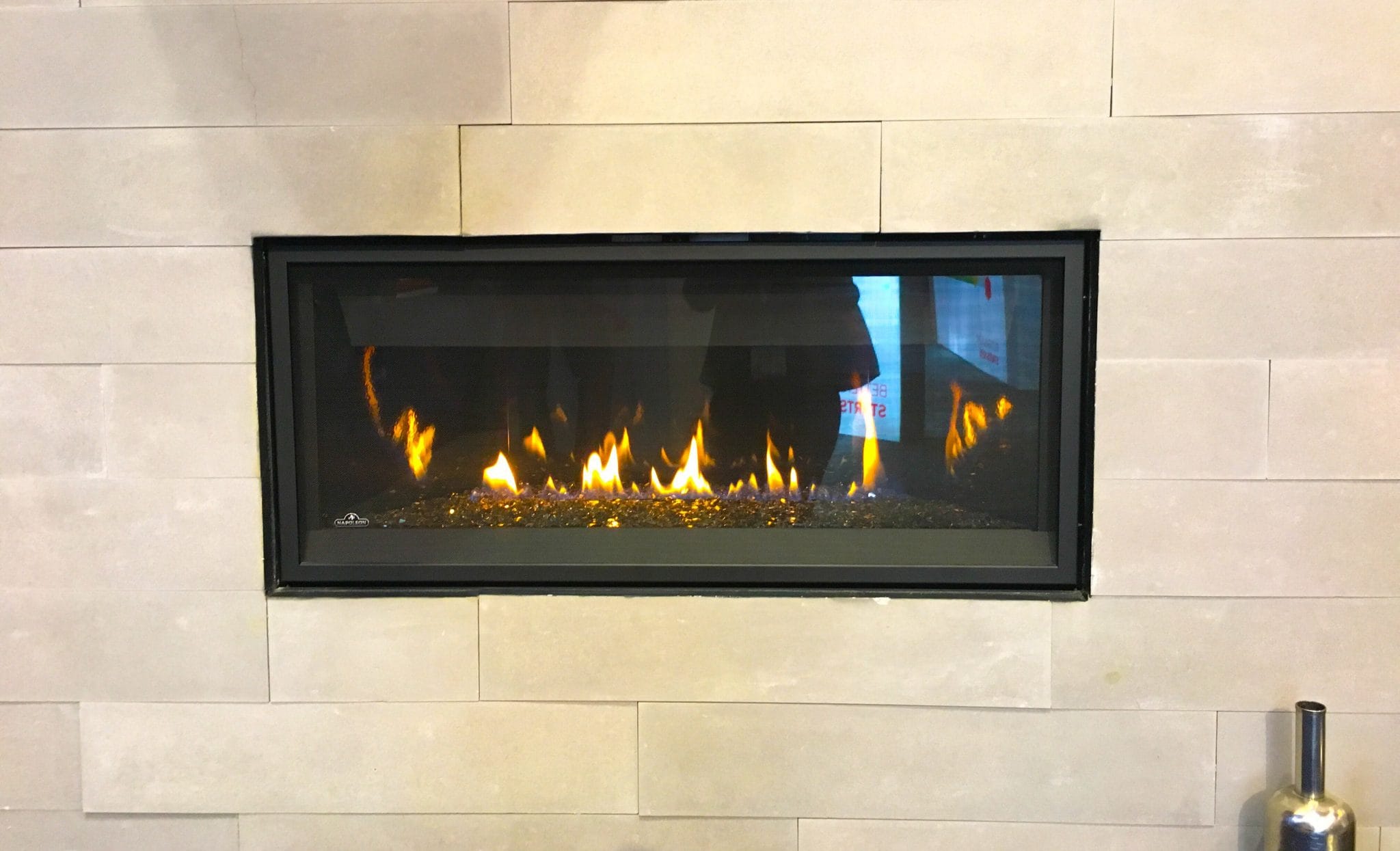 A big part of 2018 home trends is using electric, gas or ethanol fireplaces. These modern fireplace options can easily be put anywhere. Outdoor patios and decks are a popular place, but so is the living room, dining room, den and bedroom.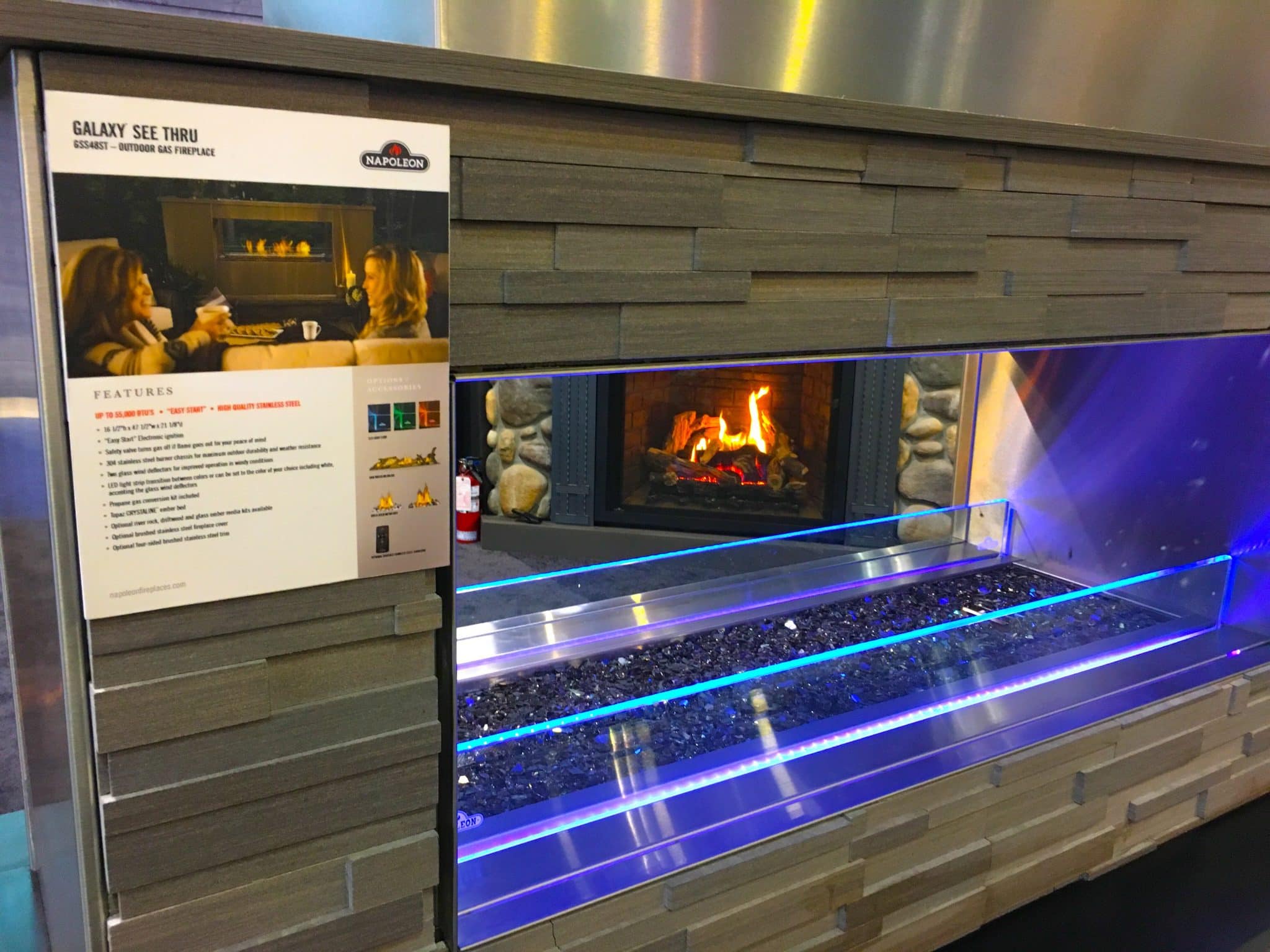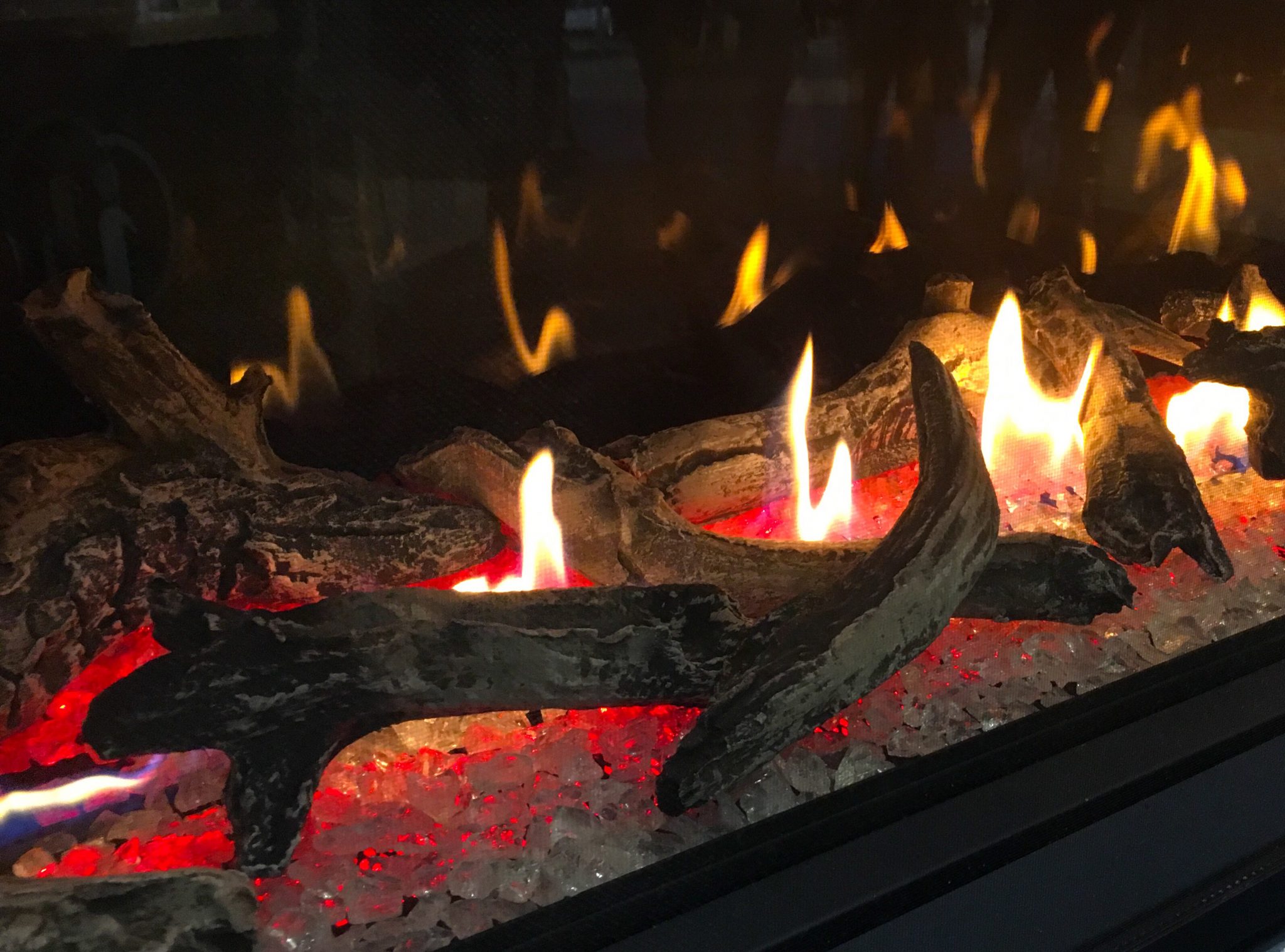 The non-wood fireplaces offer color changing flames or traditional flames. They can be programmed. There are remotes so you don't have to get up to "turn on the fire." And you don't have to knock out walls to add a fireplace anymore.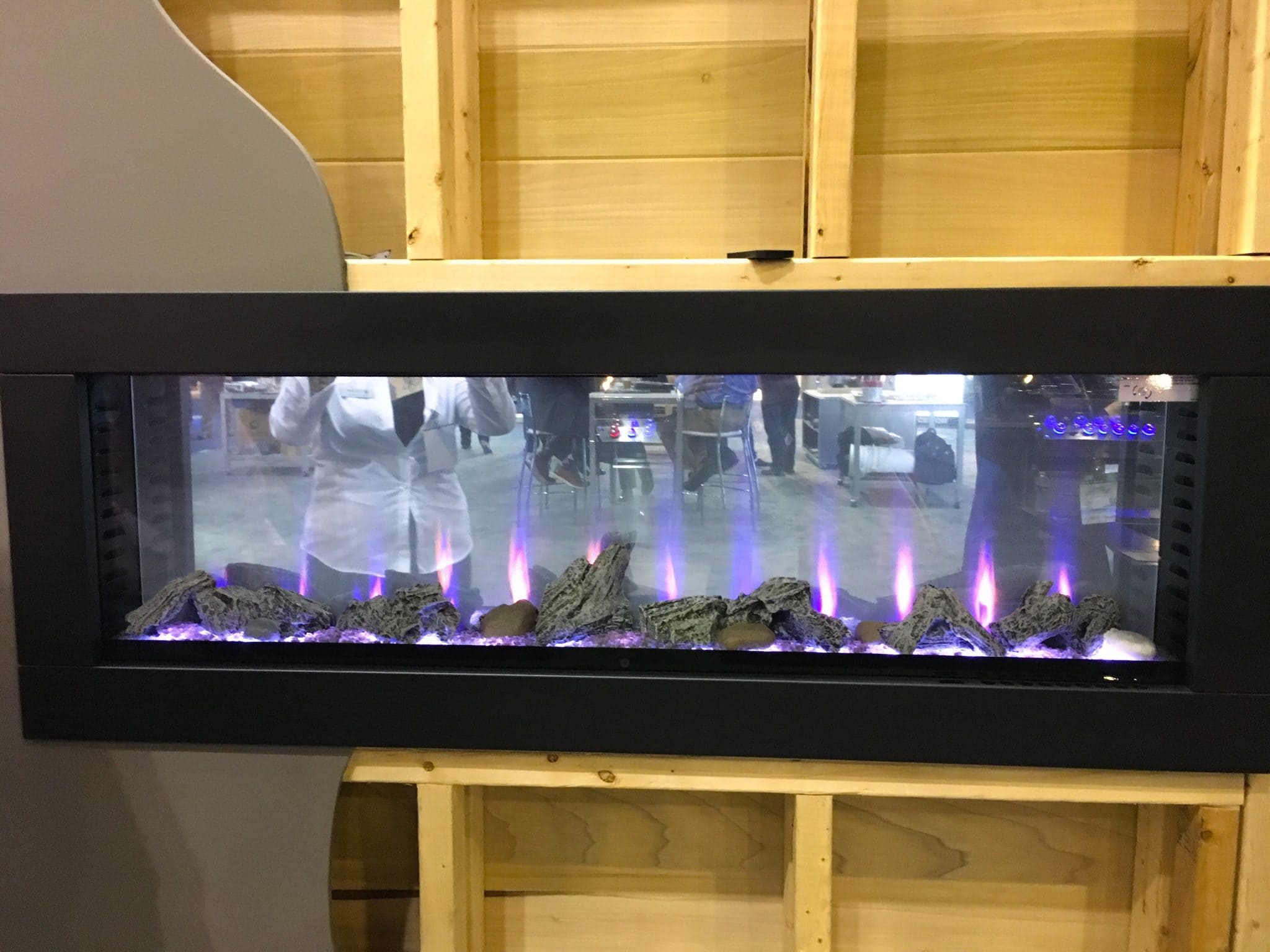 Honestly, I have every intention of adding a fireplace to my bedroom when we move into a new house.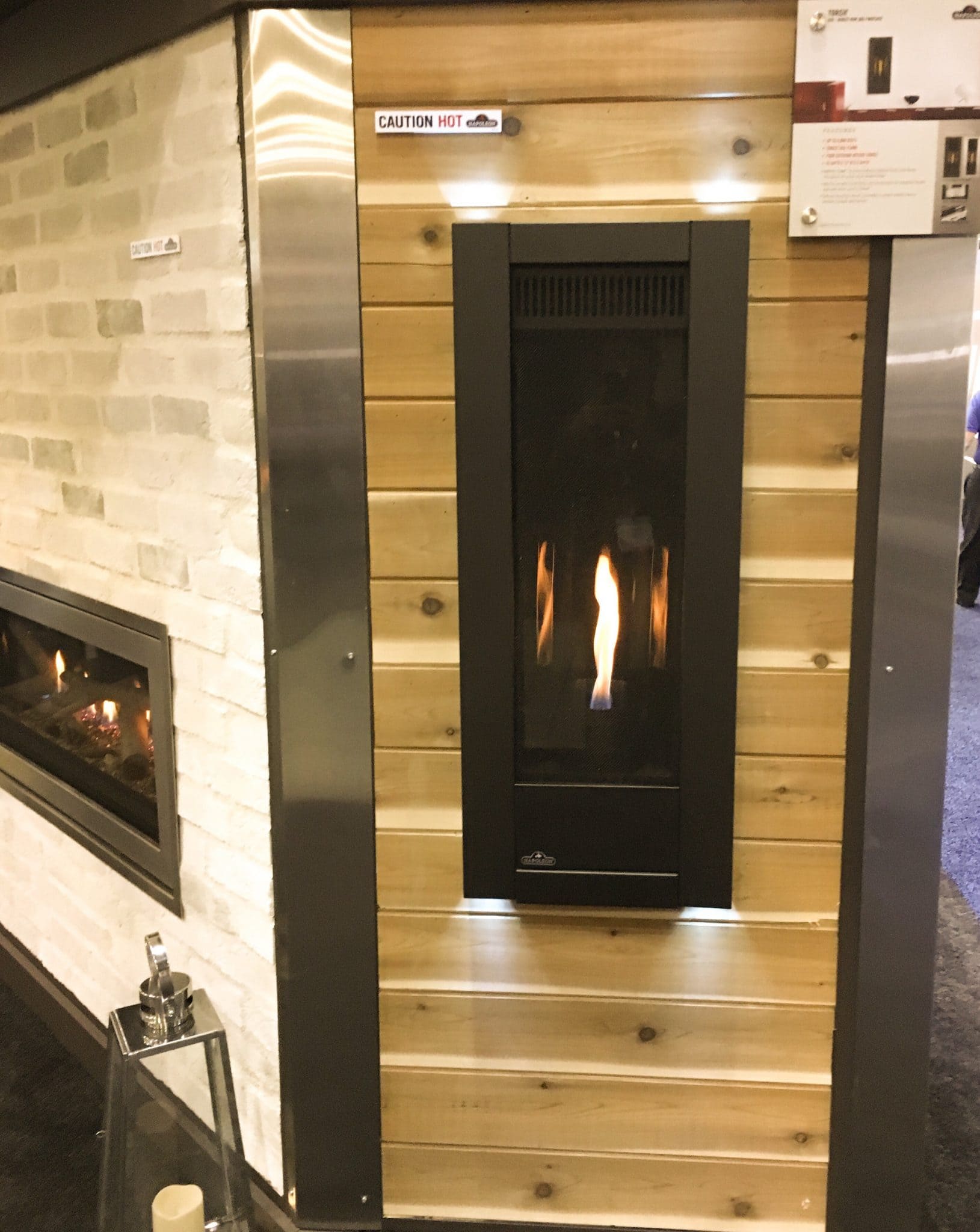 I also fell in love with the tower fireplace above. Currently thinking where I can use one!
Colored or Patterned Faucets
We all HAVE to have a faucet. Bathroom faucets and kitchen faucets are a necessity. But they don't have to be blah anymore.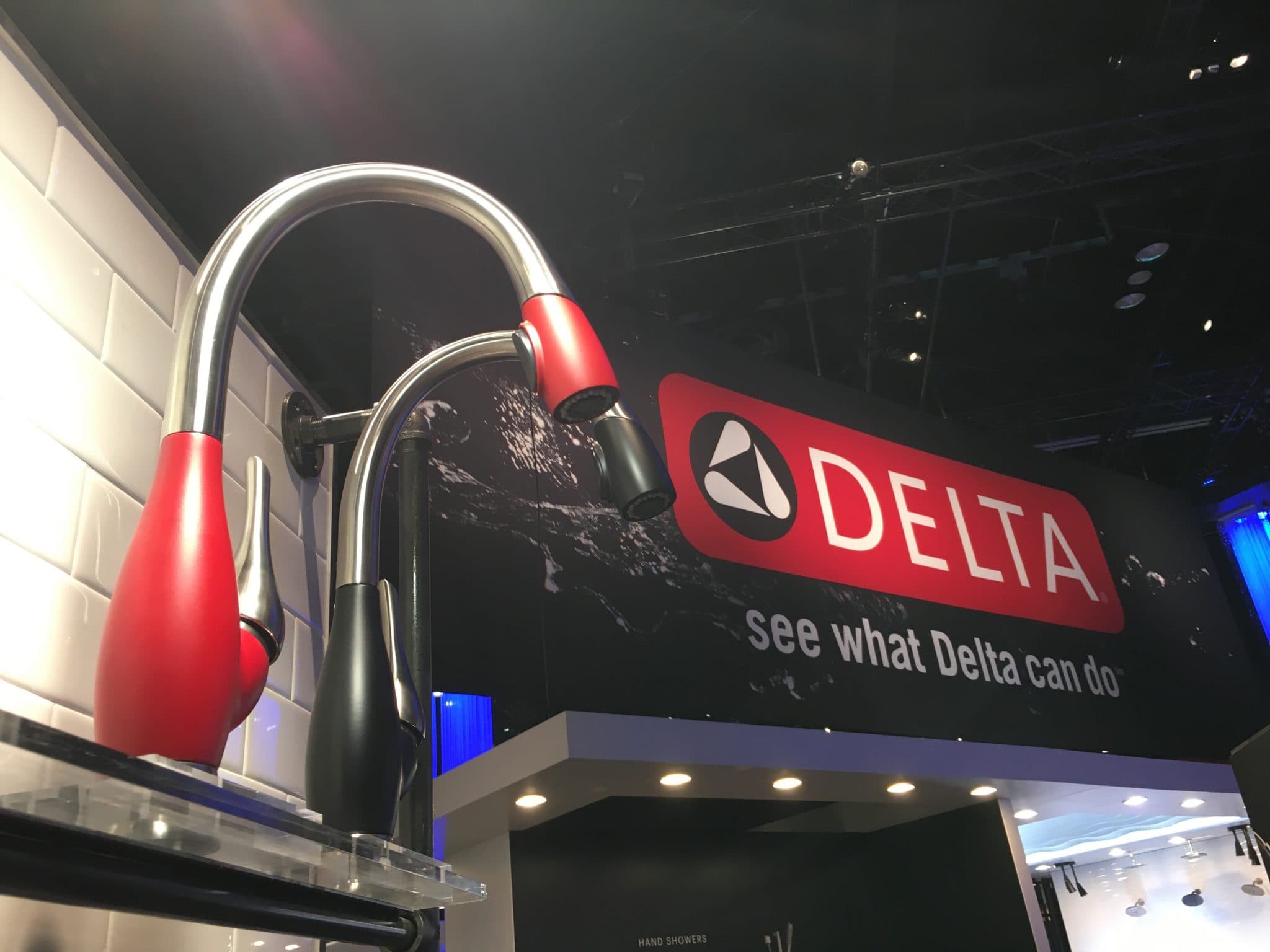 One of the biggest kitchen trends is colored faucets. Red seems to be the first color of choice. I predict more colors will follow soon.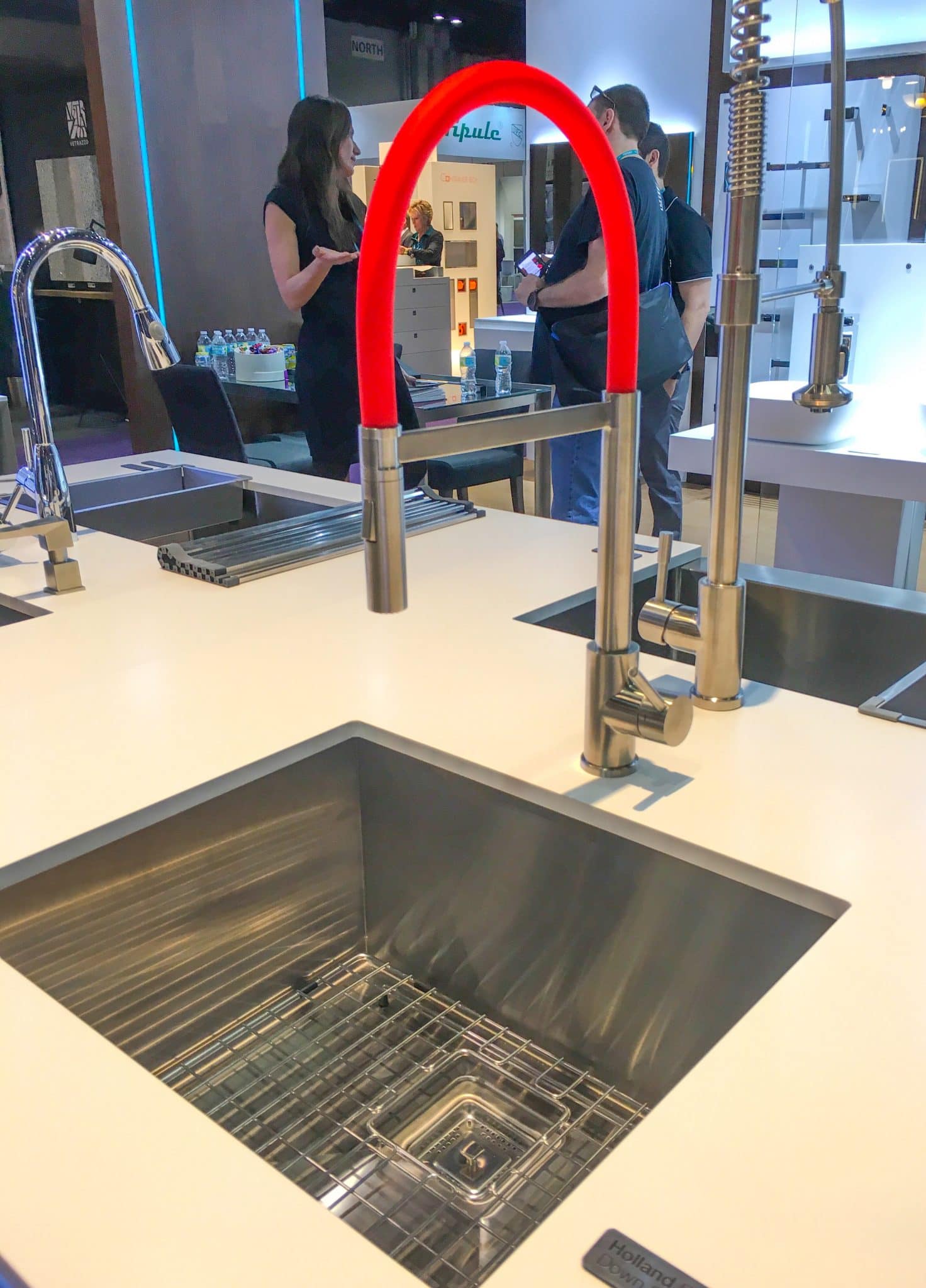 Think colored hardware, as well as colored hoses.
For bathrooms, bright bold color doesn't seem to have become a trend yet. There is still a HEAVY emphasis on stainless steel and brushed gold.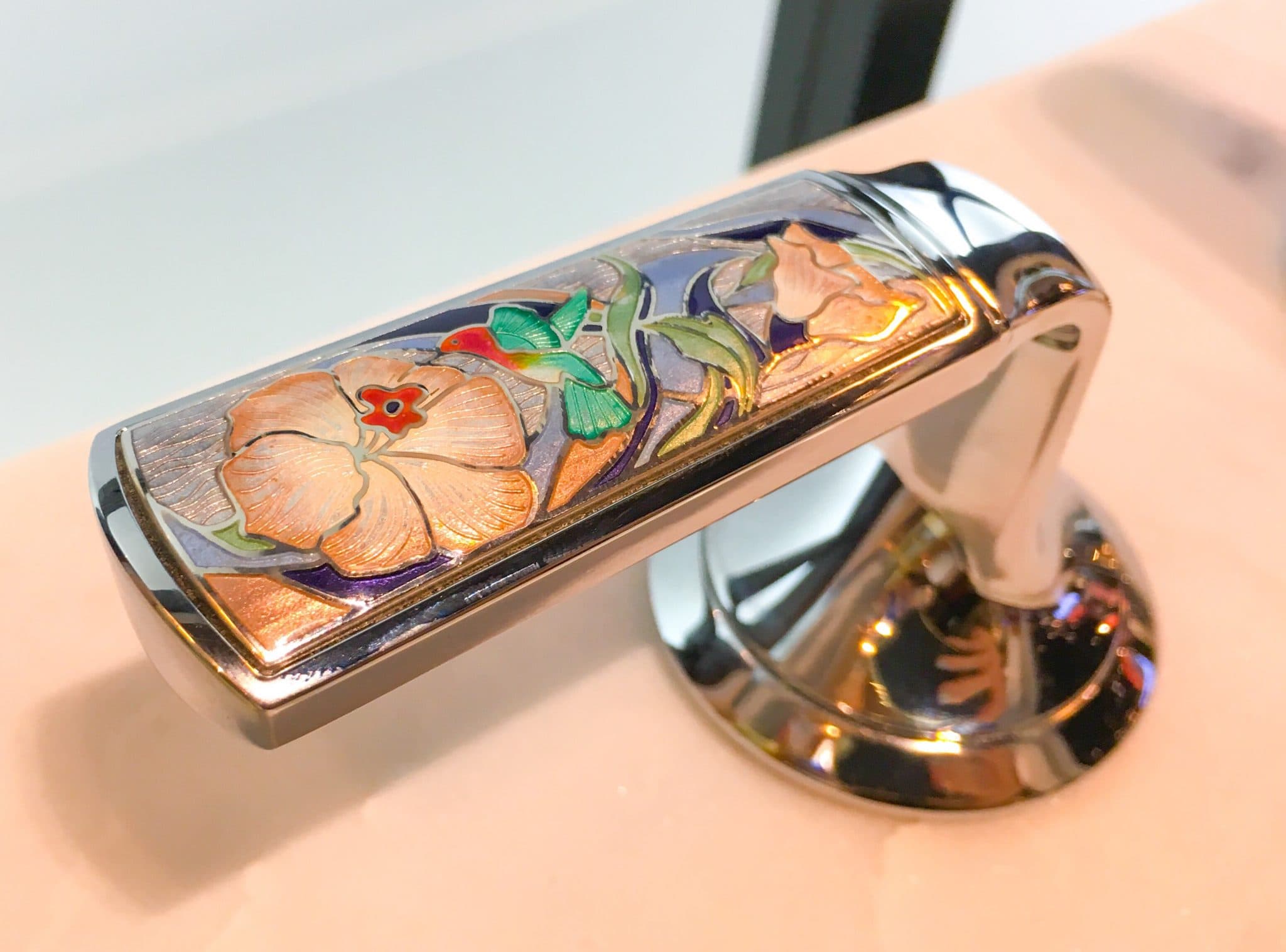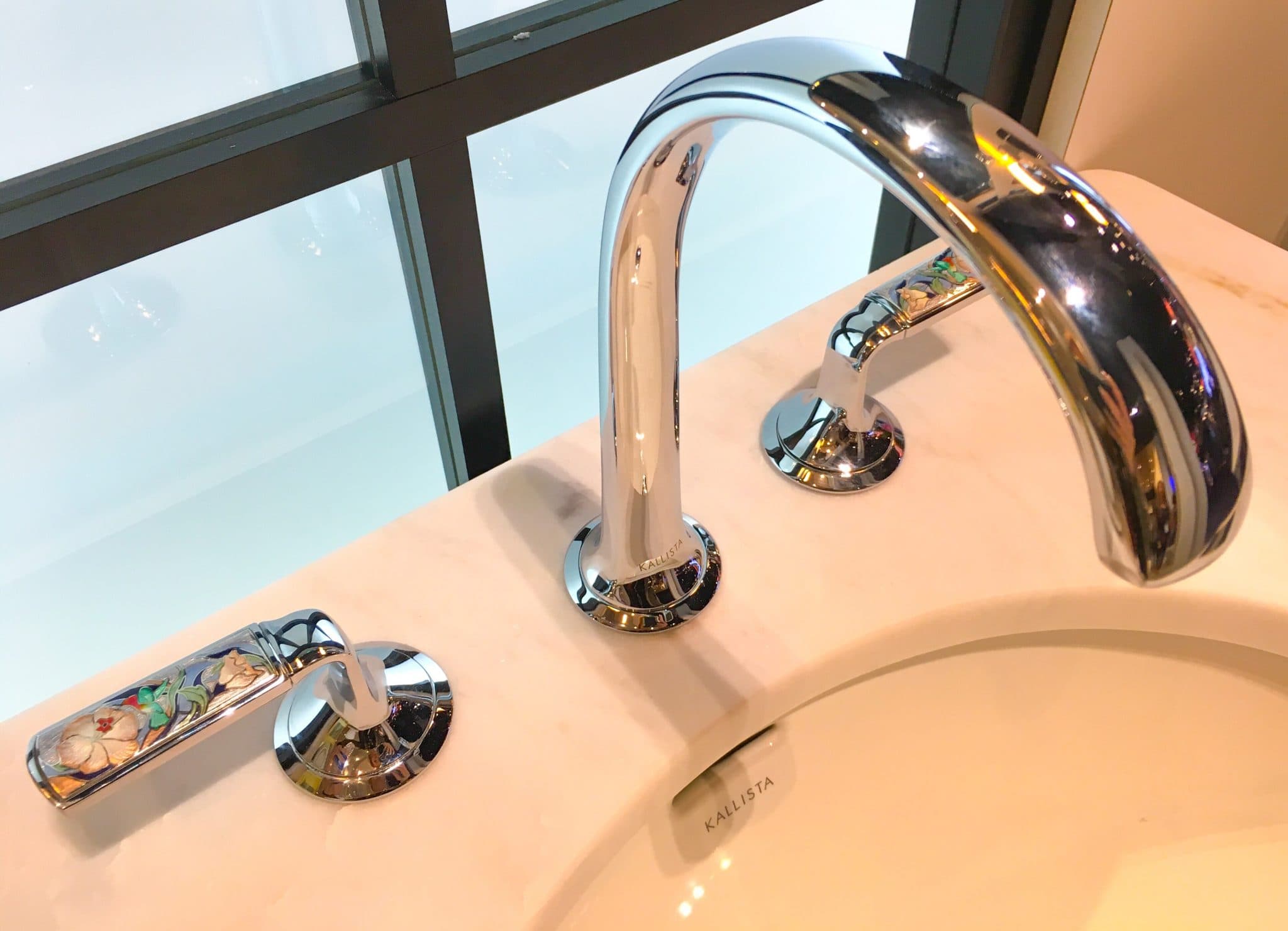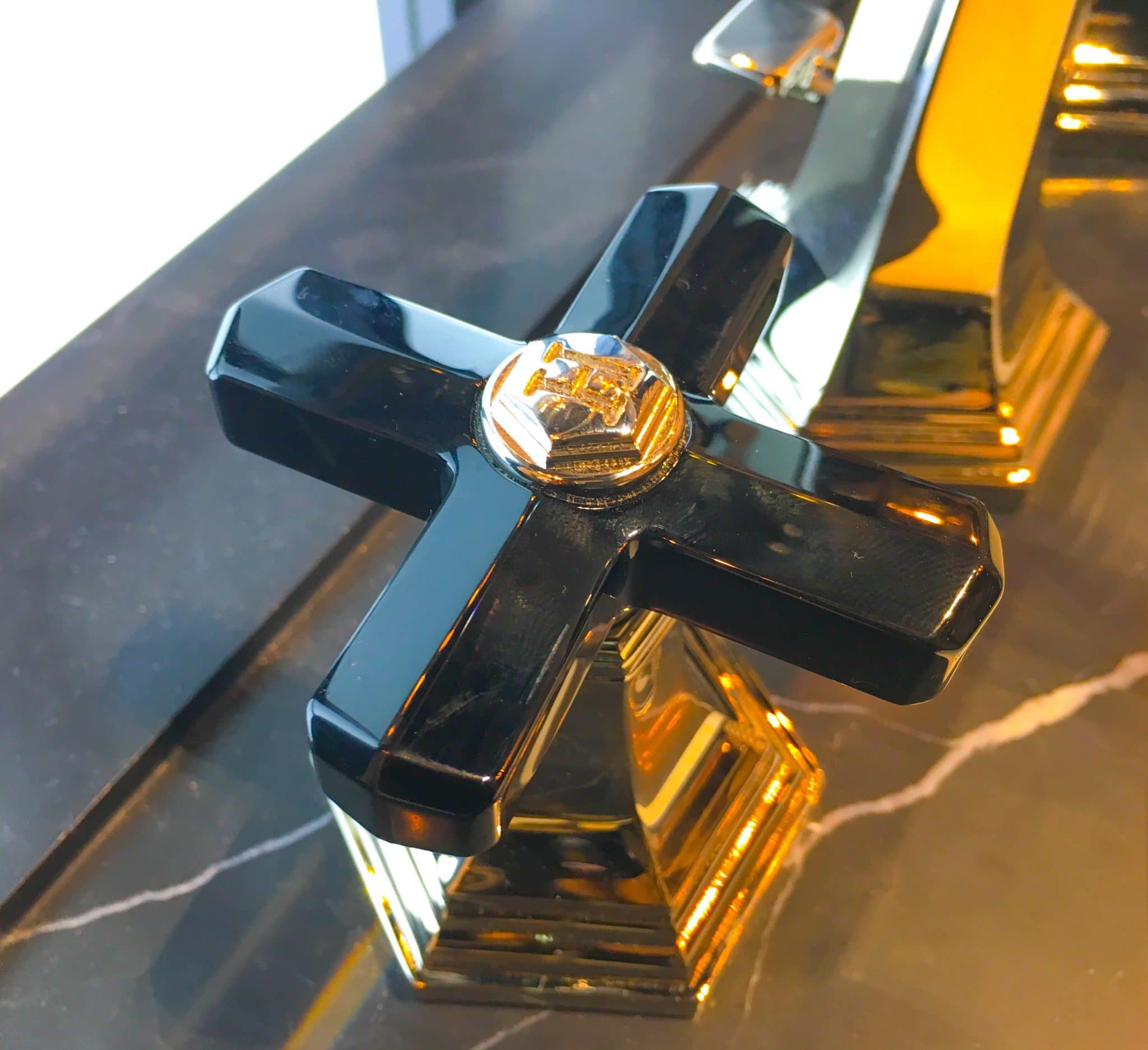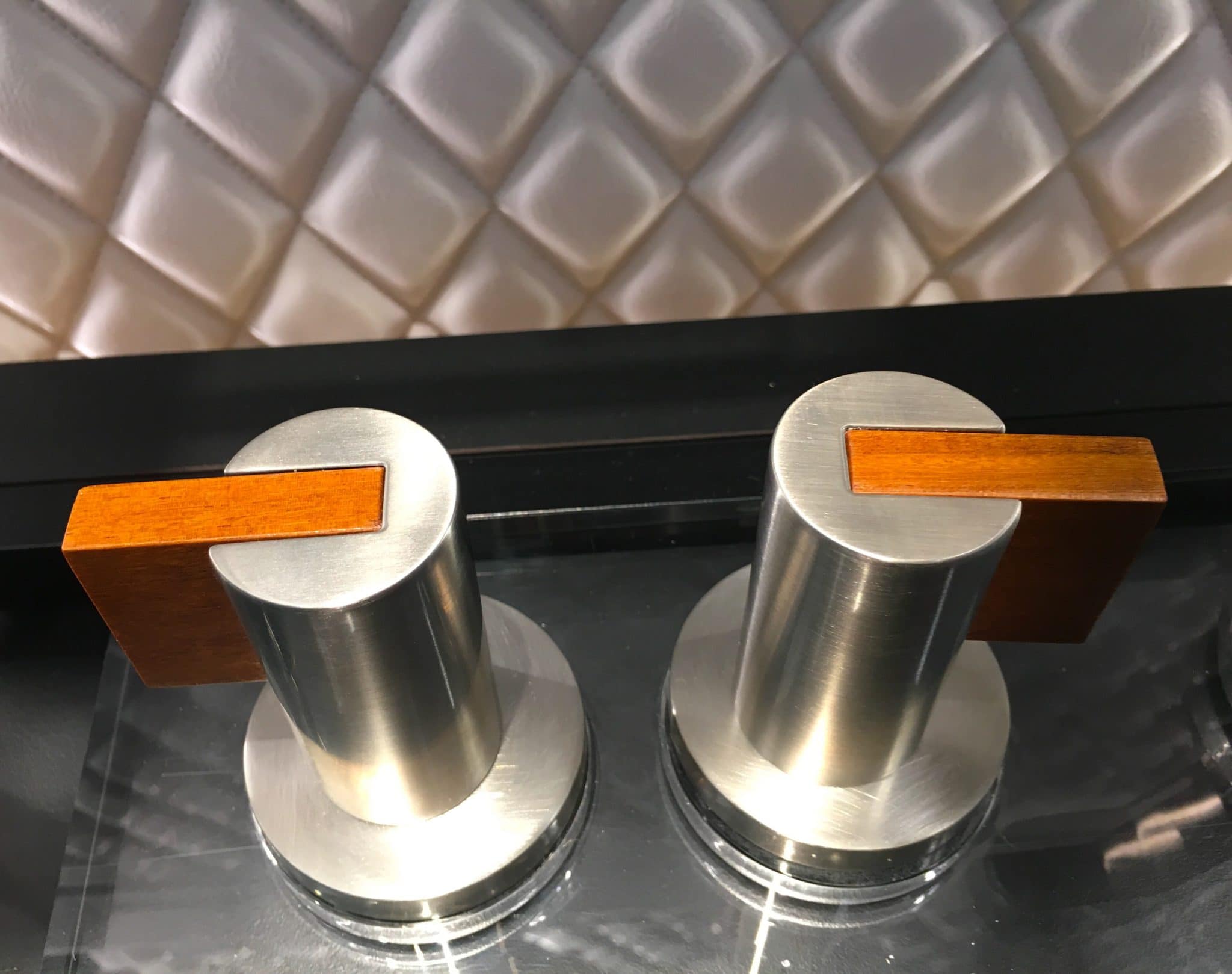 However, bathroom faucets are getting gorgeous with patterns and bold shapes to keep your powder room anything but boring.
Quartz, Quartz, Quartz
Everyone talks about granite. In fact, if you played a drinking game with the word granite while watching HGTV, you'd be pretty drunk in 20 minutes or less.
I've never been a fan of granite or marble. When we were designing our house, we chose quartz (and were seriously thinking of getting it from IKEA).
Seems like everyone else is on the bandwagon, too. Quartz was the hot kitchen trend at the 2018 KBIS. And since it's economical and a more healthy alternative, I'm betting it's here to stay.
Copper, Rose Gold and Blush Gold
Okay, I've been in love with copper accents for a while now. I've never been able to use copper in my home when renting (it just wouldn't go with the existing décor and color).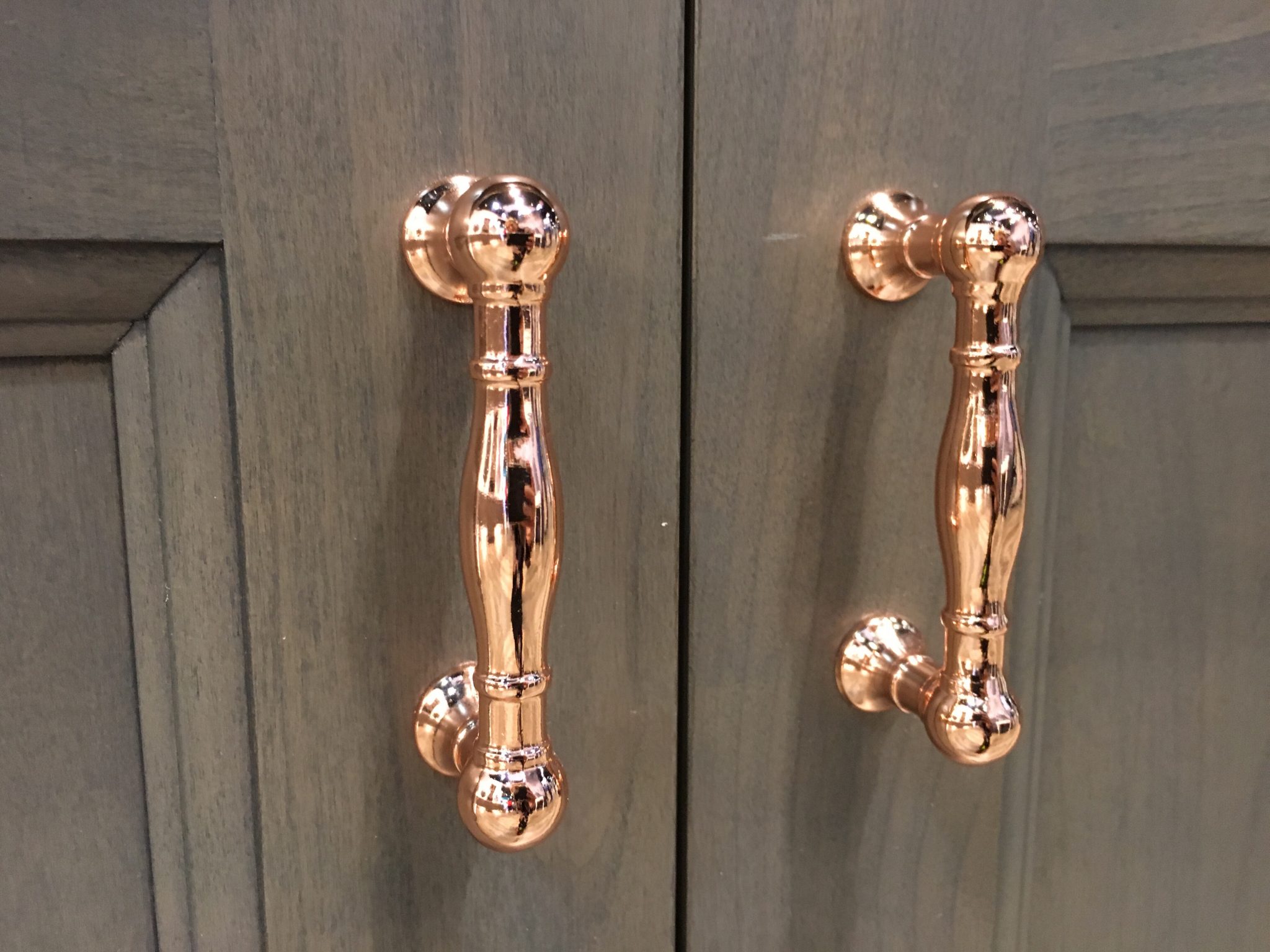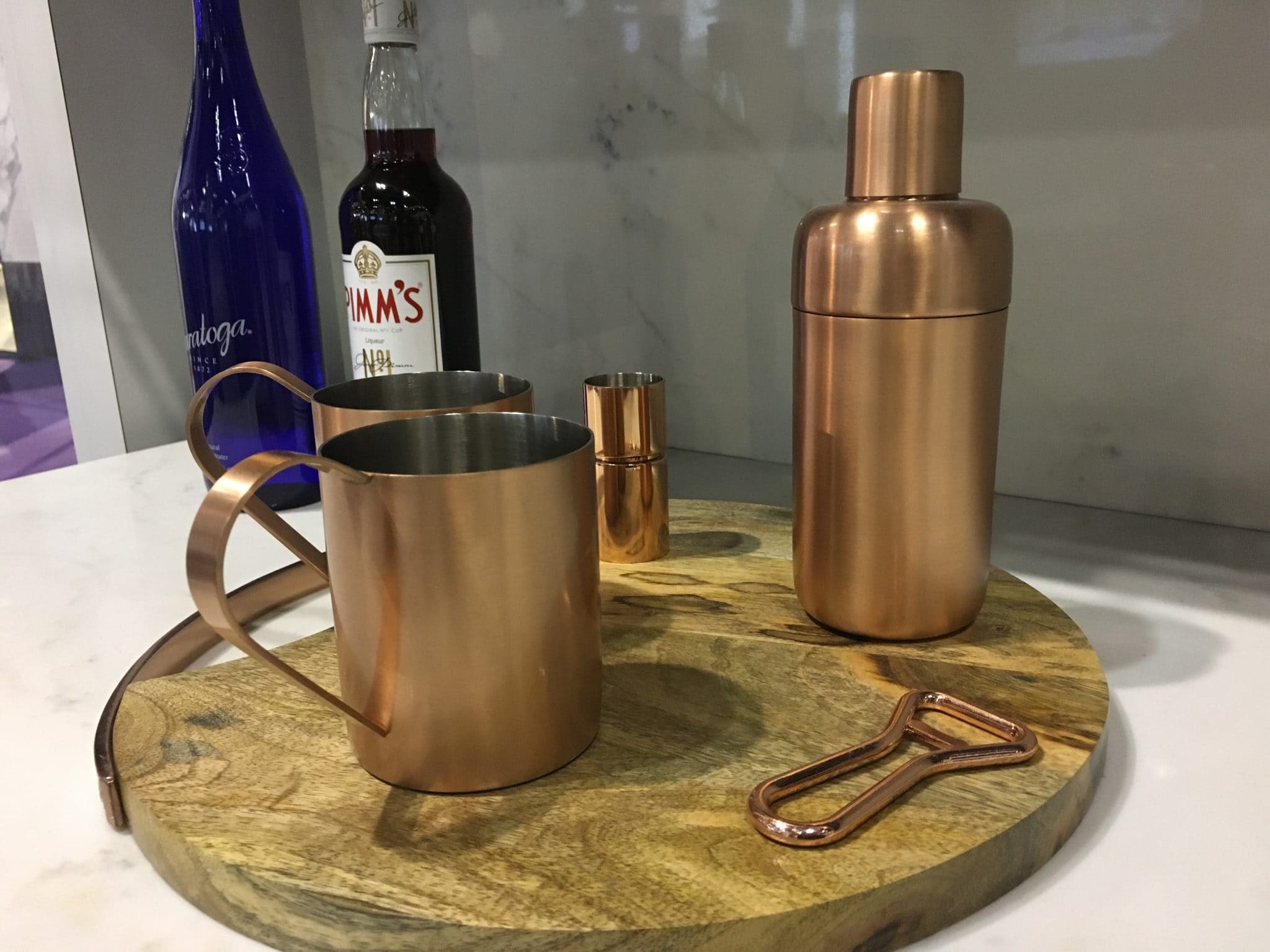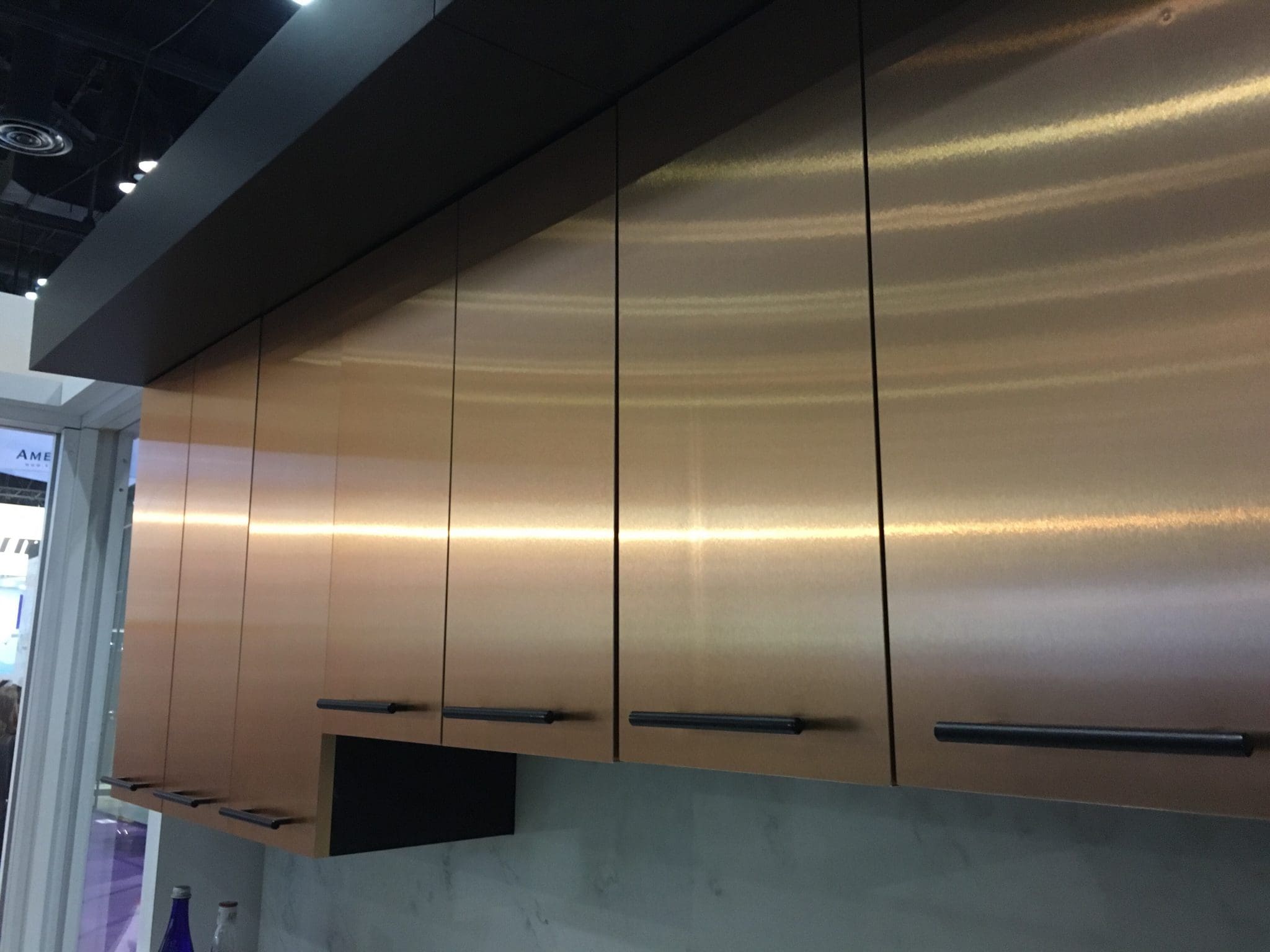 I'm glad to see so many copper and rose gold home trends for 2018. From copper sinks to rose gold faucets (these are HUGE this year!), this metallic color is a great addition to your home if you're tired of stainless steel.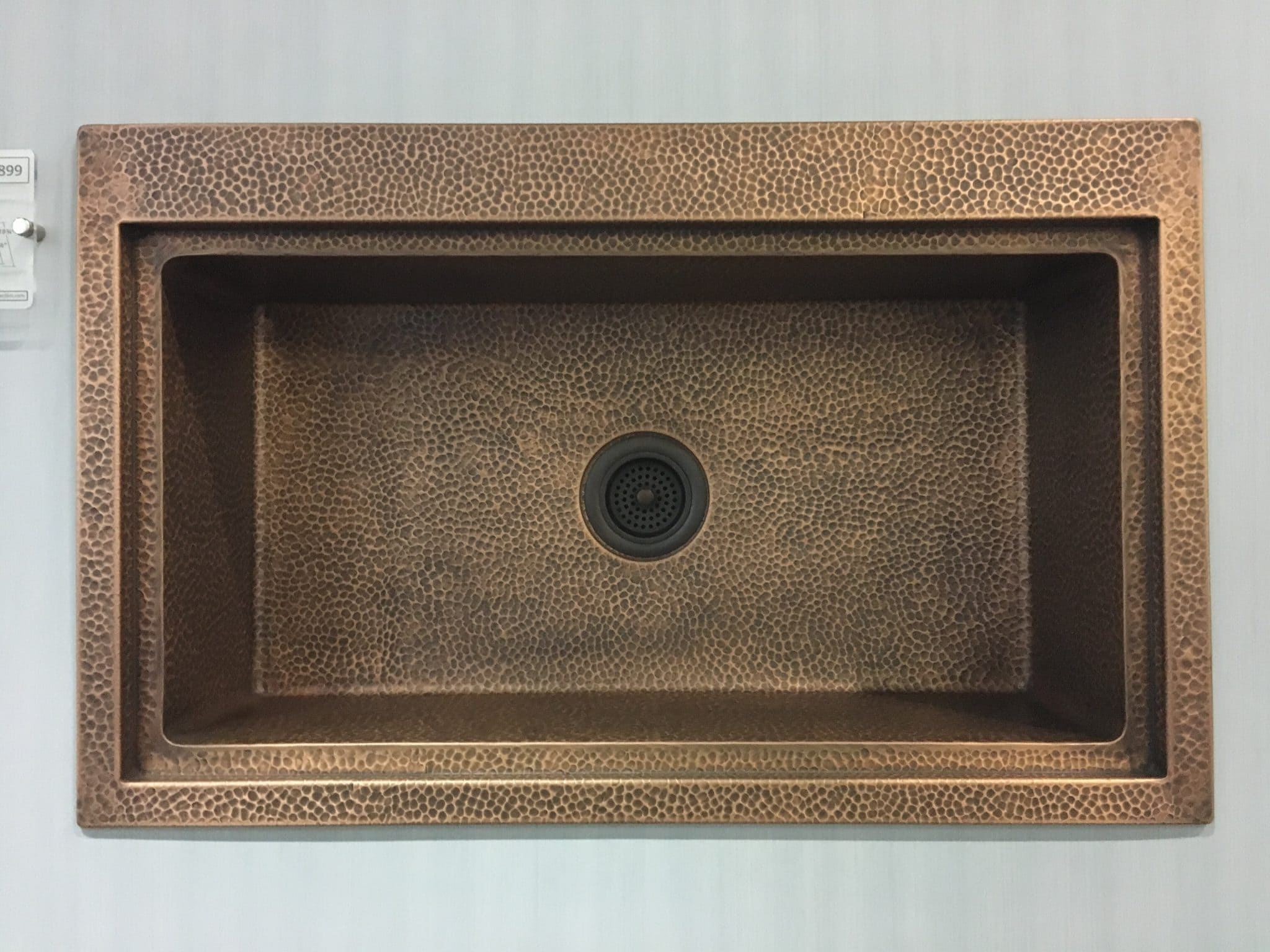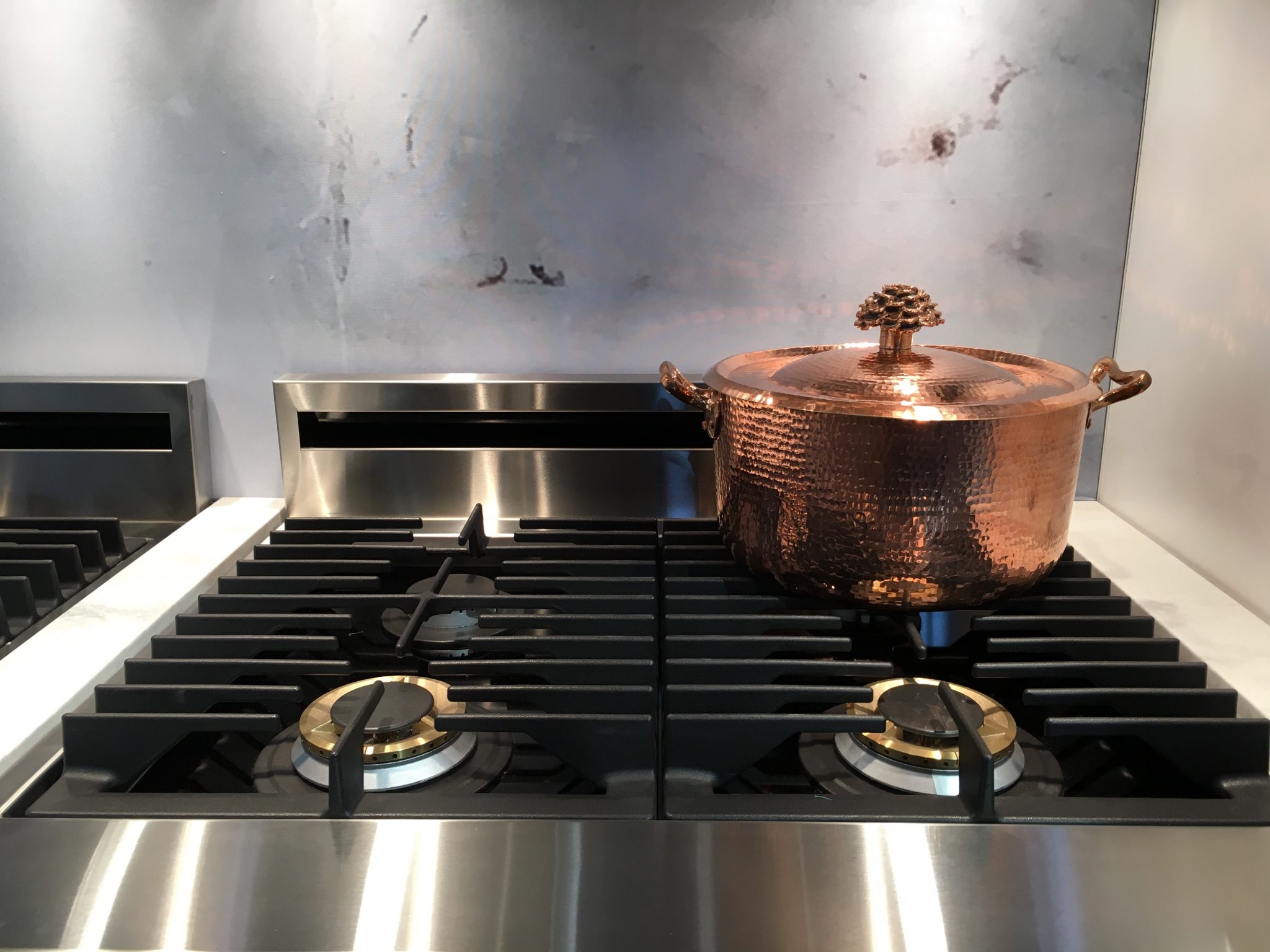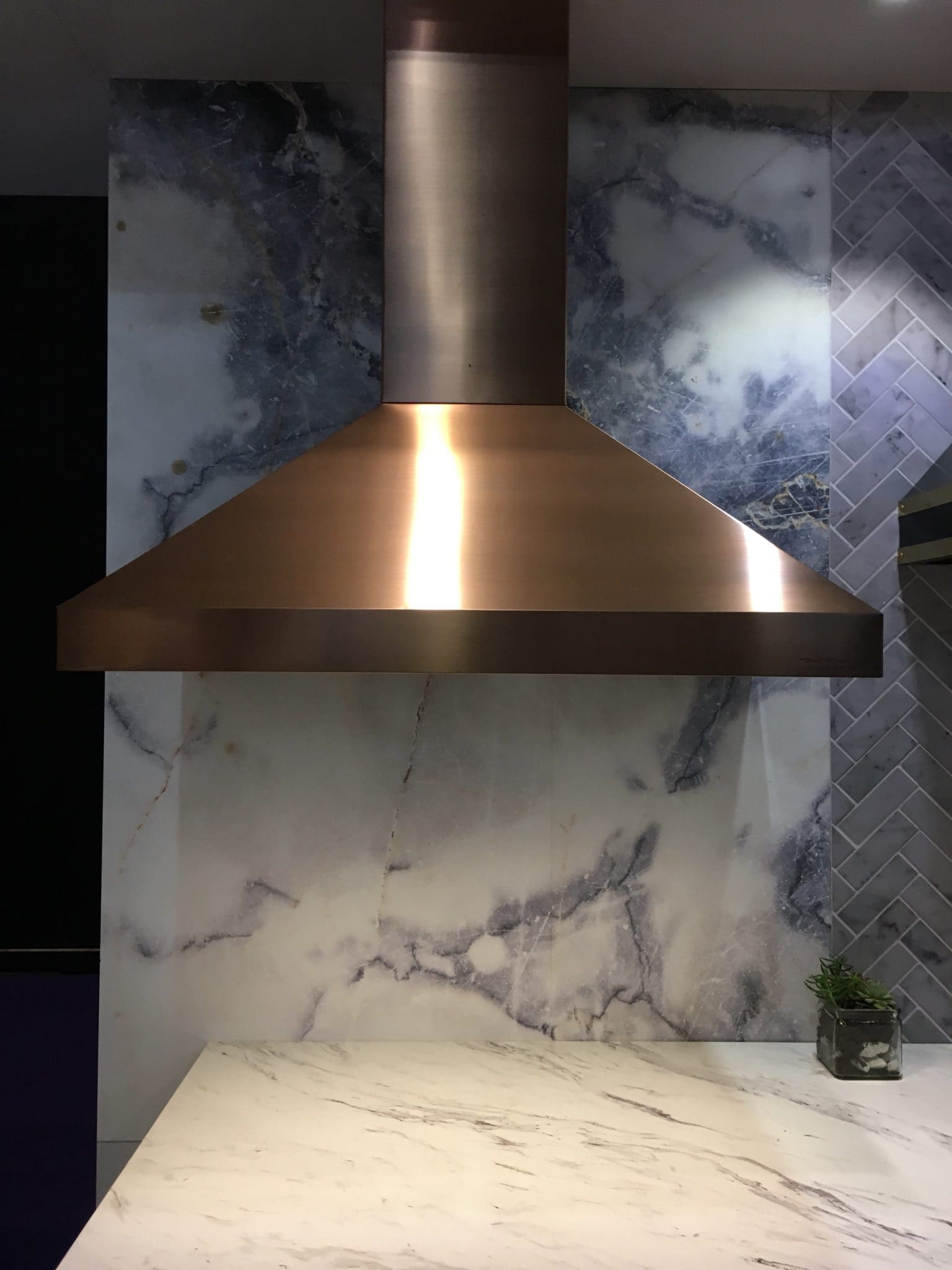 Want inspiration? I have a Pinterest board of copper home decor. Please follow it 😉
Farmhouse Décor is Still Hot
Joanna Gaines got the farmhouse décor movement rolling via Fixer Upper, and it shows NO signs of stopping. From the look of brand's booths to the products that they were selling, the biggest home trend was farmhouse décor.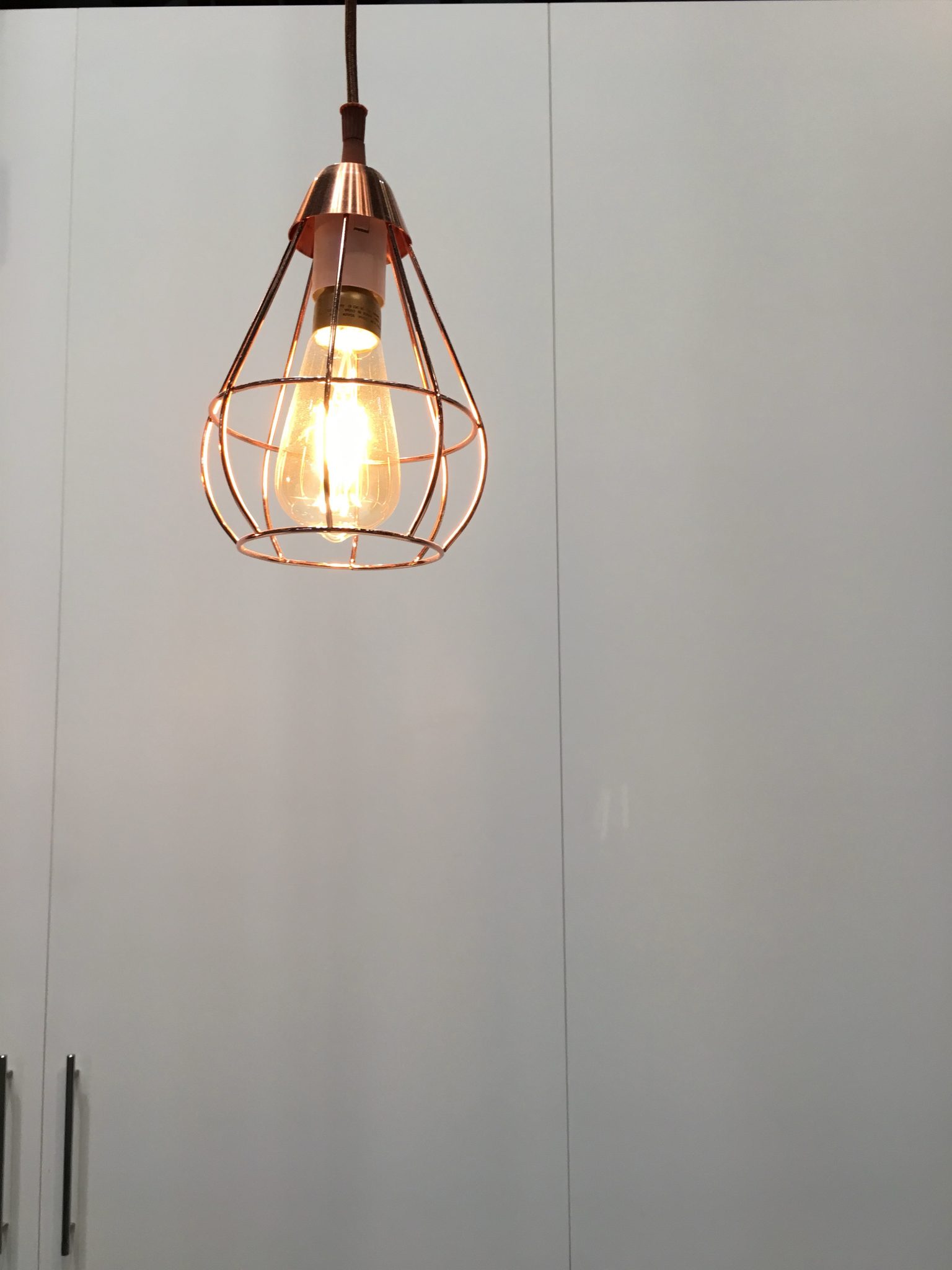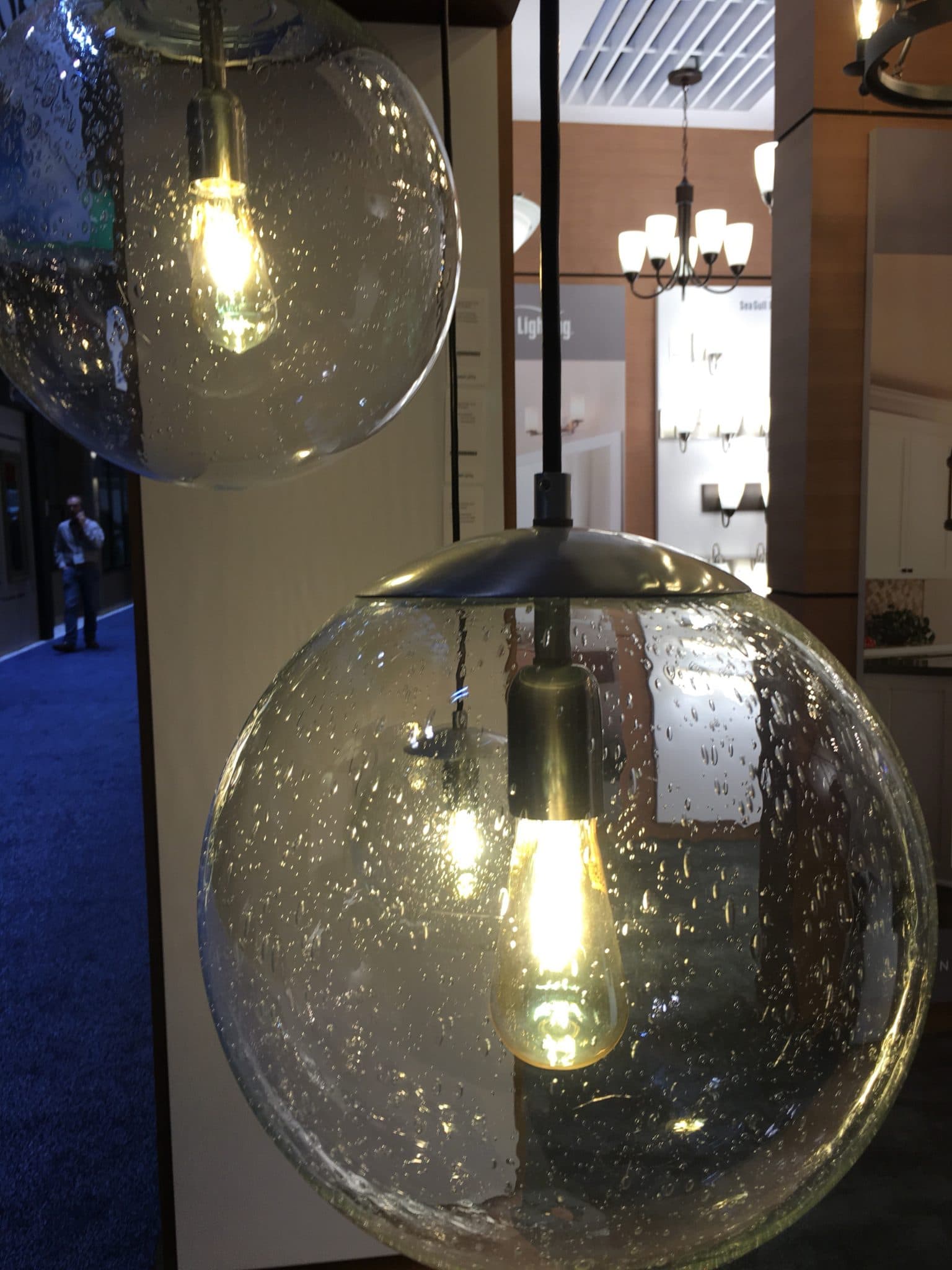 It's a rustic modern feel that seems to resonate with everyone. And companies want your dollars so they're keen to keep producing farmhouse décor for kitchen, bath, lighting, and more.
Among my favorite finds were the peel and stick wood panel options from Artis Wall and Stikwood. These reclaimed wood planks are No VOC. The shiplap-looking DIY design elements reuse and recycle wood from projects being demolished or unusable anymore (think gym floors, wine barrels, old barns, etc.)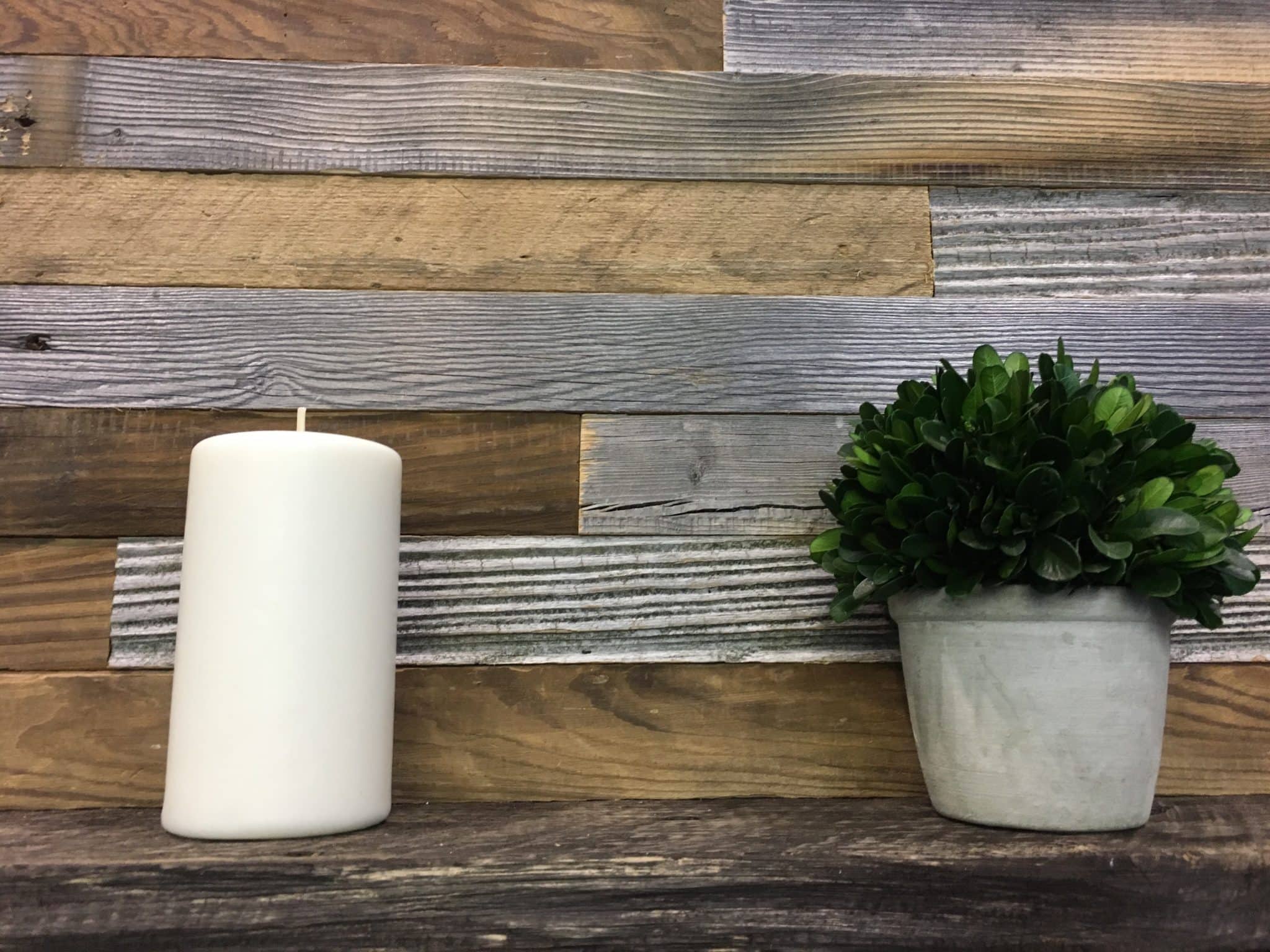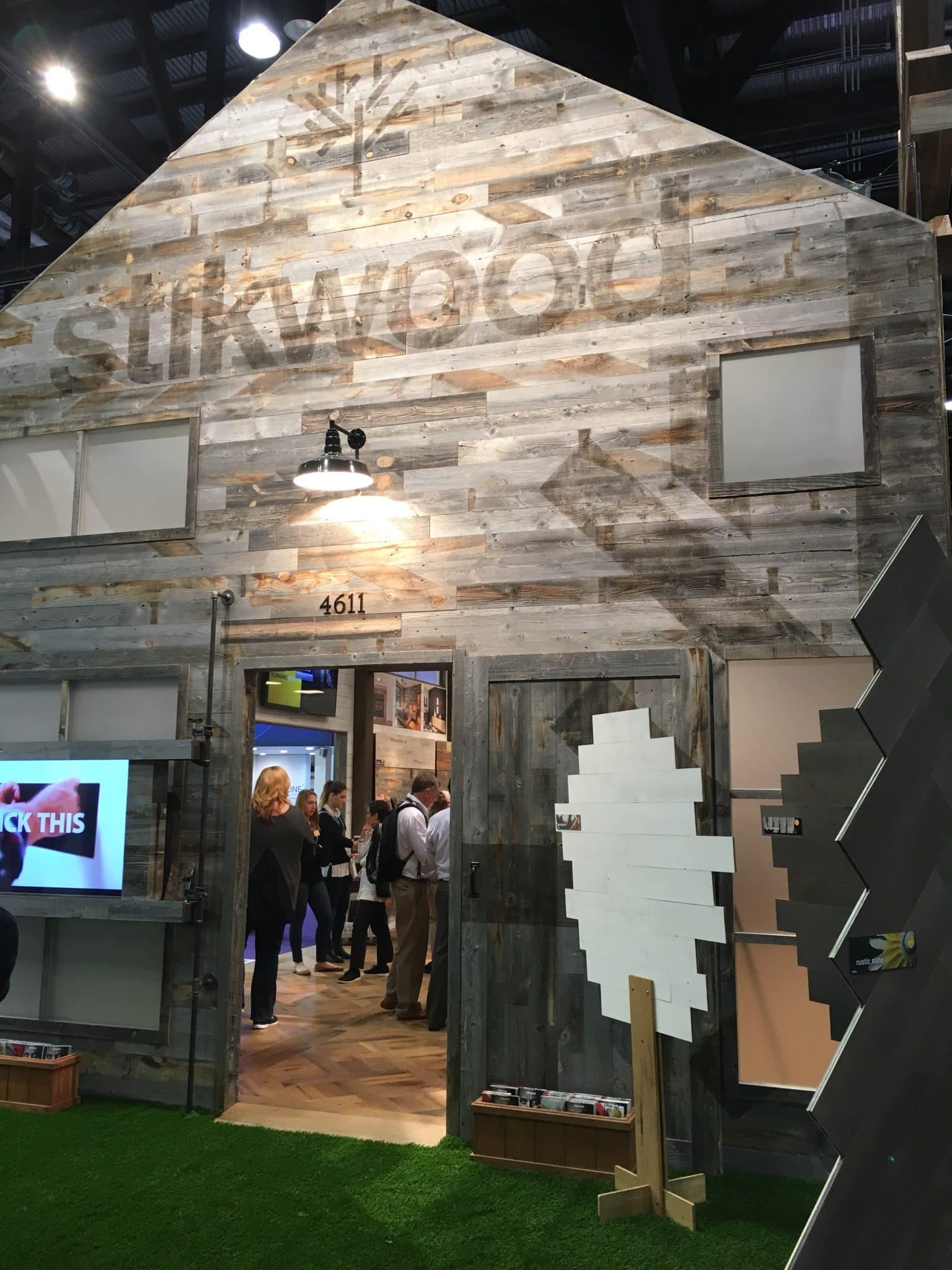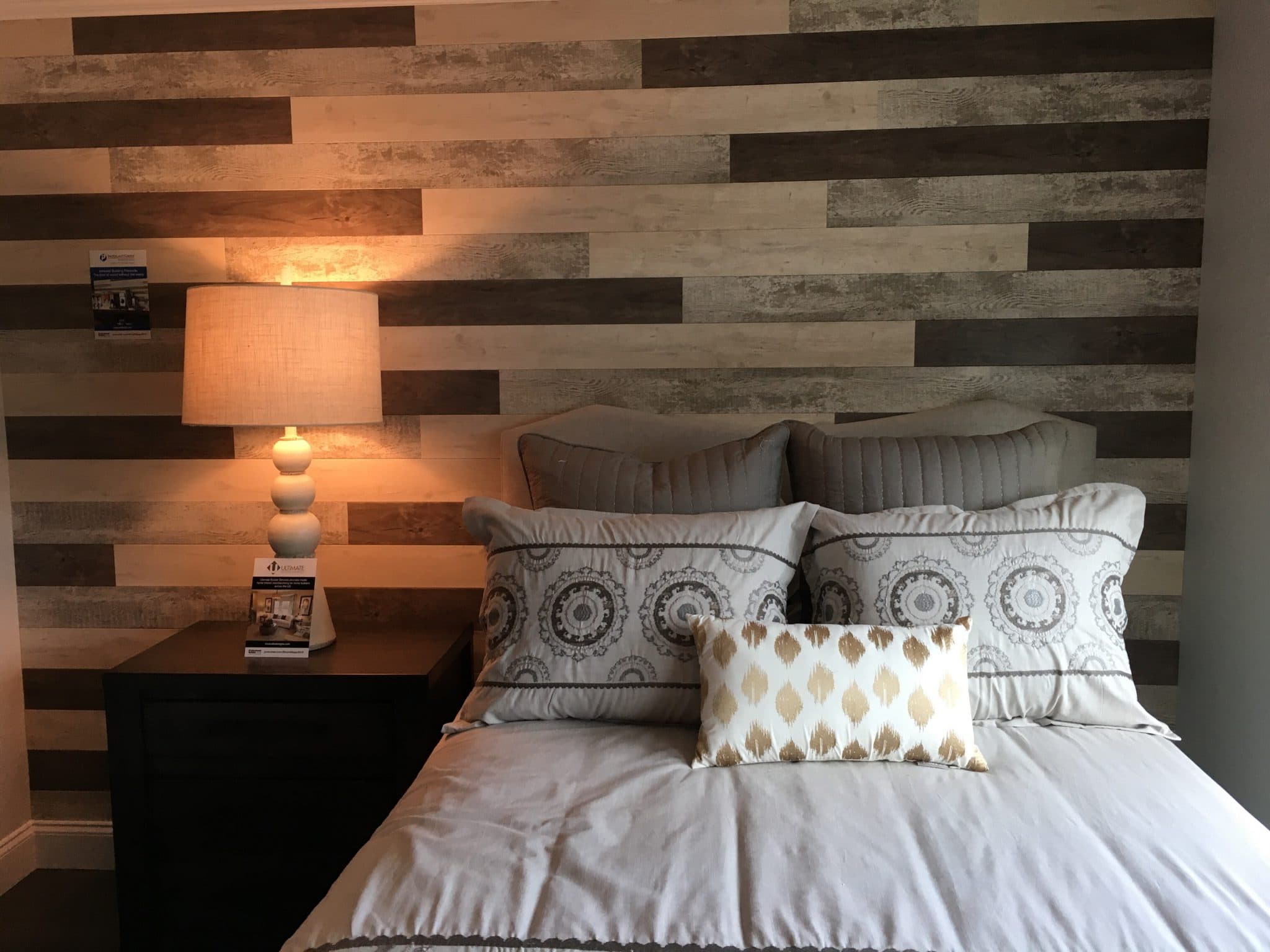 One of my most popular pins on Pinterest is Farmhouse Storage Organization Ideas from Amazon. Check it out!
An Obsession with Millennials
I think it's awful that companies are OBSESSED with getting millennial dollars, yet no one understands the generation.

Business execs talk incessantly about needing to make products for the millennial generation, yet the older generation can't seem to fathom that buying a house as a millennial is nearly impossible. You might be able to scrape together enough money for a house by the time you're in your 30s if you're lucky.
Here's the thing. We all need shower faucets for showers. Mold can enter anyone's home. Toilets need to flush. Air conditioners need to cool without draining the pocketbook. None of these things have anything to do with your age, generation, or label attached to your stage in life. And if you can't afford your own house to buy, it doesn't mean a thing to have a millennial-friendly product with a smartphone app if there is no place to put it!
While smart-home technology is SOARING in products right now, if the product is crap but can be linked to your phone, what does it matter? Just because it's tech cool doesn't mean anything. Millennials care about transparency and quality more than any generation before, so the emphasis should be on great products made well for ALL of us.
And if the millennial market can't afford to buy a home to install their smart-phone enabled ovens, laundry machines, light bulbs and front-doors, what does it matter?
Decorative Showers
No longer are people content to have a huge space in their bathroom lacking in design.
Sure, the tile work inside can be a work of art. But what about the shower enclosure itself as a design element?
Decorative showers like these were really well received at KBIS. I think home trends will showcase more decorative showers in the years to come.
Multigenerational Housing is the Next New Thing
With millennials not able to afford their own home (I'm in the same boat, I completely understand), many are never leaving their parent's home or are returning to their parents home.
Older adults could find themselves taking care of their own parents, since Americans are living longer. The cost of assisted living can be more than the cost of buying a new, bigger home.
So multigenerational housing is the next new thing.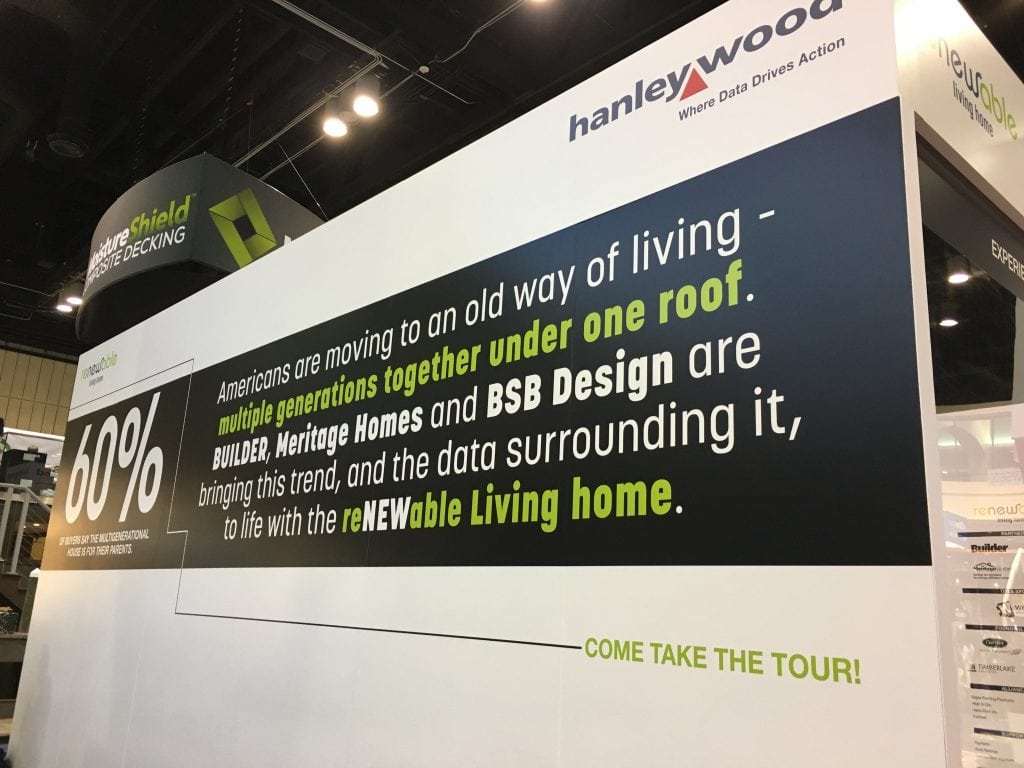 But is it really new? Multigenerational housing was the way that our ancestors lived generations ago. While I was researching my family history, it is surprising how many of my ancestors lived together in the same house on the census records. And many cultures still have multigenerational homes today.
According to research, nearly one in five American homes are multigenerational. And that number will rise.
So the hunt for large homes that can easily accommodate several generations is HUGE. As is smart design to give everyone their own space when they need it.
I toured the reNEWable Living Home in Orlando, Florida as part of KBIS. With a combination of healthy design, sustainable features and space planning for multigenerational housing, I was honestly really impressed with this Meritage Homes design in partnership with Hanley Wood.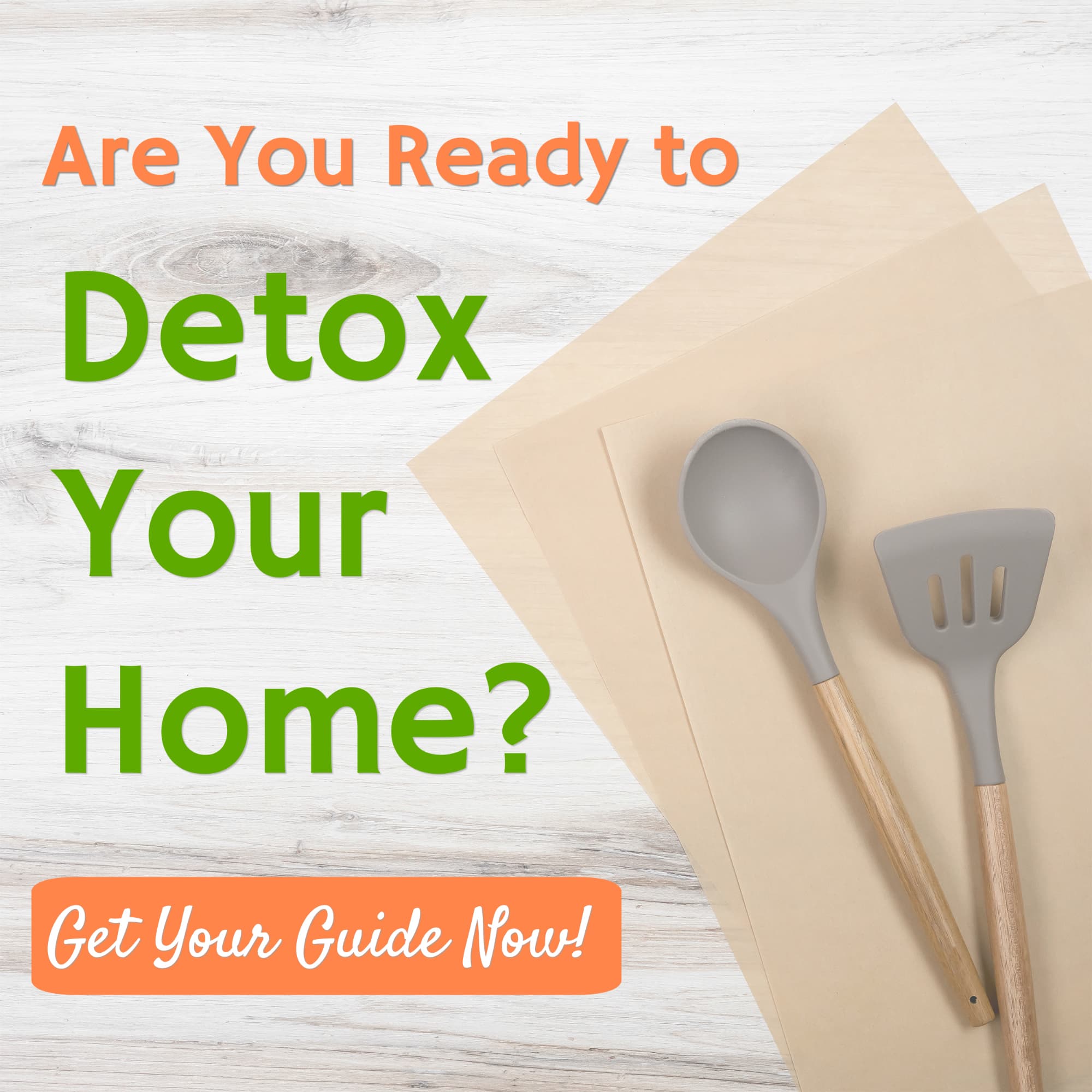 Living in Place Homes
Maybe you're not wanting to live with other family members. But you want to make sure you can stay in your own home for as long as possible (especially after it is paid off).
Smart design for living in place homes is definitely a new home trend that is a wise investment. Living in place homes think ahead into the future for health and mobility challenges that can affect older Americans. Think elevators, single-floor living, walk in showers, large bathrooms, etc.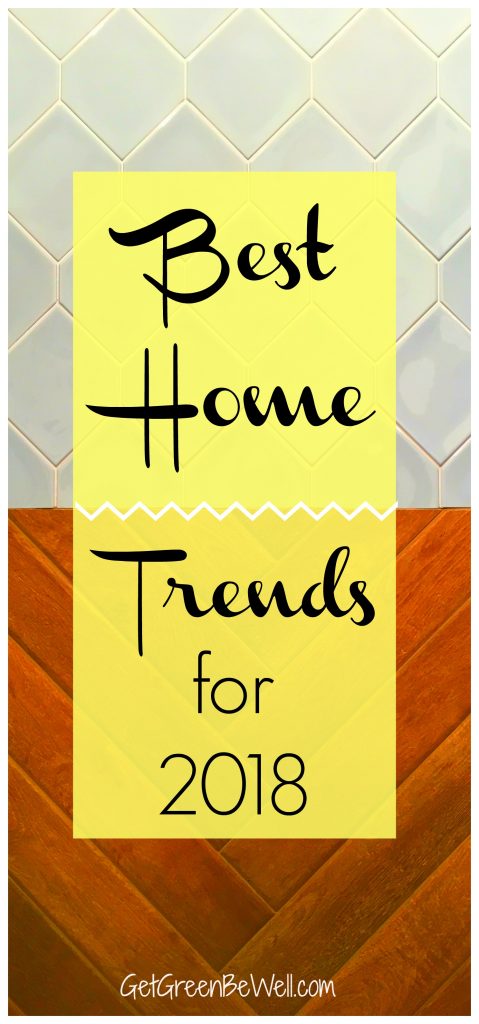 Living in place homes are designed to be beautiful, functional and modern today with the ability to adapt in the future. You're not going to see bathroom handrails in your home when you're young. But living in place homes allows the design features to be used if and when the time comes.