You spend up to a 1/3 of your entire life on it. Shouldn't it be the LEAST toxic place in your home??
That's right, I'm talking about your mattress. If you sleep 8 hours a night, that means that you are spending 1/3 of your day in bed. Yet mattresses are often the most overlooked aspect of living a non-toxic, healthier life.
That's about to change. At the end of this article there is a fabulous deal on organic beds from Plush Beds that you should consider, but first I want to show you WHY it is so important to choose a chemical free mattress and bedding (yep – pillows count, too!).
The big reason is fire retardants. Fire retardants are chemicals used to resist or slow a fire on the bedding material (not stop it). Ironically, the use of fire retardants is necessary because all of the synthetic foams made from petroleum that are used in conventional mattresses are highly flammable! So chemicals are needed to prevent fires from materials used in mattresses that are known to catch fire very easily. Uh huh.
PBDEs, which are one class of chemical fire retardant, were banned from use in polyurethane foam products in the U.S. in 2005 . PBDEs were linked with health problems such as behavioral changes, reproductive system damage, and cognitive dysfunction. When one is banned, though, others are used. There are many other types of chemical fire retardants used today that have simply replaced PBDEs.
How do fire retardants affect you if they are in the mattress? The chemicals can off gas into the air that you breathe while sleeping. Bits of the material can also escape the mattress and become dust in your home, which you then breathe in.
It's not just about breathing in fire retardants, though. ANY chemical that is used in the production of a mattress (or pillow!) can be breathed in if the chemical starts to off gas (which is common) or starts to break down over time (again, very common) and turns into dust.
What other chemicals could be used in a mattress? Consider polyurethane foams and synthetic memory foam, which are made from petroleum products. There's a whole slew of chemicals in there folks! Then there are adhesives and glues used in the mattress as well as the foundation. I won't begin to list everything that could be lurking in your mattress because there are just way too many things to name.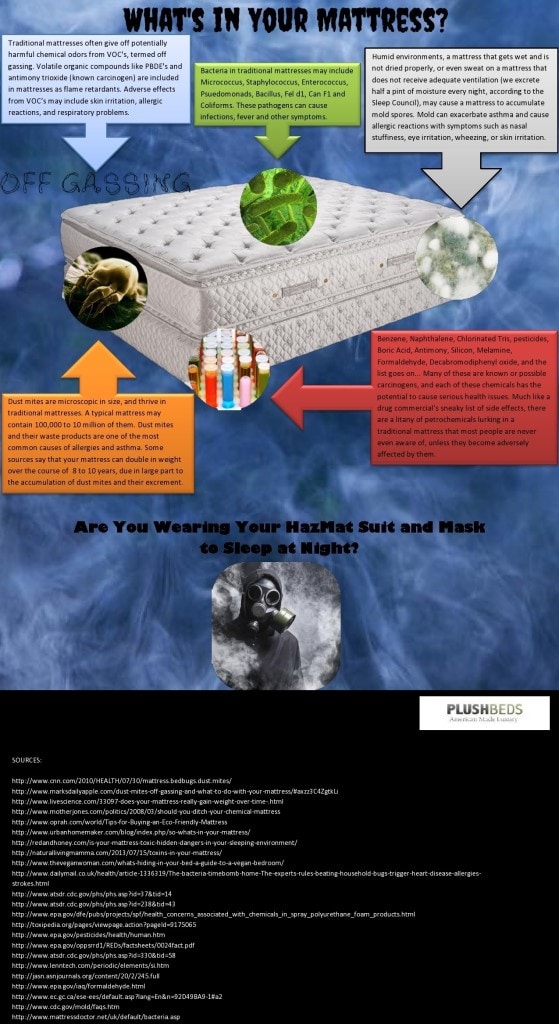 If you try to avoid ingesting toxins and chemicals in your food, in your water, in your personal care products and in the air in your home, wouldn't it make sense that you would want to remove the toxins from bed, too? It's the place where you lay your body to rest and rejuvenate overnight. It's the place where health is restored naturally. Don't contaminate your body every single night by laying on a toxic bed.
So what can you do? Well, it might be time to buy a new bed, not just because you want to avoid chemicals, but maybe you need a new bed anyway! After all, dust mites accumulate so quickly in bedding that they become a health hazard in their own right, too, in conventional mattresses. But maybe you've noticed more indoor allergies, such as sneezing when you wake up. Maybe you're not getting restful sleep anymore. Maybe your back hurts or you are achy or all kinds of other problems that, perhaps, might be related to a chemical-filled bed.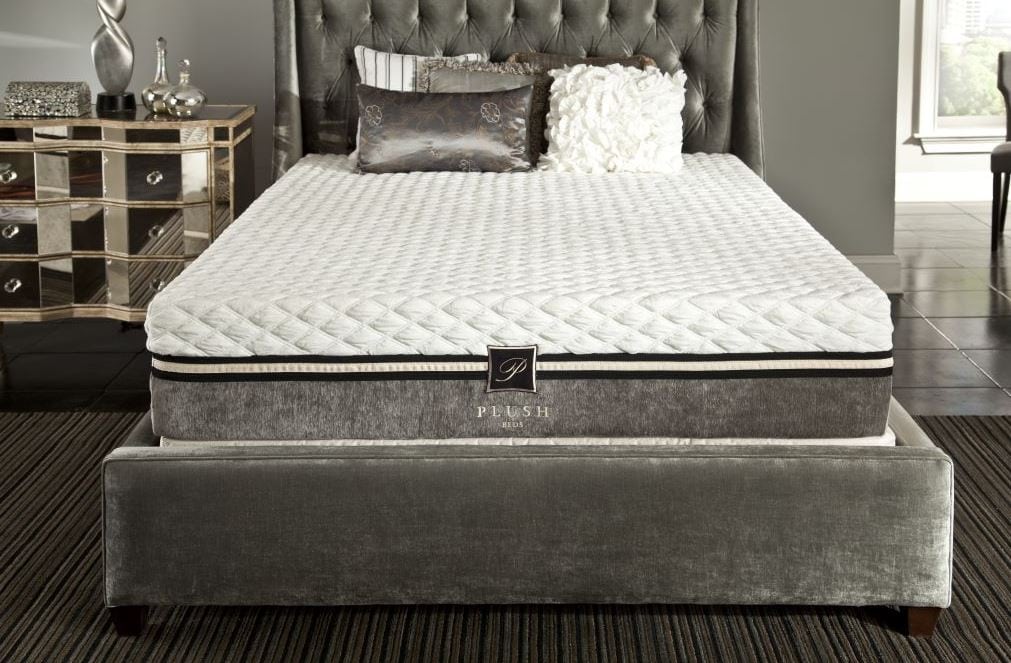 Do you have to sleep on a mattress made of straw to stay away from chemicals? NO! Absolutely not! With today's technology, it's amazing what you can do with all natural materials that do not emit VOCs (volatile organic compounds). You can enjoy a memory foam bed or a plush latex bed without having to be exposed to chemicals. For instance, 100% natural latex is made from "tapping" a rubber tree, much like tapping a tree for maple syrup. And fire retardant properties come naturally when you use wool.
It is easy if you choose a reputable mattress manufacturer that believes in protecting your health and the planet. You won't find these types of beds at a big box store, though. You're going to have to shop online, folks.
Take, for instance, this incredible Black Friday sale from Plush Beds. These savings are awesome, which is really great because – truth be told – organic mattresses can be uber expensive. I'm even guilty of trying to justify the cost of an organic mattress against the cost of a conventional one.
With the Plush Beds sale, you can save over one thousand dollars – AND get free bedding gifts, too! Check out these offers (valid Nov. 24 – Dec. 5, 2017):
$1,200 off all latex mattresses
Each purchase of a latex mattress also includes:
2 free organic latex pillows
Free plush luxury sheet set
Free mattress protector
$600 off all memory foam mattresses
Each purchase of a memory foam mattress also includes:
2 free organic latex pillows
Free plush luxury sheet set
Free cool gel pad
$100 off all Sofa Bed Mattresses
$100 off all Mattress Toppers
$500 off all Adjustable Beds + Free Extended 10 Year Warranty
How can you be sure that these mattresses are healthier than what you'll find in the store down the road? Plush Beds is GreenGuard Gold Certified, which means they have met some of the world's most stringent emission standards for 360 VOCs that you don't want in your body. Less than 1% of all mattresses in America meet this qualification.
So, how can you possibly order a mattress online without lying on it first? It's a valid question, and one that organic mattress companies understand. That's why you have a certain time period to try out your mattress to make sure you are satisfied. With Plush Beds, you'll get FREE shipping and handling and FREE returns if you're not satisfied. Add in a 100 night satisfaction guarantee, too.
Photos courtesy of Plush Beds