Pharmaceutical grade tea tree oil has a variety of uses for personal health and wellness, along with naturally cleaning your home.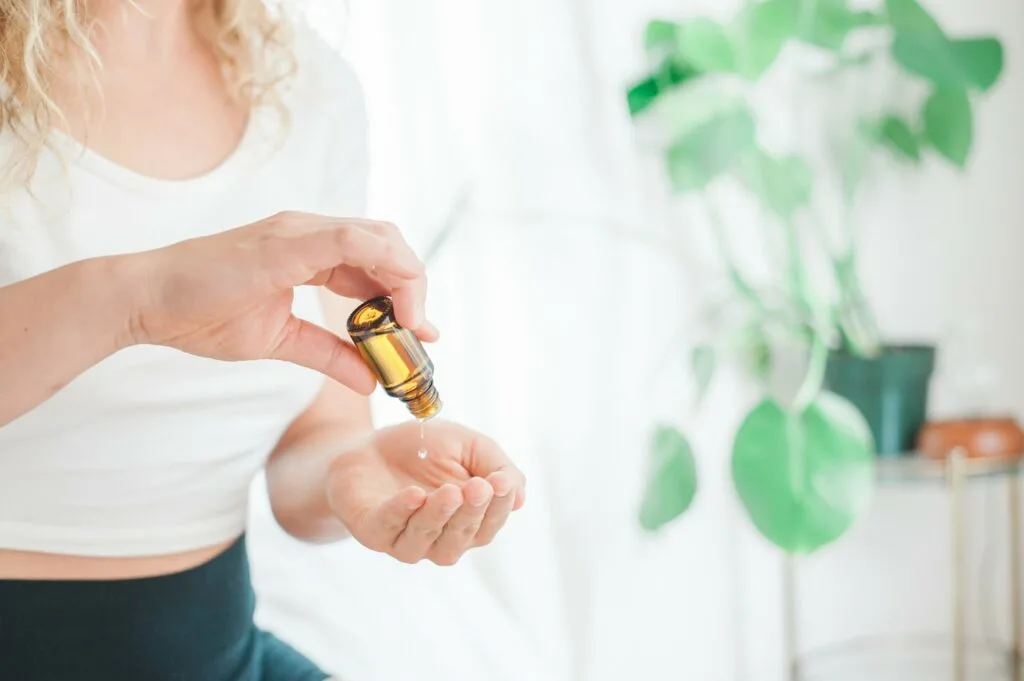 What is Tea Tree Oil?
This essential oil is extracted from the leaves of the Melaleuca tree.
Unlike its name suggests, tea tree oil has nothing to do with the tea that you drink.
But it is extremely popular to get rid of nasty stuff that could be in your home or body, such as:
Bacteria
Mold
Fungus
Protozoa
Viruses
That is why tea tree oil is commonly found in many natural cosmetics, dental products, skin care products and cleaning products.
Originally used by the aborigines as a treatment for all kinds of skin problems, now it is commonly used in cleaning products, too.
The natural power of this plant-derived oil is so well known and so powerful that it has a number of pharmaceutical grade uses.
Apothecary Extracts Tea Tree Oil
It is important to buy a bottle of tea tree oil that is 100% pure, though.
Surprisingly, many essential oils are not pure. They can have added fillers or chemicals. Cheaper products could contain other substances that you don't want to be using on your body.
I tried a big bottle of Apothecary Extracts 100% Pure Australian Tea Tree Oil.
The pharmaceutical grade tea tree oil is a product of Australia. This oil contains no preservatives, no artificial colors, no fragrances, no parabens, no mineral oil, no chemical solvents, and no petroleum.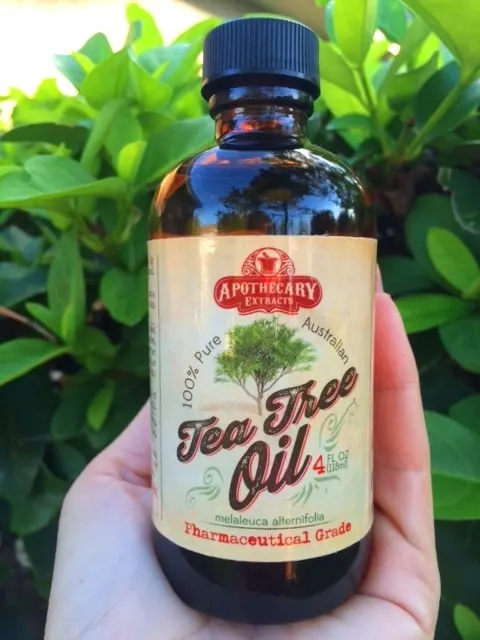 My first thought was that I had never seen a big bottle of tea tree oil like this before! Usually the bottles are quite small and fit in the size of your hand.
This 4 ounce big bottle will last a LONG TIME! In fact, I still have it years later (it might not be as potent for skin care applications after that long, but I have no problem using it in green cleaning recipes).
You can use the oil for so many uses that investing in a big bottle is a wise idea. Especially if you are using it around the house in the ways shown below.
It is a really good thing that the oil is in an amber bottle. The dark bottle prevents the oil from breaking down with light. So if you are storing this bottle, be sure not to put it in direct sunlight. Harsh sun rays can start to break down the oil and it will lose its therapeutic effects.
Where to Buy Apothecary Extracts Tea Tree Oil?
Apothecary Extracts tea tree oil is on Amazon. And if you set up a subscription for the pharmaceutical grade tea tree oil, the price is even less!

Seven Uses for Tea Tree Oil
There are so many uses for this essential oil that it's hard to narrow them down. But here are seven ways to use tea tree oil that you can do right now:
Acne Treatment: I've been using tea tree oil as a topical acne treatment for years! It's the only thing that seems to kill the acne, even though I've tried other conventional and organic prepared acne treatments. (Tea tree oil is great at helping me clear up whiteheads or acne from bacteria. However, for hormonal cystic acne it doesn't do too much for me.) It doesn't really leave my skin dry, like other acne treatments can. I can apply the oil directly to my skin, although it is not recommended to do so. Others might need to dilute it with a topical carrier oil to prevent irritation.
Clean Mold: I discovered a huge patch of mold growing on drywall when we moved furniture away from a wall. Not wanting to use chemicals, we mixed a small amount of tea tree oil with water (try a ratio of 2 drops of oil to one cup of warm water) and applied the mixture to the wall with a sponge. Sure enough, it killed the mold. Consider using it in a spray bottle to kill mold in the bathroom and kitchen, too. The oil is one of the best ways to clean mold in a car, too.
Laundry Deodorizer: Add a few drops of tea tree oil in with your wash (along with your laundry detergent) to freshen the load. This is great for towels and sheets that really need some anti-bacterial boosting.
Bug Bites: Relieve the itch of a bug bite by applying the essential oil. Only do this if you can tolerate the essential oil placed directly on your skin, though. Otherwise, use a carrier oil. Not only will you get relief from the bug bite, but the antibacterial properties of tea tree oil could help prevent infection in broken skin due that comes from itching. (Also try my DIY natural bug repellant.)
Kill Lice: Lice treatments can be highly toxic with all of those chemicals to kill one of childhood's most dreaded ailments. Why not use the all natural tea tree oil, instead, which kills bacteria, viruses, and fungus with natural plant power?
Clean and Deodorize Carpet: Sprinkling baking soda on a carpet and vacuuming it up is a long-time favorite way to clean carpets naturally. (This pumpkin spice cleaner also deodorizes carpet in the same way, though with different essential oils.) Why not add a few drops of tea tree oil to the baking soda first, and then apply? Be especially careful with fine fabrics, though, and do a spot test if you have light colored carpeting.
Deodorize Anything: Tea tree oil kills the bacteria that can cause nasty smells. Try soaking a cotton ball in the oil and hide in a trash can, gym shoes, bathroom cabinet, etc. to deodorize. (Here are more ways to naturally remove odors from a closet.) A big room with nasty smells (think smoke from burnt toast) might demand a tiny bowl with a small amount of oil poured in. That is when a 4 ounce big bottle size really comes in handy.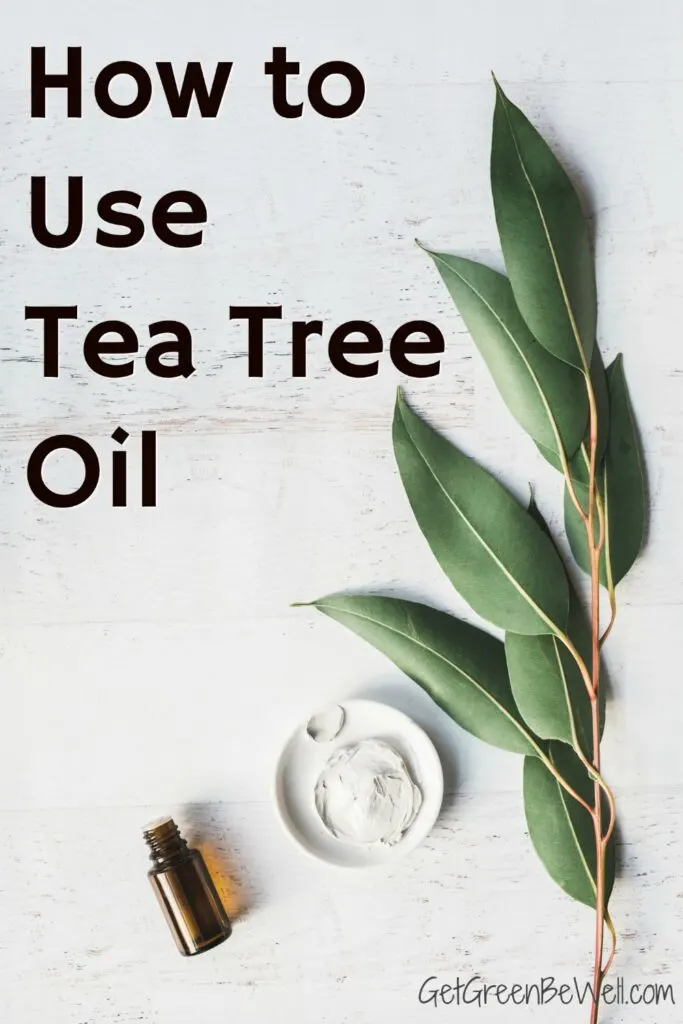 Here are some easy DIY green cleaning recipes that you can use with this essential oil.