I love fall fashion. From cozy plaids to warmer color hues, changing over your wardrobe from summer to fall is fun! And these 7 dresses for fall are smart choices. PLUS, I love that they are sustainable fashion (recycled materials, eco-friendly materials and/or treating workers fairly).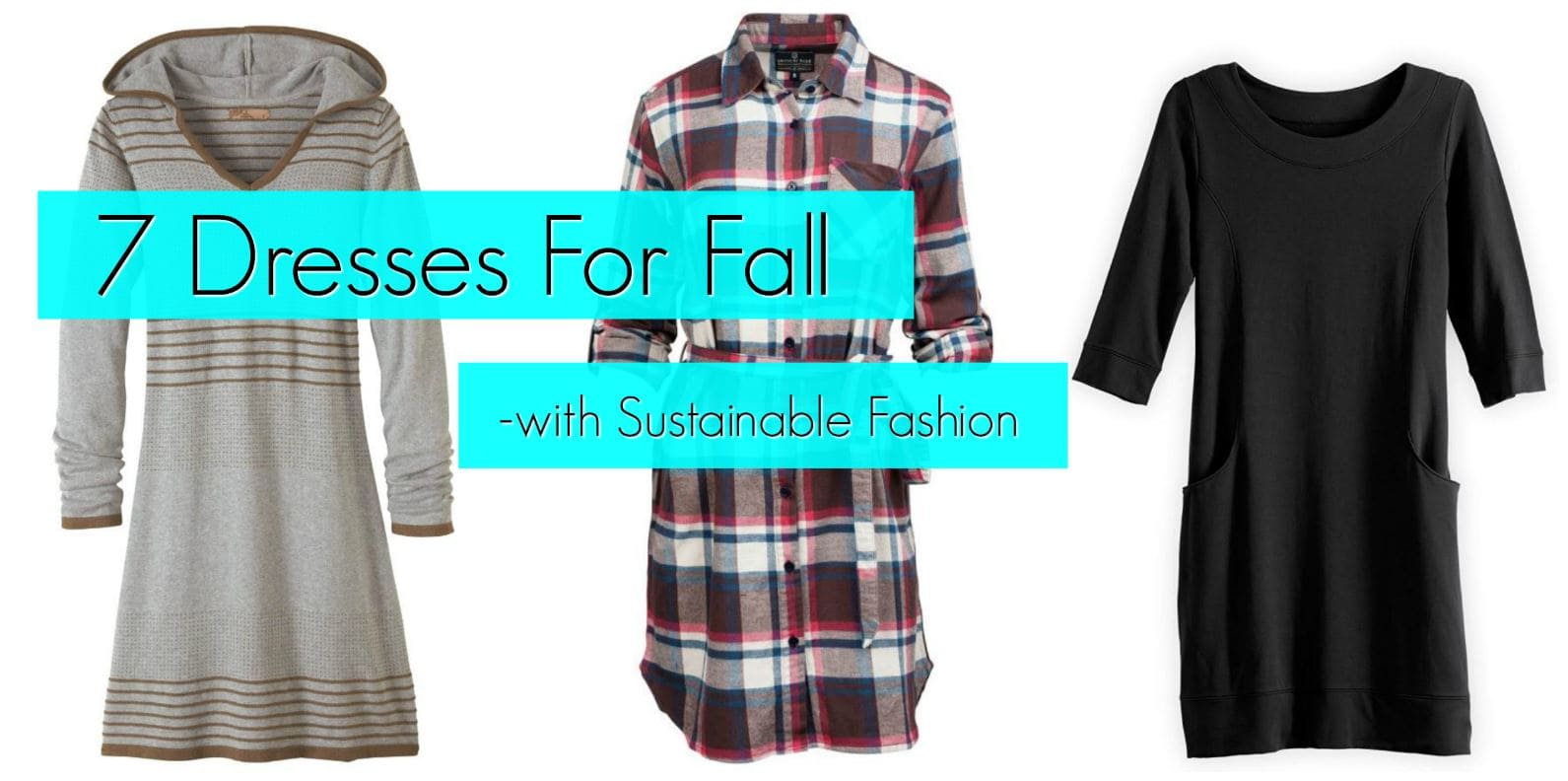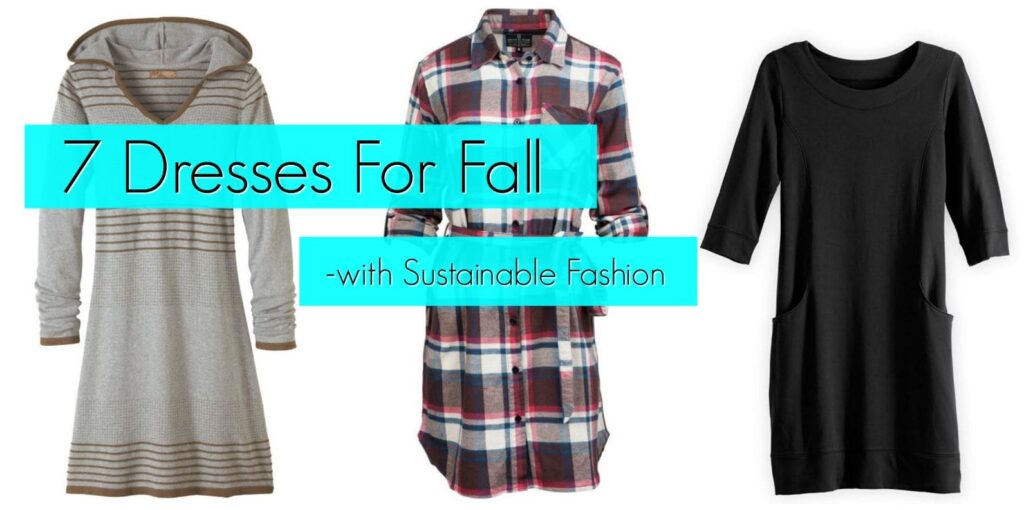 How to Style Dresses for Fall
Dresses are becoming my go-to choice for fashion. As long as you pick easy, breezy dresses that don't require tons of undergarments and shaping to make them look good, dresses are one of the most classic fall fashion statements.
I appreciate being able to put a dress on and just dress it up with a necklace. There's no need to worry about coordinating tops and bottoms, adding belts, etc.
A dress can have different looks with just a change of shoes. Add boots to any of these 7 dresses for fall and you've got a casual outfit. Switch to a heel shoe and you've got an outfit for night time or date night.
Pick a great dress in a fall color and you can rock the look for months. Choose lightweight or sleeveless options for those first days of fall when the temps are still warm during the day but crisp at night.
When the temperatures start to cool, add a jacket, vest or plaid shirt over your dress to keep things fresh and suitable. Consider tall boots to keep your legs warm – and pair them with some cute boot cuffs for even more visual interest.
As the weather gets really cooler, consider layering your dress with tights, heavier sweaters and evening repurposing it as a tunic over warmer leggings.
P.S. Have you heard about Amazon Prime Wardrobe? It's a new service with Amazon where you can order clothes and try them on in your home for 7 days with no charge. Woo Hoo! With Amazon Prime Wardrobe, you're only charged for what you keep, and they supply you with the resealable box and shipping label for easy returns. I can't wait to try it out!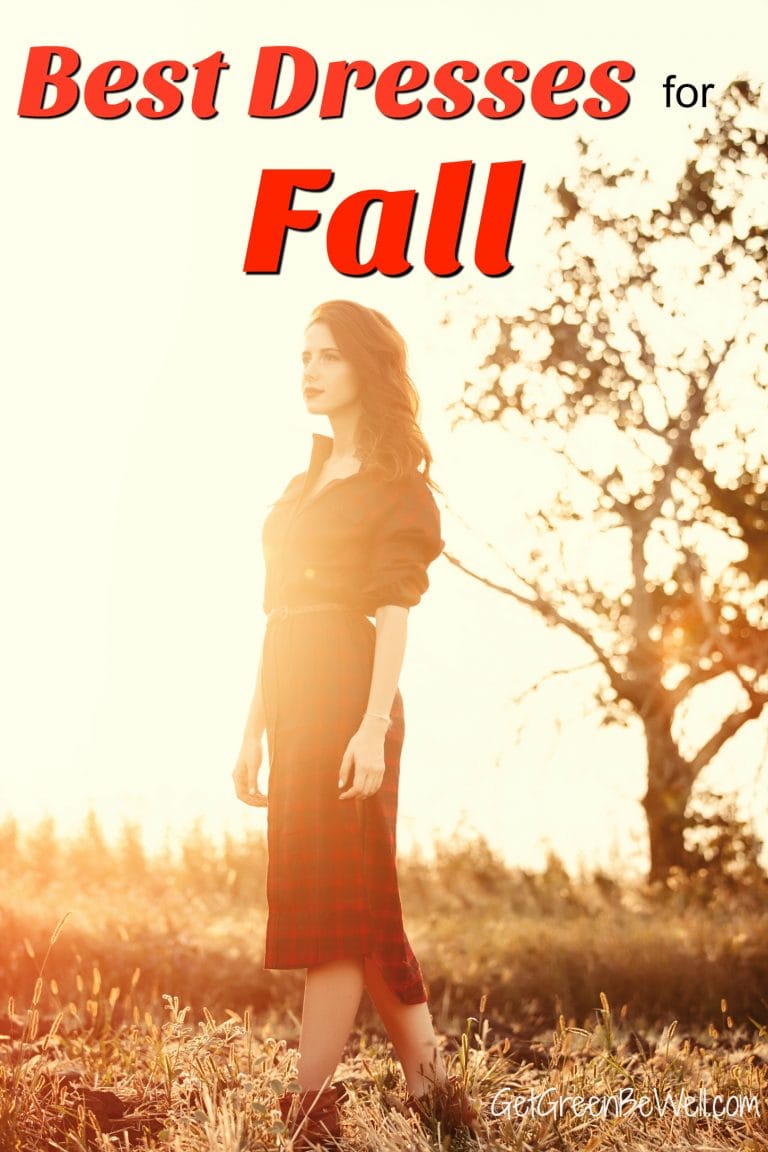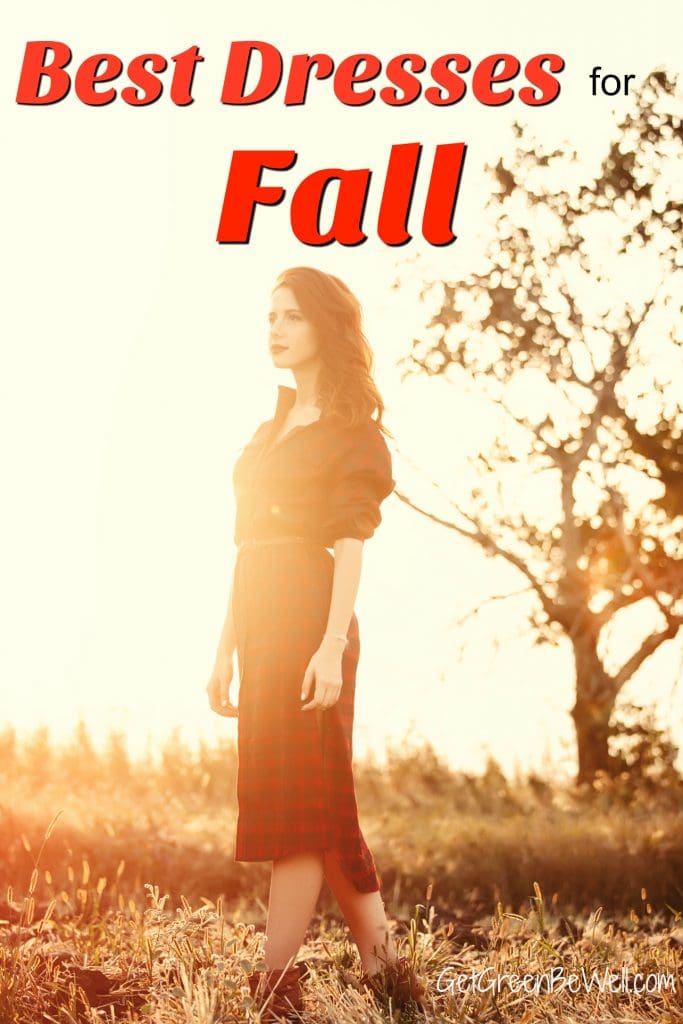 Here are my top picks for 7 Dresses for Fall that are perfect additions to your wardrobe today:
Sleeveless for Fall
I love the Fair Indigo brand for its on-point fashion that's not too trendy but still modern. Available on Amazon.com, the prices aren't bad for organic clothing that will stay in your capsule wardrobe for years! Like this navy dress (also comes in a classic olive shade). It's Fair Trade and 100% organic. The price is cheaper than you'd think for sustainable fashion!
I live in Florida, so this dress would be perfect for me until December or so with our hotter temps. I'm envisioning a cute plaid shirt worn over it, tied in a knot in the front, to make it more suitable for colder fall weather.
Pocket Dress
This organic and Fair Trade pocket dress from Fair Indigo has longer sleeves to keep you warm, plus handy pockets for storing your phone. Score!
Made in Lima, Peru, this staple piece can be dressed up or down, depending on shoes and accessories. Also comes in Navy.
Plaid Dress
You know it's fall when the plaid comes out! Made with organic cotton, this United by Blue Murray Plaid Dress is the perfect addition to your fall wardrobe.
I can see wearing this with cute and comfy shoes while apple picking or going to farm stands.
Sweater Dress
The classic sweater dress gets a more casual feel with prAna's Mariette Dress. Bonus points that it's currently part of Amazon Prime Wardrobe. I love the striped pattern in several colors from this sustainable fashion company that I love.
Pair it with sneakers for a weekend outing. Add some boots for a more upscale feel. The hooded dress is something a little more unique and fun for your fashion wardrobe.
Statement Dress
With a bold pattern and long sleeves, this Whitley Dress from prAna makes a statement all on its own. (Currently part of Amazon Prime Wardrobe)
Of course you can pair it with accessories, but if you want to make a dramatic statement without a lot of time spent coordinating jewelry, scarves or other pieces of your wardrobe, this statement dress makes getting ready in the morning super easy.
Wrap Dress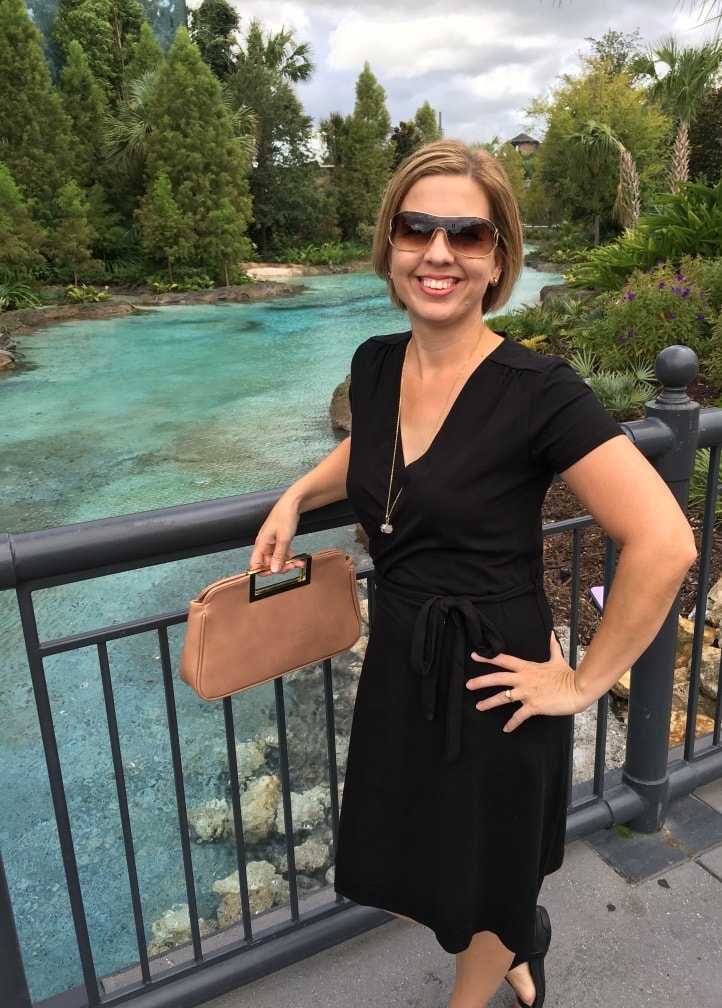 The wrap dress is classic. Get it in neutral colors and it's perfect for an easy fashion statement for work, or a relaxed day brunching on the weekend.
I own this wrap dress from PACT and wear it all the time. Seriously. ALL THE TIME! It's so super soft and comfortable. My only issue is that it sometimes shows a little more of your chest than is appropriate in work situations, so I layer a camisole underneath and it's fine.
This PACT wrap dress is 95% organic cotton. See more of the PACT items that I wear and love.
A Little Bit Different
Stand out in a crowd for all of the right reasons! This menswear-inspired look is absolutely perfect for the office and dinner out. And the tie detail is unique without being too bold.
The Organic Tie Dress is made from 95% organic cotton. And the price point is something that you'll love!
Related Posts: