Have you ever dreamed of driving a car directly off of the manufacturing line? I got the rare chance to drive a Hyundai Elantra Eco directly off of the Montgomery, Alabama assembly line, thanks to an invitation from Hyundai to try out the 2017 Elantra Eco.
To say that it was an amazing experience would be an understatement. This was seriously one of the coolest things I've ever done!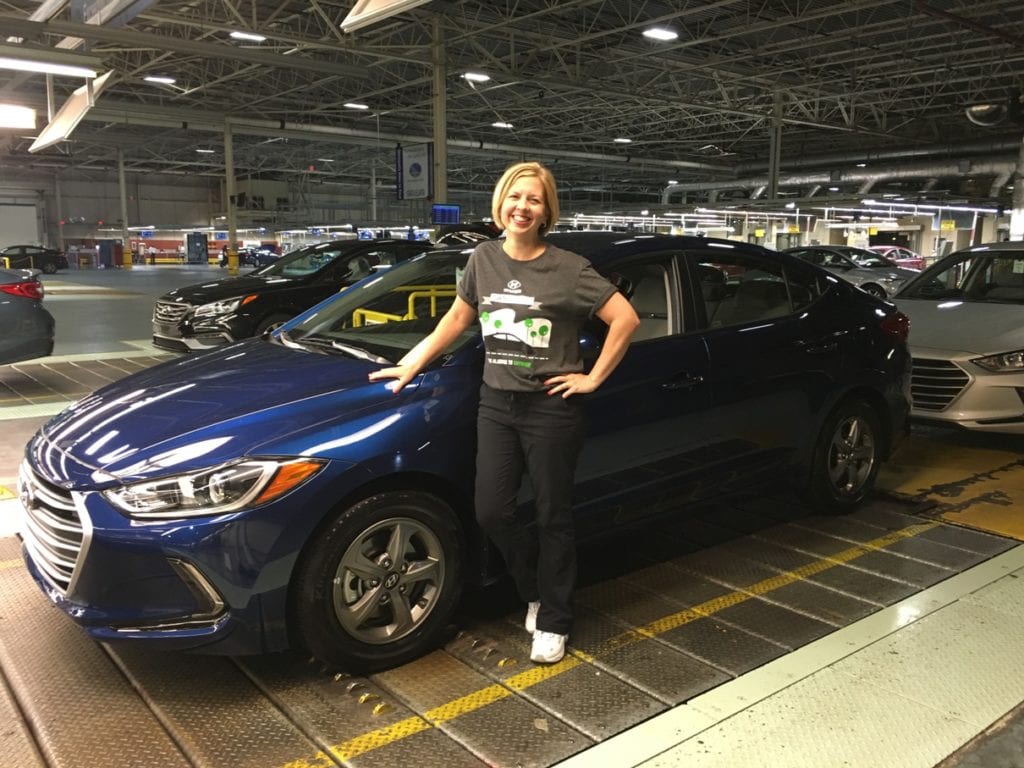 Hyundai invited me on an #ElantraEco roadtrip. Why did I say yes? Because not only was I able to drive a brand new eco car off of the assembly line, but I was also offered the opportunity to tour the plant (in a way that no one else gets to do!), AND I was told to drive back home in any way that I chose, for however long that I wanted in the brand new 2017 Hyundai Elantra Eco (and, no, I didn't get to keep the car).
How do I say no to that?!?!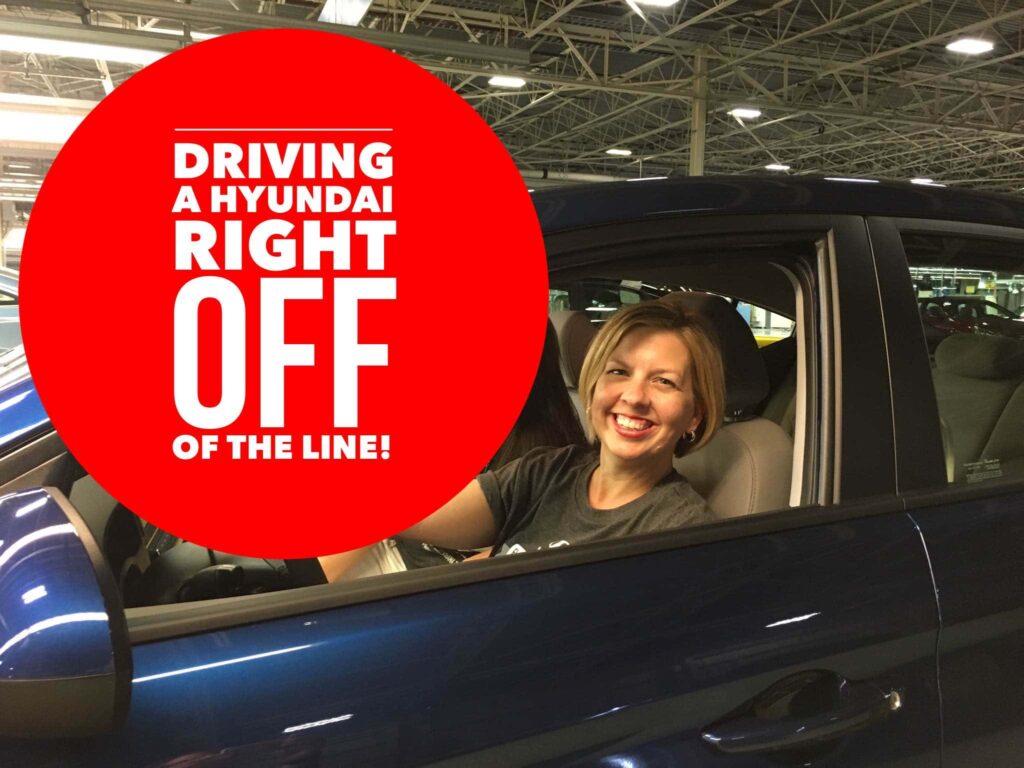 Add on the fact that I got to choose a friend to be my driving buddy to take photos and videos along the way, and the Elantra Eco Road Trip got even better.
So I invited my friend Mikki from The Not So Perfect Housewife (see her account here) and we flew one way to Montgomery, Alabama to start our Hyundai adventure.
Hyundai Elantra Eco Road Trip Begins
Our first – and only – night in Montgomery, we checked into the Renaissance Hotel (see my room tour and see what I packed), had a social hour with fellow media (a mix of automotive writers and green lifestyle digital influencers) and Hyundai staff, and then a gut busting dinner of so much delicious BBQ at Dreamland BBQ that I couldn't imagine getting up early the next morning to start our Elantra Eco Road Trip.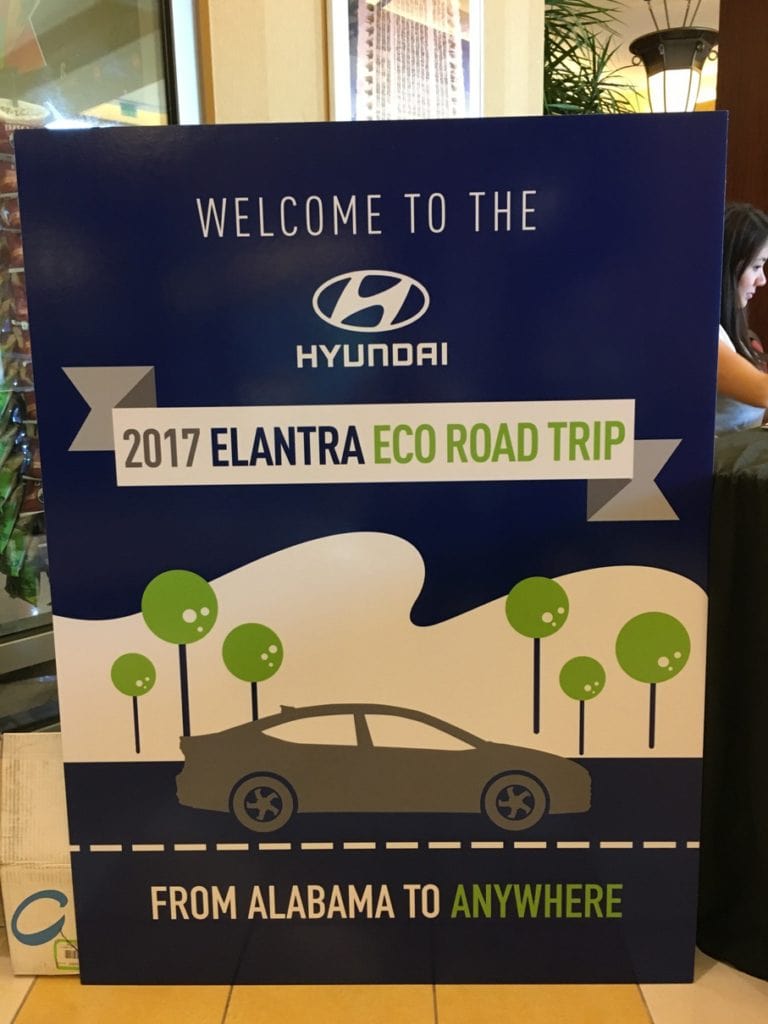 But we did.
Because when you've got an invitation to tour the Hyundai Montgomery, Alabama plant, you DO IT!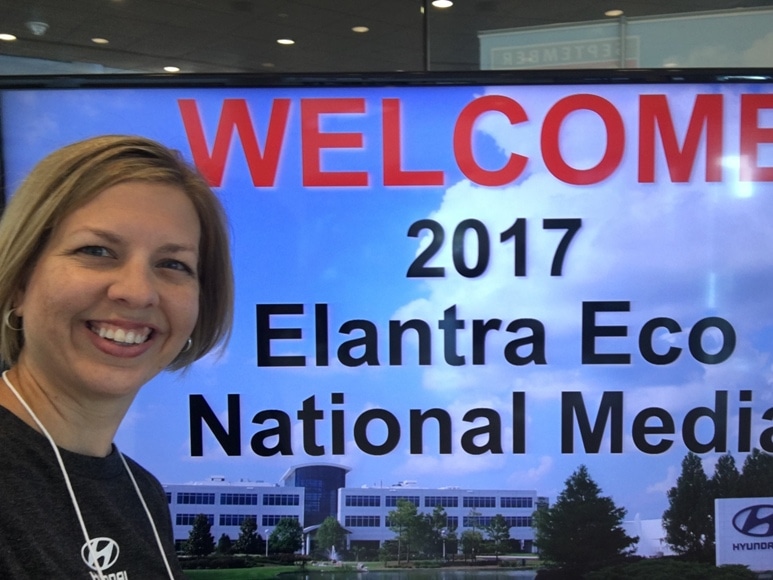 Touring the Montgomery automotive manufacturing plant is possible for the public – and it's FREE. There's about 10 tours a week. It's actually a super cool thing to do and I would highly recommend going to take a tour.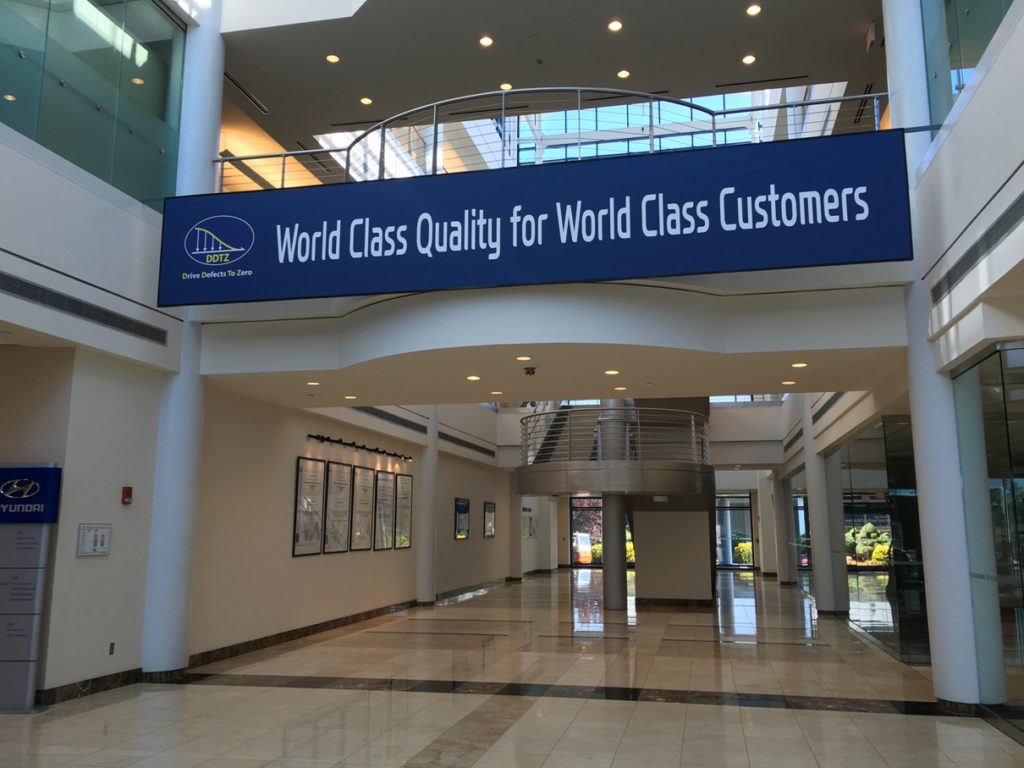 However, we got to do it in a unique way – one that even the fellow automotive writers in the group said had never, ever been done on any of their automotive tours before.
On the @Hyundai showroom floor in #Alabama with @notperfectwife #ElantraEco pic.twitter.com/flFcTSoAfa

— Kimberly Button (@KimberlyButton) May 11, 2016
Inside the Hyundai Vehicle Assembly Plant
We got to walk the assembly floor – and we got to take pictures. Both big no-nos on any public tour.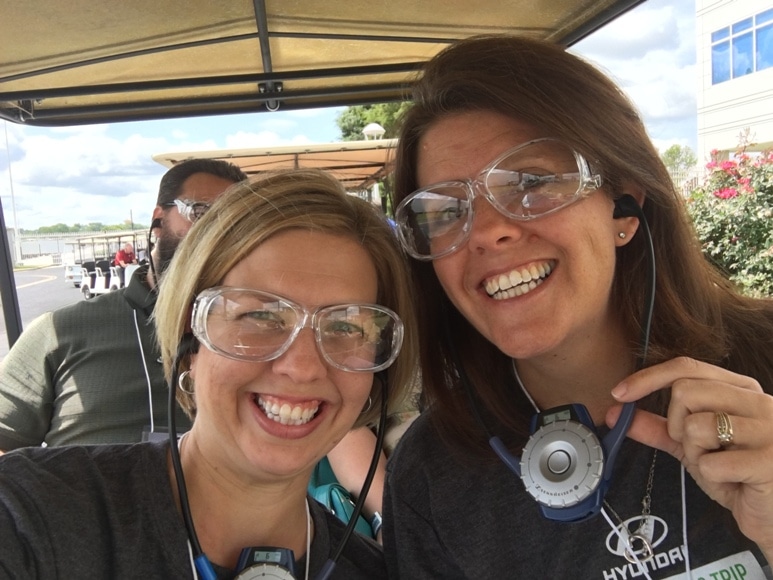 Mikki and I hopped on the front seat of the tram tour and were captivated by what we saw for the next hour.
Now, neither one of us really has much background into what makes automotive manufacturing unique – or what most of the parts were that were being assembled. Yet we were still fascinated. It's that good of a tour!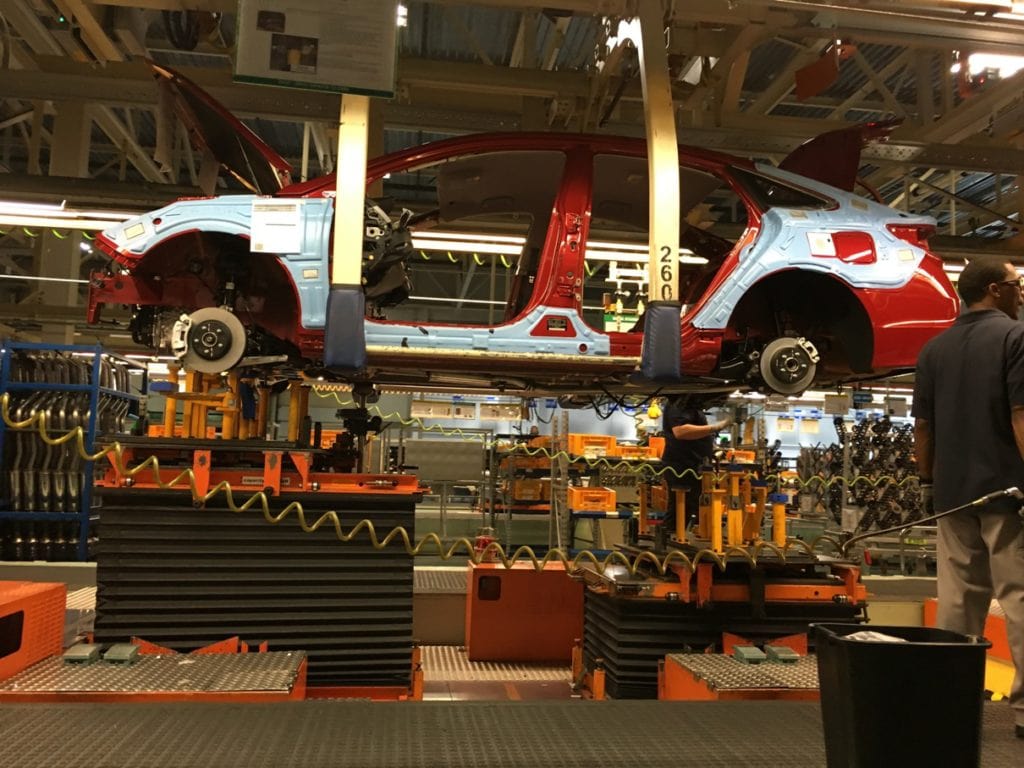 We learned that the Hyundai Motor Manufacturing Alabama plant is where the Hyundai Elantra, Hyundai Elantra Eco, and the Hyundai Sonata are manufactured in the United States.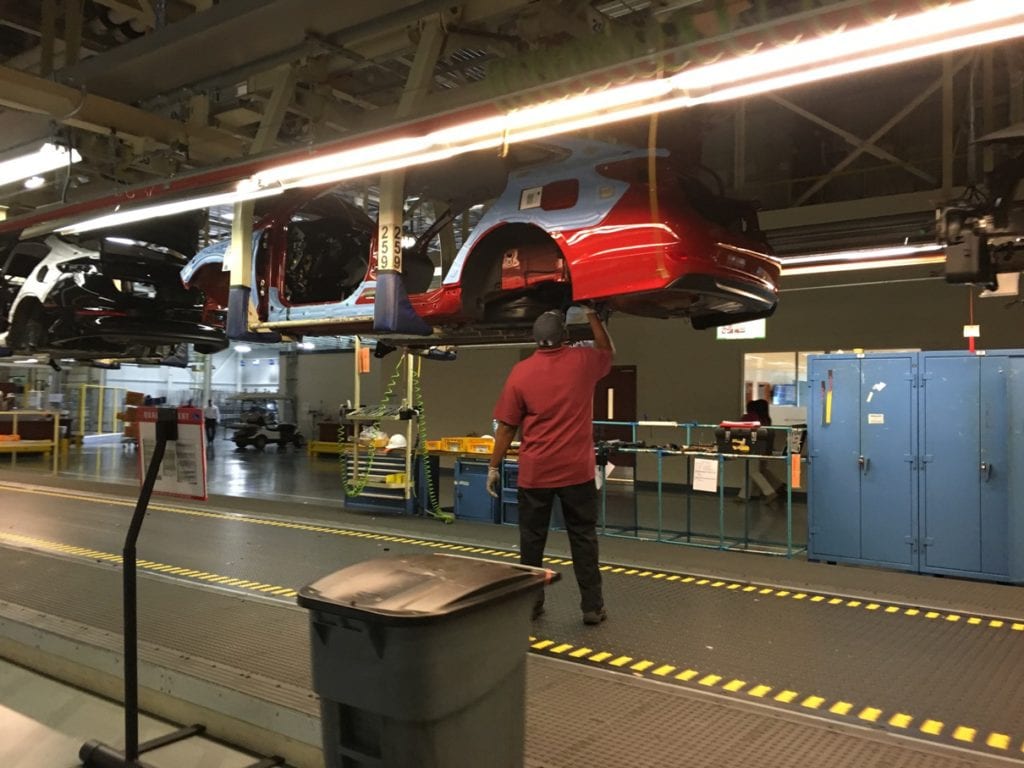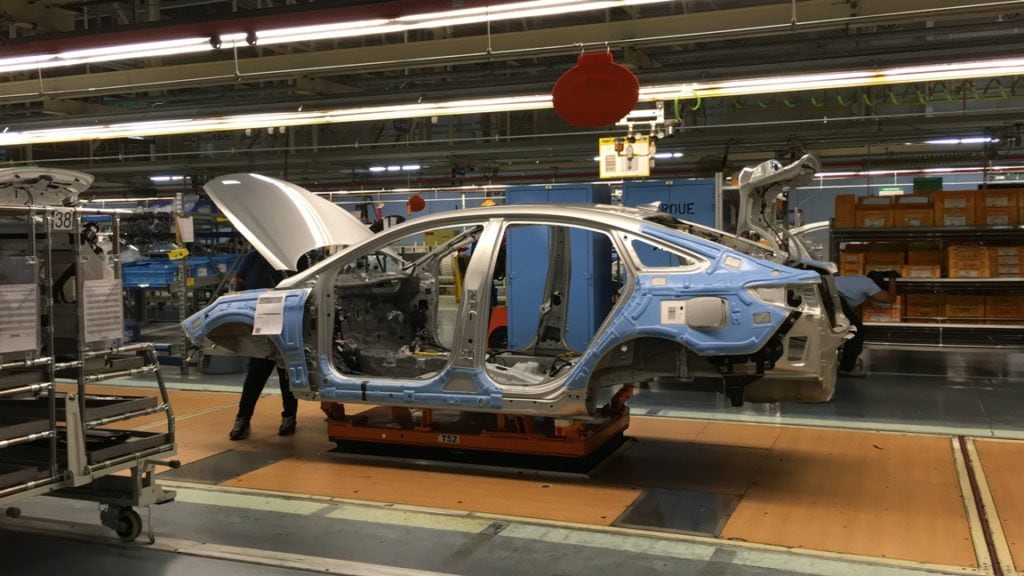 There are more than 3,000 team members putting the cars together for you, in a 3.2 million square foot facility covering 1,744 acres. (And they all seem happy. They would look up and smile and wave at us as the trams went by.)
Each day, 1,550 vehicles are assembled. That's 73 cars manufactured per hour.
Those cars are then delivered to more than 830 Hyundai dealerships across the country.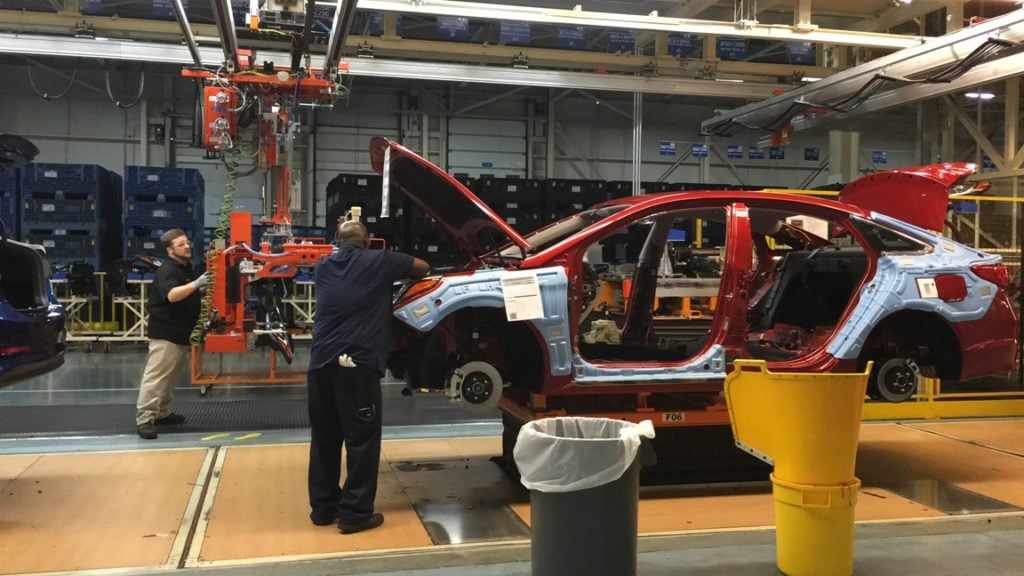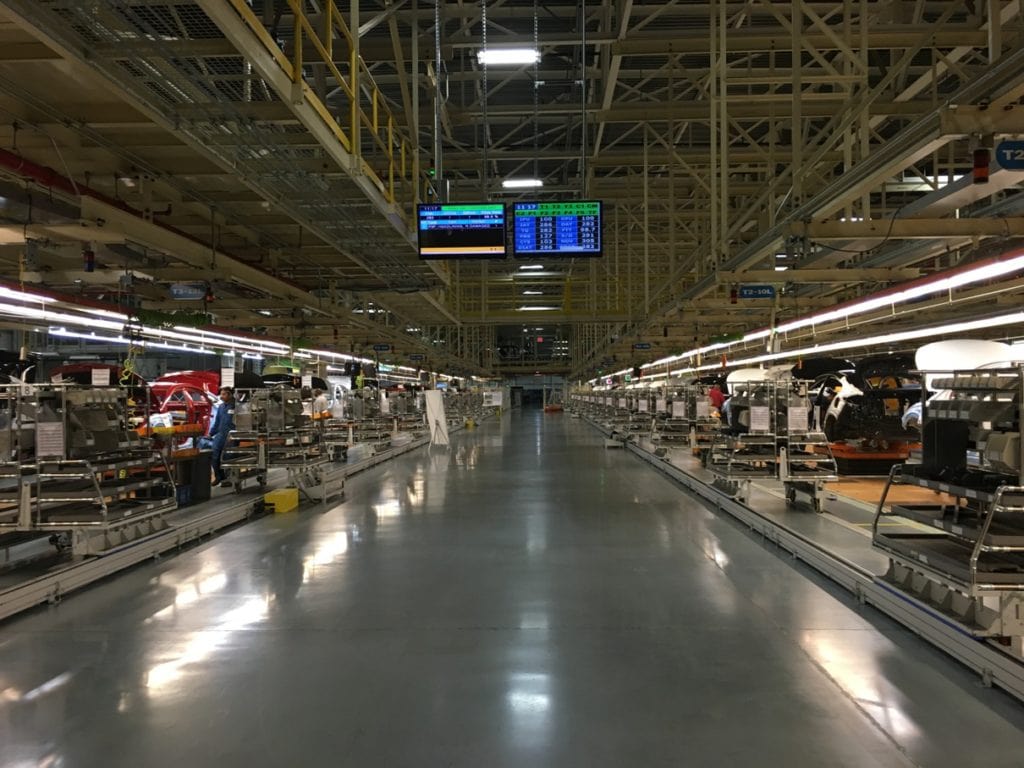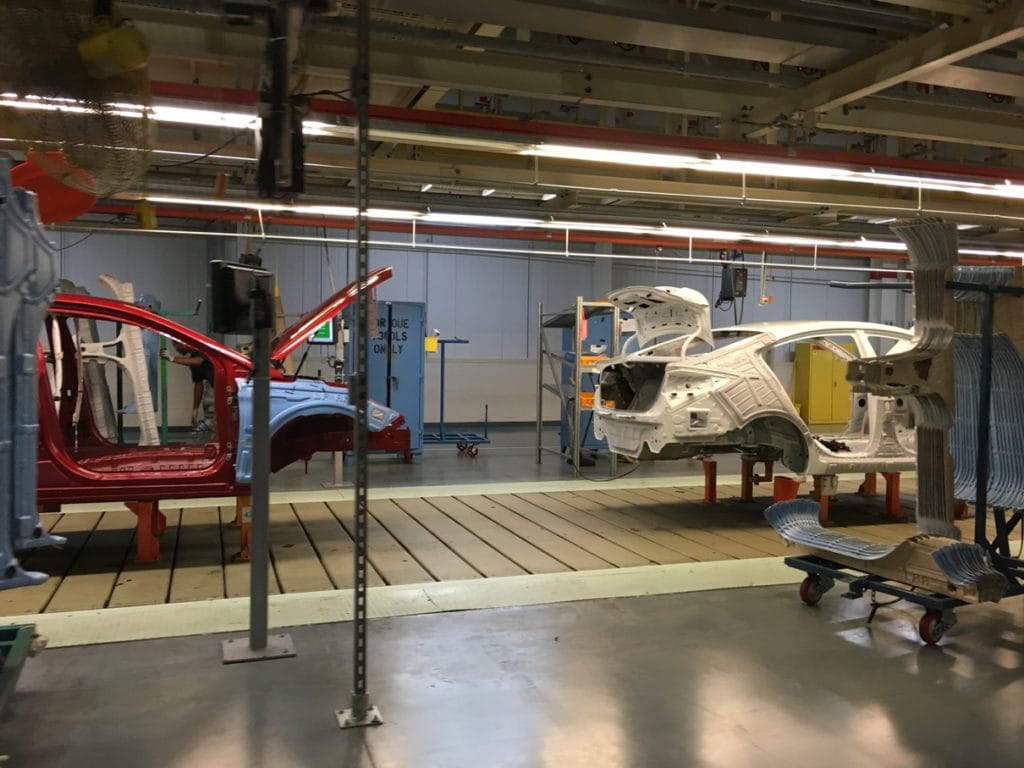 But first, after the assembly, the cars are tested on Hyundai's cool test track just outside the manufacturing building. The brand new car babies are driven out of the building, brought to the track (ever been on Test Track at Disney's Epcot? It's kind of similar with the random tests that they put the car through), and tried out. There are nine team members who are constantly driving the brand new Hyundai cars.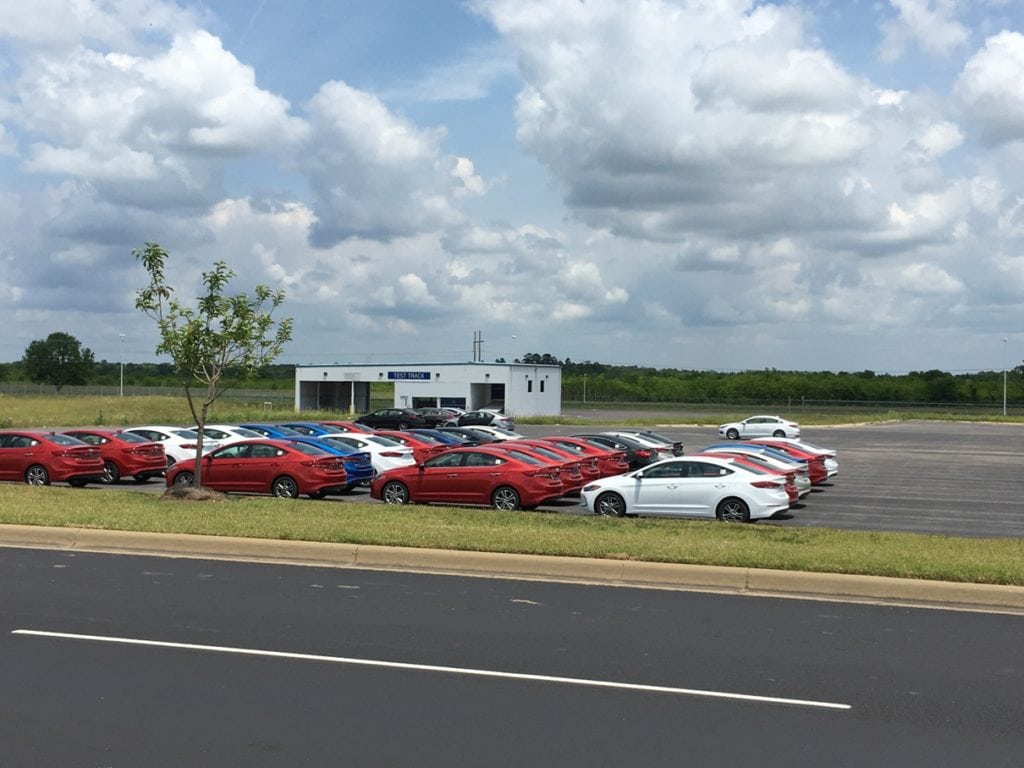 As the tram was driven through the different assembly buildings, Mikki and I oohed and aahed at what was going on around us. Watching doors being assembled, robots putting in seat cushions, sparks flying from welding machines and the overwhelming noise of the factory floor was all just so exciting!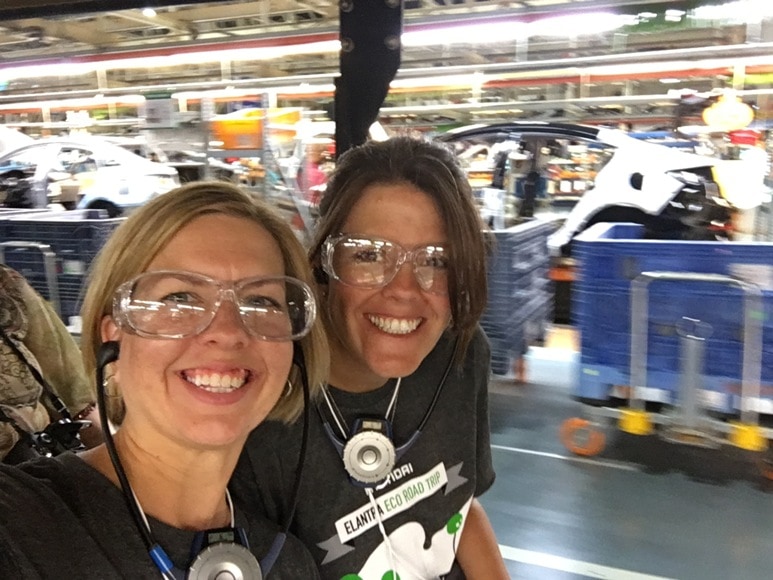 We then had lunch in the Hyundai employee cafeteria – an eclectic mix of traditional southern fare and Korean specialties. Finding Kimchi on a buffet line was something new to me! During this time, the Hyundai staff were busy at work scheduling our departure for our Elantra Eco Road Trip down to the minute.
Driving A Car Off of the Assembly Line
Here's the thing. The manufacturing plant had to keep on its schedule to bring the Hyundai vehicles to life. Yet we were climbing into brand new Elantra Ecos right on the assembly line, where cars needed to come off fast (remember the 73 per hour?!?).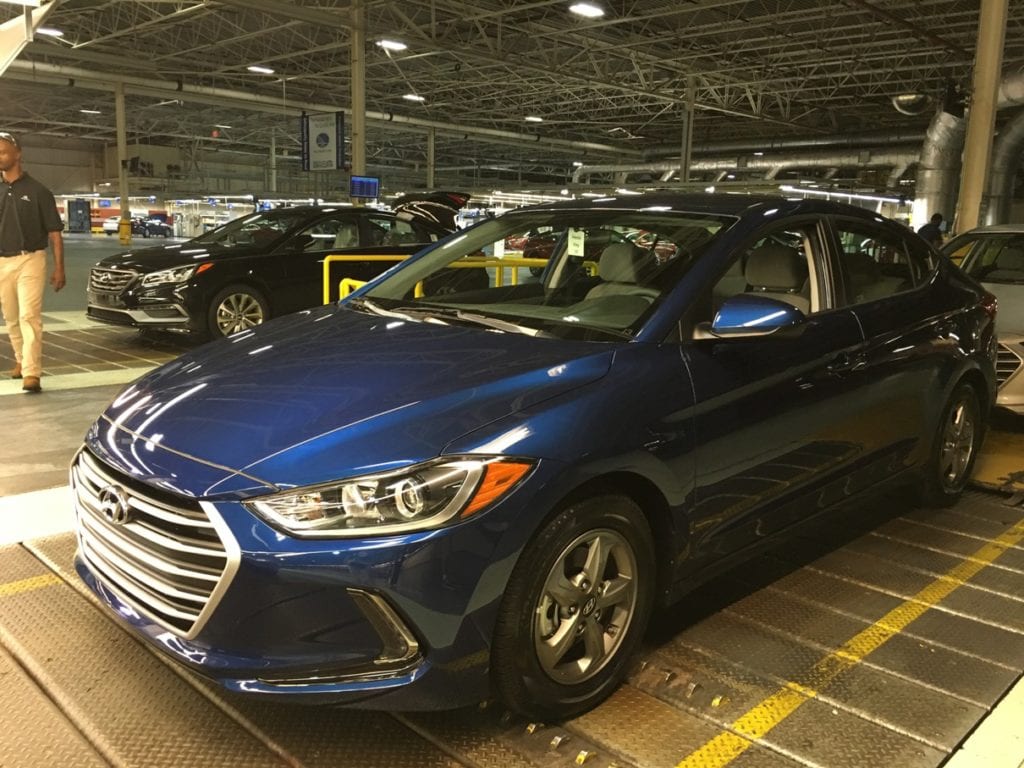 We had a 10 minute window, while the Hyundai team members were at lunch, to get in our vehicles, take our pictures (and, oh, there were SOOOOO many pictures!!!!), and drive out of the assembly building before the employees started manufacturing new cars.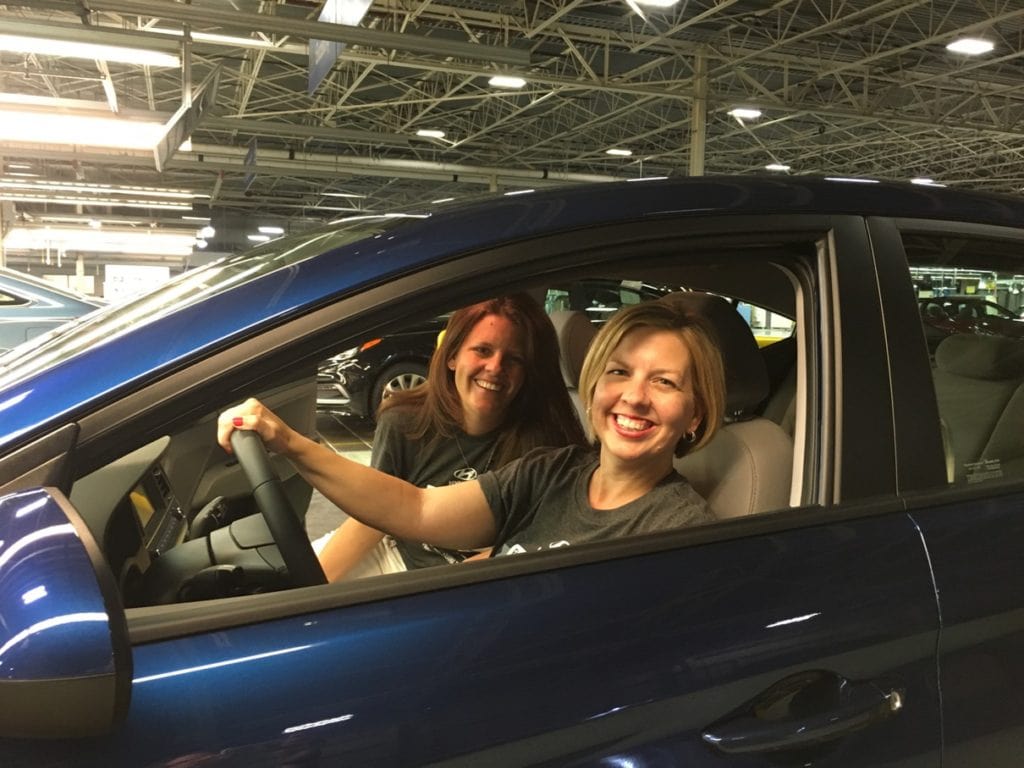 It was a happy stress, I'm not going to lie, and I got a little flustered (as you can see in my Facebook video), but it was all good. In fact, I wish I could do it all over again to better capture the excitement and totally take in everything that was going on in those very rushed moments.
As we drove off the line, by the time that I finally realized – Hey, I should look and see what the mileage is! – I noticed that our car only had 1.9 miles on it.
I mean, come on, how freakin' cool is that?!?
We drove to the Visitor's Center, packed our luggage in the car, said a hurried goodbye to our fellow bloggers and media, and were escorted out of the manufacturing plant (where we had to go through a security check as we left with brand new Hyundai cars. I thought this was kind of funny, but understood, too!) to start our Elantra Eco Road Trip!
We just reached 100 miles on our new 2017 #elantraeco!!!!! So awesome taking a car directly from the @Hyundai plant! pic.twitter.com/9VXRbgtvQi

— Kimberly Button (@KimberlyButton) May 11, 2016
Mikki and I headed out to Albany, Georgia (see what we did here). We had a shorter road trip than everyone else, since we lived so close to the Montgomery, Alabama location. See some of our social media under the hashtag #ElantraEco.
Yin & Yang done right. Our brand new 2017 #ElantraEco thanks to @Hyundai outside a retro old-fashioned motel. #ga pic.twitter.com/UYIl2b6b77

— Kimberly Button (@KimberlyButton) May 12, 2016
As a I drove, Mikki figured out the GPS route and loaded it into the awesome Apple CarPlay large screen in between the two front seats. That way, the navigation could be playing and displayed, without one of us looking at a cell phone in our hands. It was one of our favorite features.
Hyundai Elantra Eco Fun Facts
The Hyundai Motor Manufacturing Alabama plant was a surprise to me. I didn't know it was in Montgomery, but the people who live in the area sure do. During our media visit, we found out that 20% of the Gross Domestic Product of Montgomery County is thanks to Hyundai, with a $4.8 billion economic impact on the state.
Approximately every minute, an 18 wheeler delivers parts to the plant for use in assembly.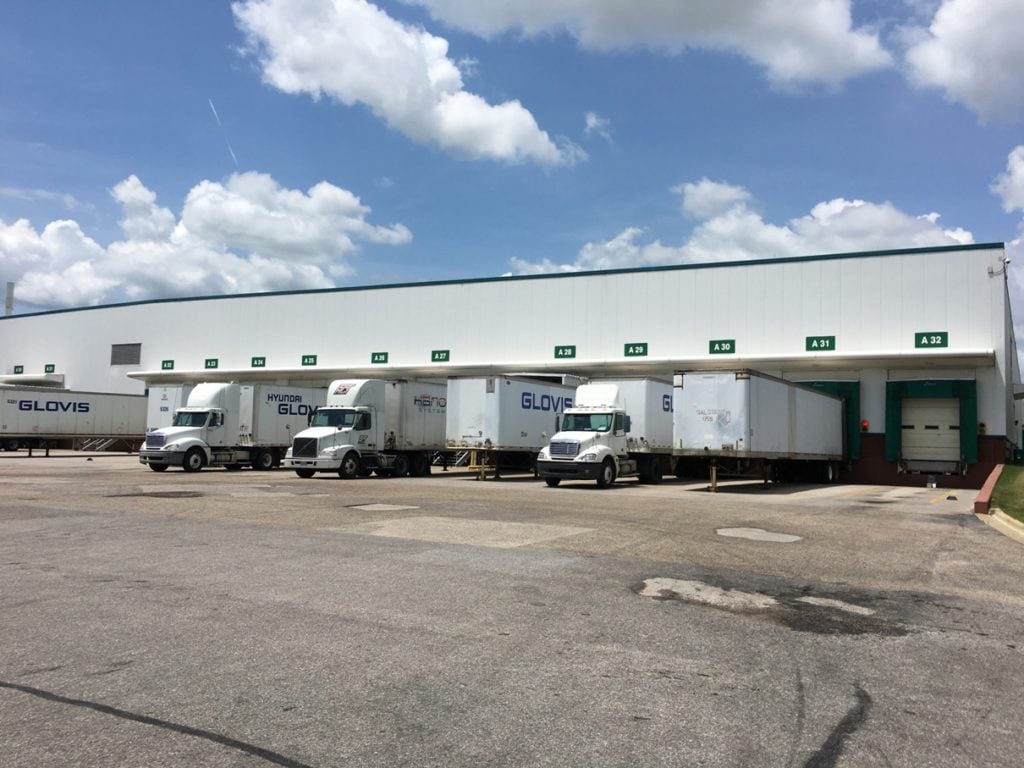 Hyundai Elantra Eco Features:
1.4L Turbo GDI 4-cylinder
7-speed EcoShift Dual Clutch Transmission w/ Shiftronic®
LED Daytime Running Lights
Blind Spot Detection w/ Rear Cross-traffic Alert & Lane Change Assist
3.5" TFT monochromatic cluster display
Leather-wrapped steering wheel & shift knob
Dual Automatic Temperature Control w/ auto defogger
Proximity key w/ push button start, immobilizer, hands-free smart trunk & front door handle approach lights
Heated front seats
Sunvisor extensions
7 inch display audio system with Apple CarPlay and Android Auto support with backup camera (which I love!)
Thanks @Hyundai for the test drive of the #elantraeco! We this #funfact that makes life a little easier! pic.twitter.com/jBC3KK2hWe

— Kimberly Button (@KimberlyButton) May 17, 2016
Hyundai Elantra Eco's MPG: 40 highway; 32 city; 35 combined.
Filllin' up for the very first time in our @Hyundai #ElantraEco! @KimberlyButton #mpg @Shell @Shell_OnTheRoad pic.twitter.com/BDAZkFggsw

— Mikki (@notperfectwife) May 13, 2016
The MSRP for Hyundai 2017 Elantra Eco is $20,650.
Many thanks to Hyundai USA for inviting us on a media tour and providing transportation, accommodations, meals and allowing us to drive the brand new Hyundai Elantra Eco!