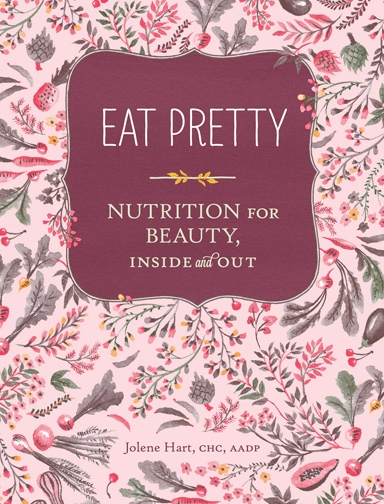 You are what you eat. We've all heard it a million times before. It doesn't seem real, though, until we suddenly start reaching for skin creams, diet pills and prescription drugs when our outer appearance starts to look a little less than what we desire. Could your daily diet help create a more beautiful you – naturally?? Absolutely, and you'll find out how in Eat Pretty.
Eat Pretty is a brand new book by Jolene Hart, a former beauty editor at the big-name style magazines, and a personal friend. I've been following her journey towards wellness – and clear skin – since meeting her at a Natural Products Expo four years ago. Jolene spoke about dealing with a complexion so bad that it shocked her facialist, once all of her makeup was removed.
I don't know why, but that story has always stuck with me, even though I didn't have acne at the time. Meeting Jolene up close and in person, I couldn't imagine her ever having less-than-gorgeous skin. Fast forward several years and I'm dealing with a serious case of cystic, hormonal acne breakouts that can't seem to be tamed. So I was anxiously, anxiously awaiting the release of my friends' latest book, Eat Pretty.
What you'll find in Eat Pretty is a road map to gorgeousness. Not what skin creams or makeup to buy, but rather what to eat, what season to eat it in, and lots of helpful hints and tips on how to fuel your body – and therefore, your skin – with the best foods possible to create your most fabulous appearance. This approach isn't all in the name of vanity, though. Sure, you're going to look fabulous on the outside, but your insides are going to be jumping for joy, too, with the abundance of healthy produce, proteins, grains and fats that will optimally fuel your body for all functions, just not your outer appearance.
The book starts out with Jolene's personal story, which is somewhat shocking to say the least for anyone who pours over fashion magazines. Next up is a run down of the beauty-buster foods to avoid, followed by beauty standouts that you want to increase in your diet. Jolene writes it all in her matter-of-fact, sometimes humorous way that makes the art of eating for beauty a topic that is easily understood.
You'll find lists of the nutrients and phytochemicals that your body needs – and why – followed by helpful charts of which foods boast these beauty-enhancers. The parts that I like best are the listings of individual foods, and a quick paragraph summary of why they're good for you. It's quick, easy information that can help you immediately decide to add these superstars to your grocery list.
The last half of the book is in four parts, one for each season. Taking care of your skin definitely has a rhythm that corresponds with the time of year. You'll find helpful hints that speak to the activities and weather of each season, along with recipes that highlight some of the best ways to create snacks, smoothies or main meals with what produce is 'in season.' I'm personally really excited to try the recipe for the Cool Peppermint Cream Cups that sound like a much healthier version of a peanut butter cup.
Eating for your health and beauty isn't something that necessarily will show quick results in 24 hours or less. It's a commitment over time to do the best for your skin – and health – that will make you more radiant for years to come (in a way that money can't buy, either!). I'm excited to start on the path, and hope you'll get a copy of Jolene's book, Eat Pretty, so that you can feel your most beautiful, too!