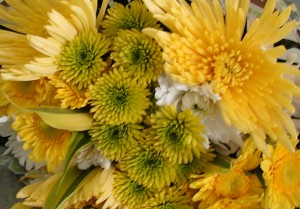 Buying flowers at the grocery store? Get some gorgeous looking flowers and help protect the earth by choosing EarthSmart flowers – available at local stores near you.
I picked up this gorgeous bouquet at my neighborhood Publix, our grocery store chain in the southeast. The flowers were vibrant and huge, and I managed to get two bouquets out of the package.
The EarthSmart flowers are grown more ecologically-minded with integrated pest management techniques, a biodegradable sleeve, and optimal irrigation. If you're looking for a gorgeous bouquet of flowers on the go, but don't want to custom order organic flowers which will take a while to arrive by mail, EarthSmart flowers are a great option.
My bouquet lasted between 10-12 days – pretty good for cut flowers!!
Related: Want to order flowers for a delivery? I LOVE The Bouqs Company, an eco-friendly online flower delivery website that offers fresh-from-the-field (or volcano!) as well as locally crafted bouquets. Treat yourself or a loved one to bouquets that start at $40, with free shipping! Use this link to get two bouquets for the price of one!
Check out EarthSmart on Facebook and if you buy a bouquet, check out the cool green living tips located on the sleeve, and then throw it into the compost pile!