Eating healthy doesn't always have to mean eating weird food. However, this week I really found myself eating some bizarre foods in the quest to avoid chemicals, add more nutrition, and jazz up the flavors in the kitchen.
Some were hits. A lot were misses. You have been warned……! 🙂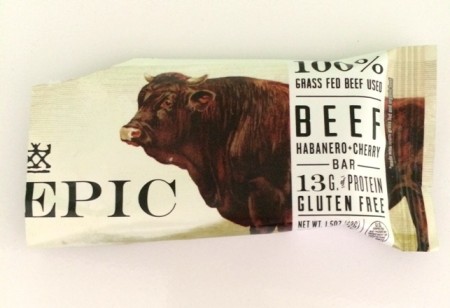 1. Epic Beef Habanero Cherry Bar
Sometimes weird flavor combinations happily surprise you. Not with this protein bar, though. This Paleo friendly, gluten free, 100% grass fed beef bar was completely disgusting. So bad, in fact, that I had to immediately spit it out of my mouth after I took a bite. It was vile to a degree that I don't even want to think about. It also looks horrible, much like dog poop. When I shared my disgust on Instagram, several followers had either tried the turkey kind (which apparently doesn't result in the same gag-reflex response) or had been thinking of trying one. This is NOT an inexpensive protein bar (think around $3) so keep that in mind before taste testing this bad boy.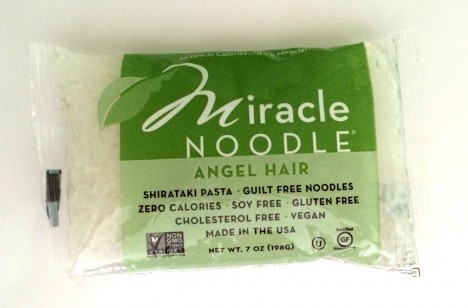 I learned about Shirataki Miracle Noodles while reading Rocco Dispirito's new book, The Pound A Day Diet which features calorie-friendly substitutions for many of your favorite foods. Many of the substitutions were too chemical-laden and processed, but this one switch was interesting.
Shirataki noodles are made from the root of a plant called the Konnyaku Imo.  Made from the soluble fiber of the plant, this LOW calorie (15 calories), virtually no carb pasta substitute is amazing!
The texture is not as dry as spaghetti. Think of it more like vermicelli. I would definitely use a flavorful sauce, as the "Miracle Noodles" will absorb the flavors they are put with. I simply drain the package under water, add to boiling water for 3 minutes, and it's done!
A package is not inexpensive, and only serves 2, that's why I order mine from Vitacost and save money and time trying to hunt for the stuff at big box stores.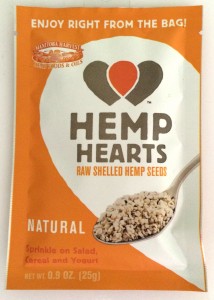 3. Hemp Hearts
I'm not scared of eating hemp, and one of the best protein powders that I've used in hemp-based. So I was excited to try out hemp hearts, which are raw shelled hemp seeds.
The tiny bity flakes remind me of flax seeds, both in size and flavor. With a nutty taste, the Hemp Hearts aren't bad at all!  They suggest adding to salads, cereal, oatmeal or yogurt and I agree, but they are delicious eating by the handful, too!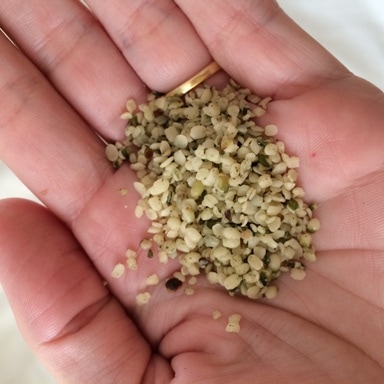 I've got a feeling the small pocket sized bags will become a favorite travel food to stash in my luggage.
This raw foods chip made from Kale sounded like it could be good. It wasn't. Tasted like it sounds, kale covered with chocolate. Gross.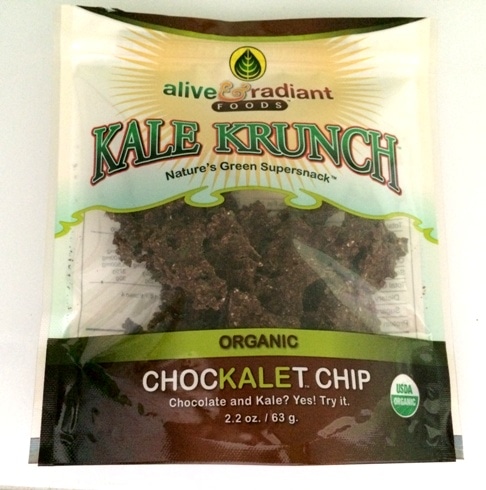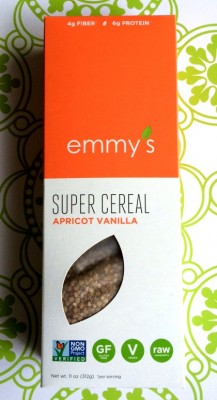 5. Emmy's Super Cereal
The varied flavors of Emmy's Super Cereal have organic sprouted Buckwheat Groats as their base ingredient. Buckwheat – which is NOT a wheat, but rather a seed – is a highly nutritious food with minerals, antioxidants and amino acids. This raw, vegan, gluten free food is a great substitute for cereal or granola.
I tried a dry handful of the Apricot Vanilla flavor first, similar to eating a handful of granola, and was not thrilled. The buckwheat is too hard and the taste wasn't too pleasing for continuing to eat dry. However, when added to yogurt, the seeds started to soften up and I didn't mind the taste flavors with something else.